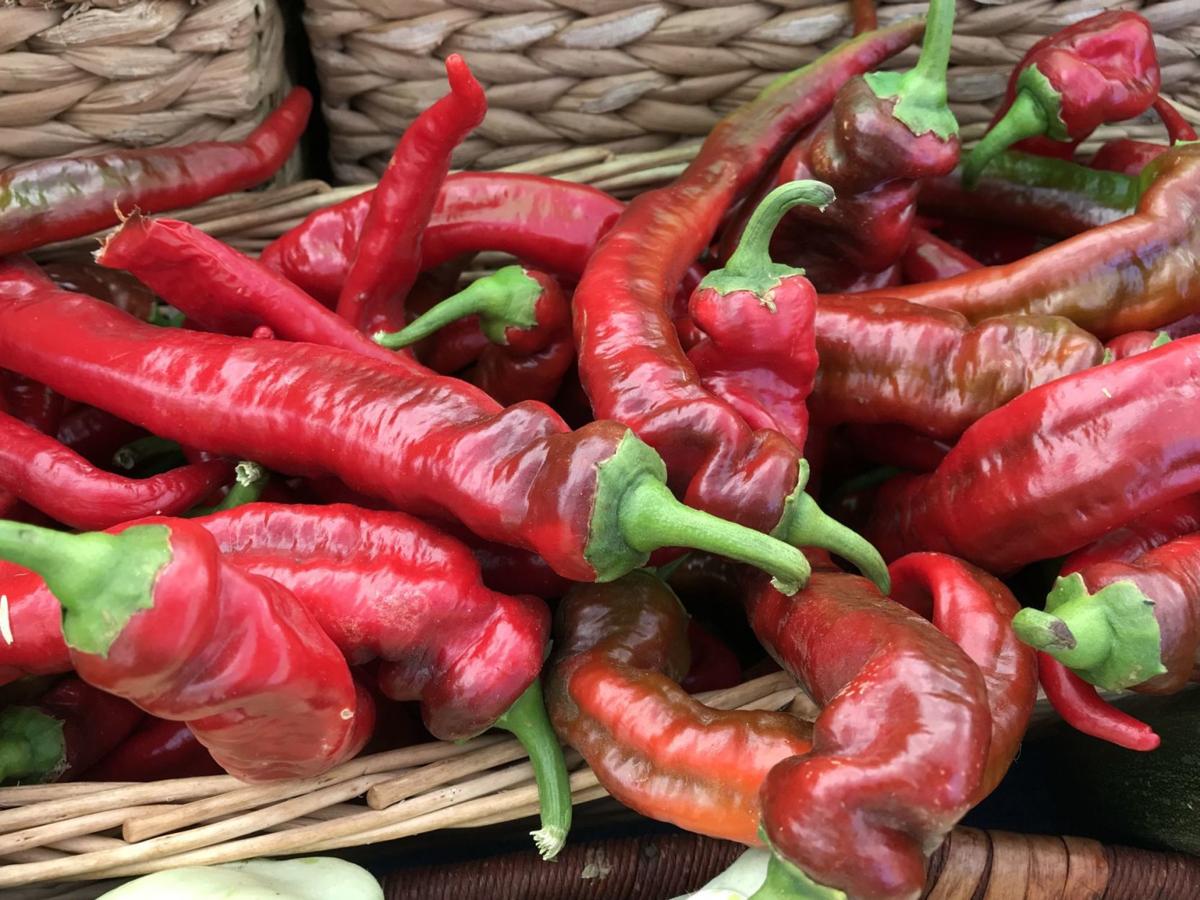 Amazingly, August is almost over and Labor Day is just days away. As summer comes to a close and fall is in the air, I enjoyed two delicious bowls exemplifying the transition between these seasons – for dinner one night and breakfast the next morning.
I mentioned previously that my husband is a chef and I think he is at his best when it seems as though there is nothing to eat in the house … just the odd remnants of last week's bounty beginning to fade. Suddenly, he's whipped up something magical and delicious and nothing goes to waste. It reminds me of my Grandma's farm and the same sort of magic.
This particular wizardry could also be called St. Helena Farmers' Market in a bowl. Fresh shucked corn roasted sweet and hot peppers, sautéed mushrooms, basil, tomatillos, and even lobster – all whipped into the most beautiful and delicious bowls of market goodness. And the leftovers whipped up further into the most amazing breakfast "cheftovers" of summer in a bowl. Just add eggs fresh off our friend's farm and fresh corn grits created from the corn chowder the night before. All I can say is holy cow, how did that just happen? I am a lucky girl, no doubt.
Labor Day weekend is here and whether you are hosting your own shindig or contributing to a friend's, our market has everything you need. Whether fresh and ready for you to grill or prepared and ready to share with guests. You might secure a grass-fed cut of brisket, saddle of lamb, salmon or shrimp for the grill. Or freshly made soap and a Turkish towel to thank your favorite host, pickles brined in rosé, a ready-made taco kit, freshly roasted coffee beans or ready to heat lasagna for the festivities … you cannot go wrong, and you definitely shouldn't leave this week's market without everything you need for the holiday weekend. Happy Labor Day!
This Friday, while you check off your Labor Day list and nosh a scrumptious breakfast, bring the kids by the Market Classroom for fun "Summer Swelter" projects hosted by Market Educator Arwen Gallenkamp, 9:30-11:30 a.m.
Dominique's Sweets will make a special market appearance this week with tasty fruit pies, fruit galettes, fresh macarons, palmiers and scones. You can also brush up on great recycling tips from Amanda Griffis, Environmental Resource specialist with Napa County.
The St. Helena Farmers' Market is held from 7:30 a.m. to noon, every Friday through Oct. 25 in Crane Park. For the most up-to-date information, visit us at sthelenafarmersmkt.org or follow us on Facebook and Instagram.
Kelly Harden is a member of the St. Helena Farmers' Market Board of Directors.
Be the first to know
Get local news delivered to your inbox!