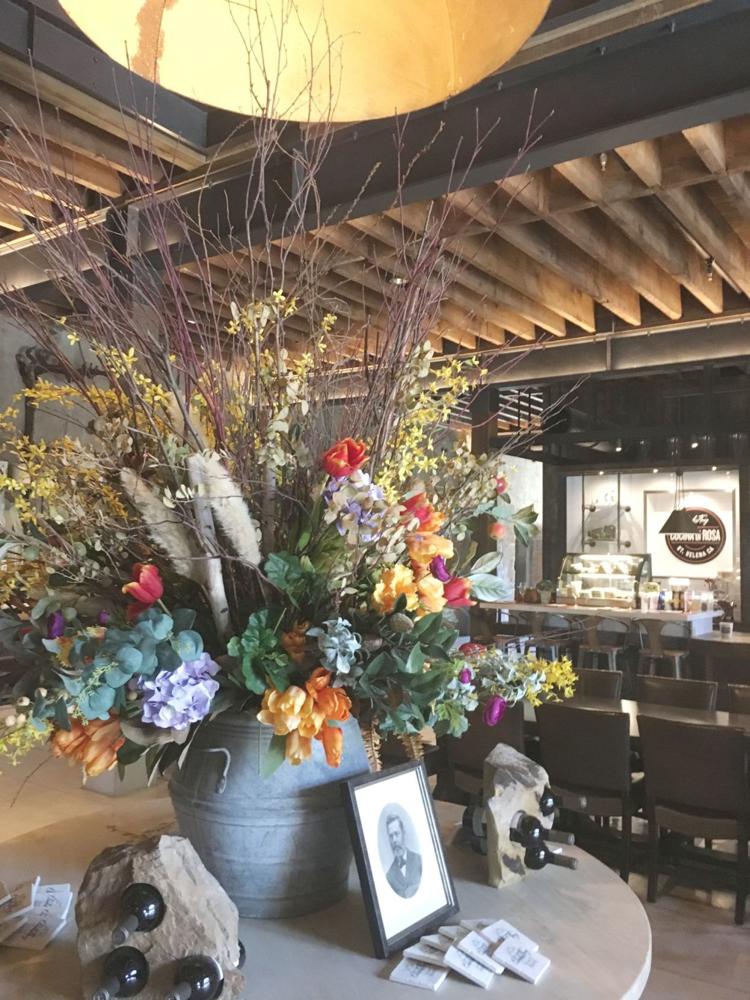 A sleek wall of mounted, fine wine vintages behind a modern steel bar; high-top tables nestled next to expansive windows overlooking an extensive barrel room; low cocktail tables with chic leather chairs that look like they would be hard to extricate oneself from after settling in with a glass of wine; a Salumeria serving special selections of cured meats and cheeses, and an outdoor Mugnaini pizza oven: Is this all offered at the hot, new hospitality center in town? Absolutely, yes —- and sort-of, no.
It is newly renovated in the last couple of years by Howard Backen, but its bones and the generations of stories that swirl around the property are just as important as all the wine swirling taking place in the glassware inside. This property wears the proud badge of Napa Valley's first commercial winery; founded and then revived by brave families that knew this was a very special place long before the rest of the world did. We are, of course, at Napa Valley's Charles Krug Winery.
You'd be forgiven for thinking the whole project is brand new as you step inside the hospitality center today. That would soon end, however, as you start to focus in on the ancient black-and-white photos around the room. The history here gives this smart-looking hang-out a layer of fascination and depth.
The Mondavi family recently invited trade and media guests to visit and share a flight of vintages going back to the 1960s in celebration of their 75th anniversary. Charles Krug has been under the stewardship of the Cesare Mondavi Family since 1943. Today Peter Mondavi Jr, grandson of Cesare, is co-owner with his brother Marc.
Cesare and his wife Rosa purchased the old Charles Krug Winery in 1943, and their influence on the Napa Valley was quick to follow. Jacob Schram, the Beringer brothers, and C.H. Wente are just a few of the icons in the industry who worked at Charles Krug before setting off on their own.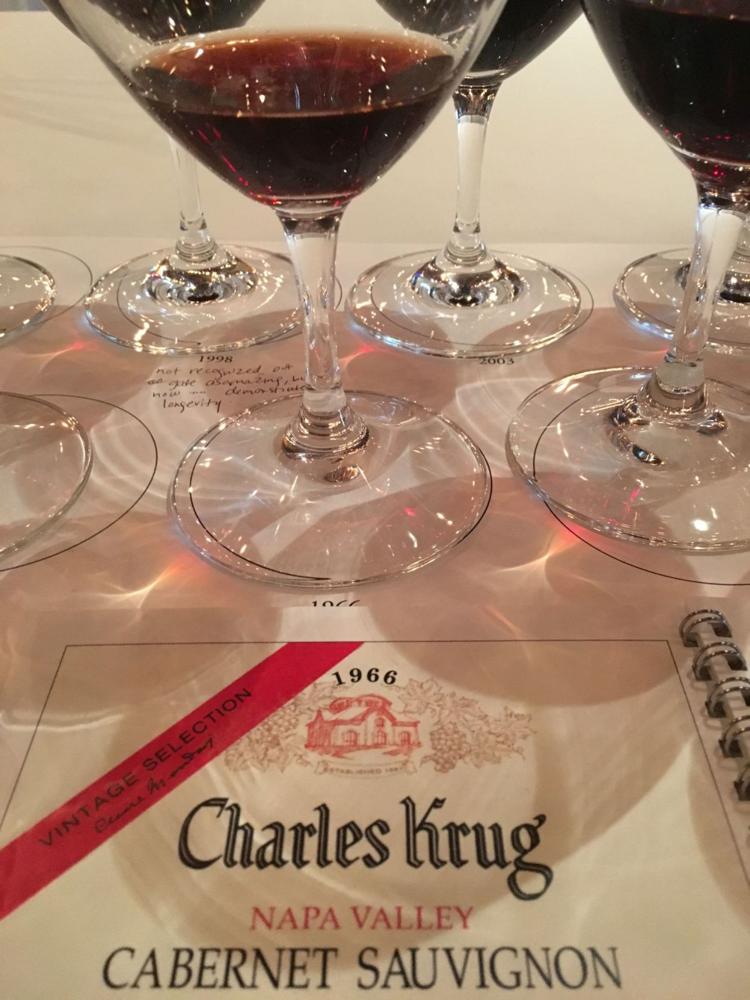 Numerous family members work to make Charles Krug shine today, keeping the history alive. Fourth-generation Alycia (daughter of Marc) entertained guests with memories of the wit and wisdom of Peter Sr., sprinkling the visit with her grandfather's thoughts on the 1998 vintage: It was maligned for less-than-perfect weather but it turned out to age gracefully and outshone others as it matured. She also said there were two things not to bring up with Peter Sr. in a conversation: politics and alcohol levels in wine.
The wines themselves show the depth of decades in the trade. Early vintages from the '60s are outstanding – the 1966 having an elegant structure and still showing fruit concentration with beautifully integrated oak spice, all lifted by bright acidity. Do we taunt readers by bringing up older vintages? Not at all. Charles Krug is now offering the first-ever, limited-release bottles of their flagship Vintage Selection Cabernet (VSC) from the 1974, 1991 and 2003 vintages. The first VSC dates back to 1944.
You have free articles remaining.
Take a look at some of the vintages tasted with related stories from the Mondavi family:
- The 1964 VSC has an elegant structure, as did the 1966. The wine is a pale garnet to orange color, and has mature aromas of dried plum and tobacco with the nuttiness and dark caramel of an Oloroso Sherry. Napa Valley vineyards in the 1960s and '70s, Peter Mondavi Jr. said, were a patchwork of vibrant colors – orange, purple, and yellow. A good thing? No, in that the colors were caused by viruses, but yes, in the fact that the grapes would mature with low sugars, producing lower-alcohol wines with great flavor. Eighty-three percent French oak was used for this wine, and Peter shared the story of Krug being the second to import French oak for use in winemaking (after Hanzell Winery in the '60s). Peter Mondavi traveled to France with Andre Tschelistcheff and was exposed to the virtues of oak during that visit. Cost was an early issue so it took a while to get the barrels to Napa Valley, but once they did, the long history of oak and Cabernet Sauvignon began in Napa Valley.
- 1974 Lot F-1 VSC has a rich, weighty texture with smoky red plum and juicy black plum flavors with a hint of violet floral. The generous tannins are silky. What is Lot F-1? The first crop from the famed Fay Vineyard in the Stags Leap District.
- 1991 VSC is still ruby in color with a bit of garnet starting to show. The dark fruits are beautifully integrated with black pepper and a hint of sweet spice and herbal complexity.
- 1998 VSC: Peter Mondavi Sr. said the 2011 would be the next 1998; both vintages maligned for less-than-perfect weather, yet producing wines that would gracefully outshine others as they matured. The wine has intense aromas of red cherry, red plum and sweet and pungent spice delivered on a richly textured body.
- 2003 VSC was a discovery in blending. A consulting French winemaker at the time started blending other grape varieties into the VSC, and the Mondavi family was shocked when he recommended Syrah. The consultant, however, shared with a wink that some of the best Bordeaux producers used to sneak Syrah into their wines. The wine is dark-fruited – all black plums and spice.
Charles Krug's winemaker today is Stacy Clark, who came on board in 2011. The current 2015 and 2106 vintages show richer and riper with deep fruit concentration, generous tannins and oak spice.
Think you know Napa Valley? Not until you visit and taste Charles Krug, where the power of history blends with the chic hospitality of Napa Valley today.
Catherine Bugue, the Star's tasting panel columnist, loves writing about — and drinking — wine. She is also the co-founder of the Napa Valley Wine Academy in Napa. You can contact her at catbugue@gmail.com.