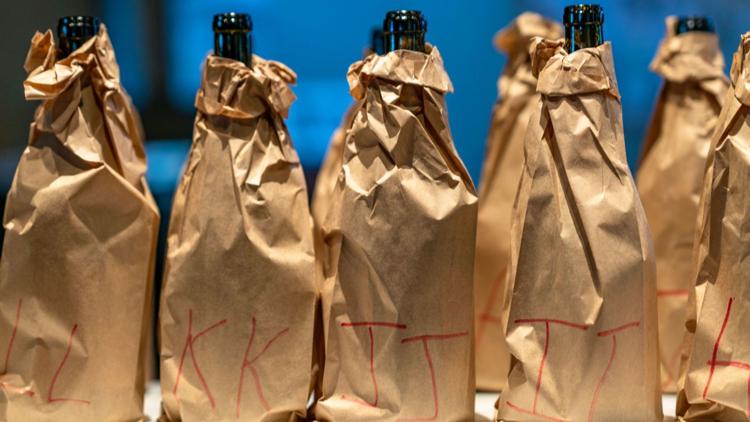 On a beautiful sunny day in mid-December, I drove up the Valley to St. Helena to the Napa Valley Vintners Sensory Classroom at the Rudd Center for Professional Wine Studies at the Culinary Institute of America at Greystone. Some vintners had already pruned their vines, while other vines were full of colorful leaves. And in a few vineyards, I had already spotted mustard growing. This is a very special time in the Valley!
On the agenda for the St. Helena Star/Napa Valley Vintners Tasting Panel was a tasting of 15 Syrah and nine Petite Sirah wines from vintages 2014, 2015 and 2016. The prices ranged from $39 to $80, with an alcohol level between 14.1% abv and 15.5% abv. I was wondering to myself: What can I expect from these wines from the Napa Valley?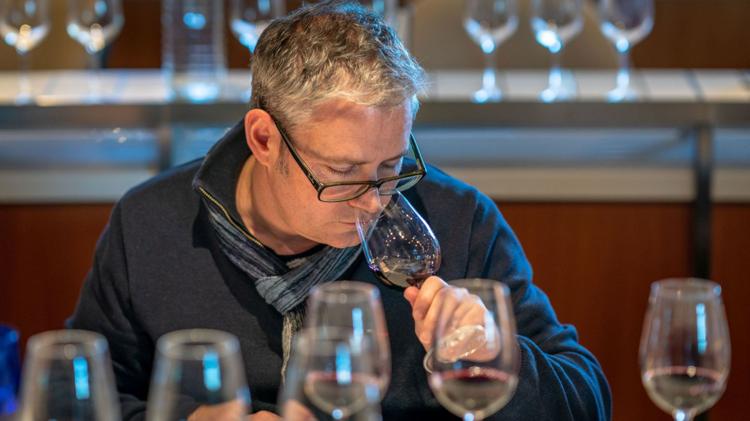 Syrah has clearly proven itself successful around the world; wines are produced in many styles and display a myriad of dark-fruit flavors. Syrah's origin is unquestionably the northern Rhône Valley of France. However, it is also Australia's flagship variety (where it is known Shiraz) and has developed such a distinct personality in Australian terroir that it is regarded by some as a distinct variety.
Syrah is a dark-skinned red wine grape. Varietal Syrah can be quite floral in its youth, developing white and black pepper aromas as its ages. Some examples show tanned leather and smoky scents, while the fruit in these wines tends toward the very dark flavors of blackcurrant and plum.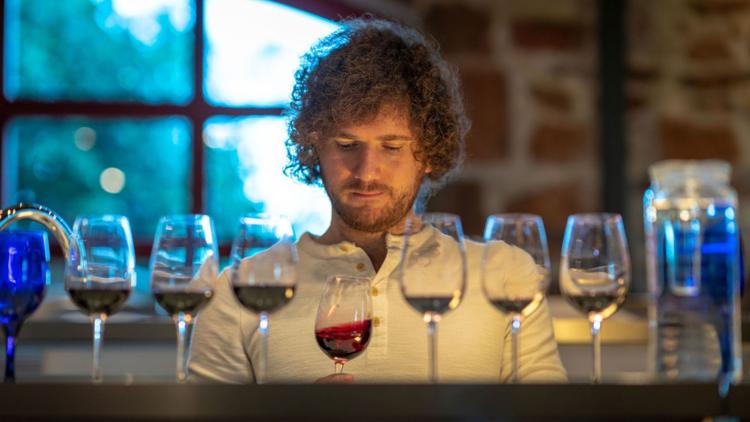 Petite Sirah (better known as Durif outside of North and South America), is a natural crossing (most likely due to cross-pollination) from "Peloursin" vines and Syrah. Petite Sirah originated in France but is scarcely grown there. It is better suited to drier climates such as California, parts of Australia (where it is sometimes made as a sparkling red wine) and Israel.
Petite Sirah is a black-skinned grape variety, while "Petite" refers to the small, intensely colored berries that make Petite Sirah such a distinctive grape variety. The high tannins and acidity present in Petite Sirah make it an excellent candidate for aging. Primary flavors often associated with the wine are blackberry, chocolate and black pepper. Many other characteristics of Syrah can also be noted, such as blueberry, licorice and various herbal elements.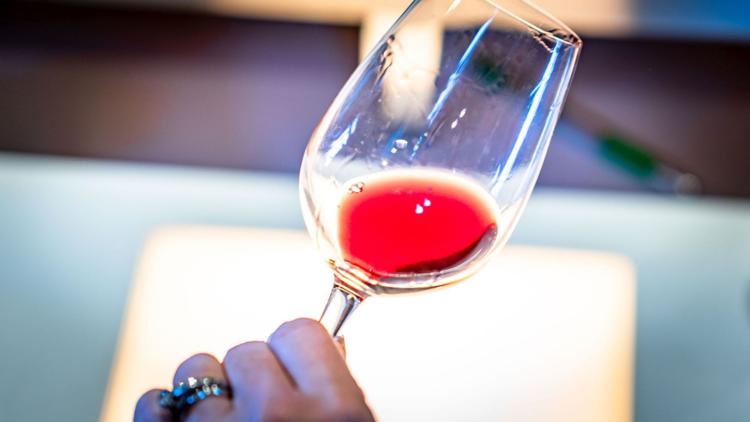 "These varieties tend to do well in a lot of different sites," said Bill Dyer. Kristin Belair added that they "do not need a ton of oak, and it is such a pleasure to see them in true form, in such a great range."
Judy Lumgair thought that these grape varieties are well suited to the Napa Valley.
Tom Rinaldi opined that in some cases, neither varietal expresses itself well in Napa without "Mascara." He prefers Bordeaux varietals for the Napa climate.
Jennifer Lamb would match these wines with beef stew or lamb, but they could also go well with pork spare ribs with barbecue sauce.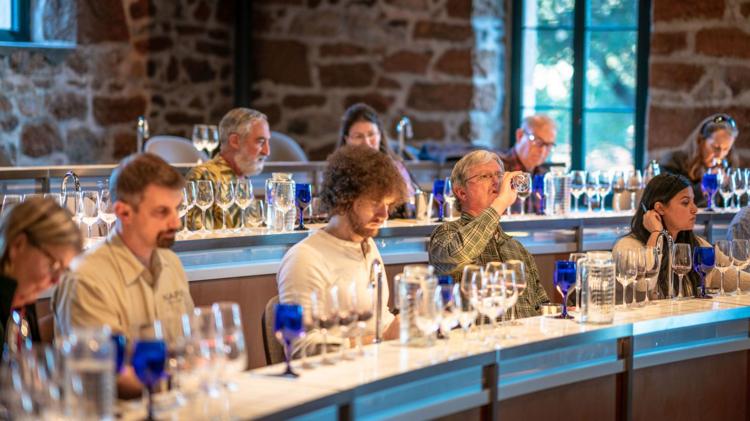 Panelists included a list of Napa Valley's top winemakers, Tom Rinaldi, Jennifer Lamb (Herb Lamb Vineyards), Kristin Belair (Honig), Bill Dyer (Dyer Wines), Julie Lumgair (J Moss Wines) and Scott Sublett (Trinchero Family Estates), joined by Priyam Chirawawala, Chris LaConti, Sean Scully, Henry Lutz and Peter Stoneberg.
Following the discussion, the wine scores were revealed. Panelists selected the following first-place wines:
Aratas Wine—2016 100% Petite Sirah Napa Valley ($58) 14.7% abv
A beautiful example of 100% Petite Sirah, well balanced acidity and the robust tannin from the smaller berries and thicker skin of the Petite Sirah, complex aromas of blackberry, black and red cherry, leather and spices.
Baldacci Family Vineyards – Allwin 2015 100% Syrah, Los Carneros ($45) 14.5% abv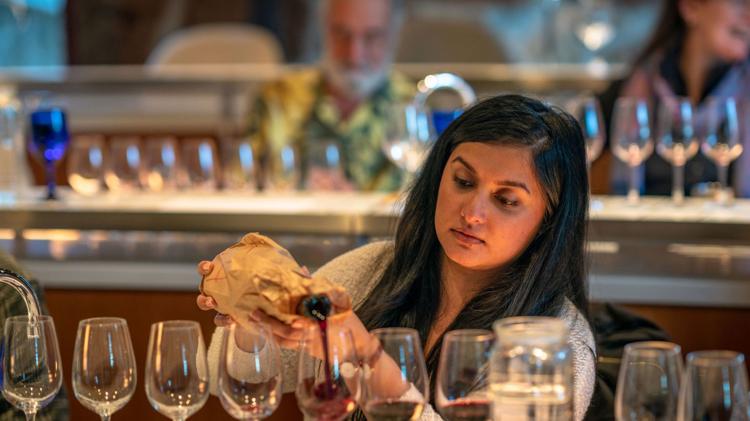 Rich concentrated fruit flavors of raspberry and blueberry mingle well with bay leaf and sandalwood. Flavors of black pepper, hints of venison and dark bitter chocolate. The finish is long and pleasant!
Eleven Eleven Winery—2016 100% Syrah Oak Knoll ($55) 15.5% abv
An outstanding wine with robust tannin and a good acidity. Dark flavours of blackberry, blackcurrant and black cherry, combined with spices and white and black pepper.
Hoopes Vineyard – Sophie's Block 2015 96% Syrah, 4% Viognier, Oak Knoll ($50) 14.6% abv
An elegant and bold wine, opens with ripe raspberries, black cherry, prune, cardamom, fresh cracked black peppercorns and wet stone and notes of toasted oak.
Materra Cunat Family Vineyards—2015 100% Petite Sirah, Calistoga ($49) 14.9% abv
A beautiful violet color coats the glass as aromas of rose petals, cigar tobacco, marshmallow, and blackberry cobbler fill the air. The full-bodied and chewy, textured flavors of black plum, cedar, savory herbs, and leather mesh together in a symbiotic relationship that is one to behold.
Starmont Winery & Vineyards – Stanley Ranch 2015, 96% Syrah, 4% Viognier, Los Carneros ($45) 15% abv
A beautiful Syrah with a pleasant balance of acidity and robust tannin with flavors of red and blackberry, blackcurrant, black cherry with hints of tobacco and spices from the oak aging.
Editor's Note: Regina LaConti, WSET Level 3 is the Student Success Advisor at the Napa Valley Wine Academy. She loves writing about — and drinking — wine. You can contact Regina at lacontire@gmail.com. Only wines from Napa Valley Vintner member wineries are accepted and tasted. Many wineries offer local residents discounts on their wines through the Napa Neighbor program, visit napavintners.com/programs and click on Napa Neighbor to learn more.
Be the first to know
Get local news delivered to your inbox!