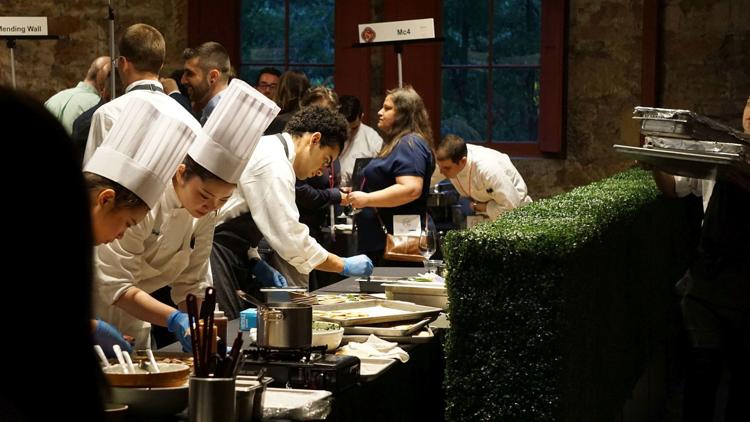 On March 30, Appellation St. Helena's 10th annual bASH at Culinary Institute of America at Greystone brought approximately 300 attendees together for a night of delicious wine, innovative food, and warm conversation.
"I was thrilled by the level of enthusiasm at the event, from new and returning guests, from the competitive culinary teams and wineries, and from the new panel of professional critics as well. There event was high energy, fun and full of delicious moments," said Lesley Russell, president of Appellation St. Helena.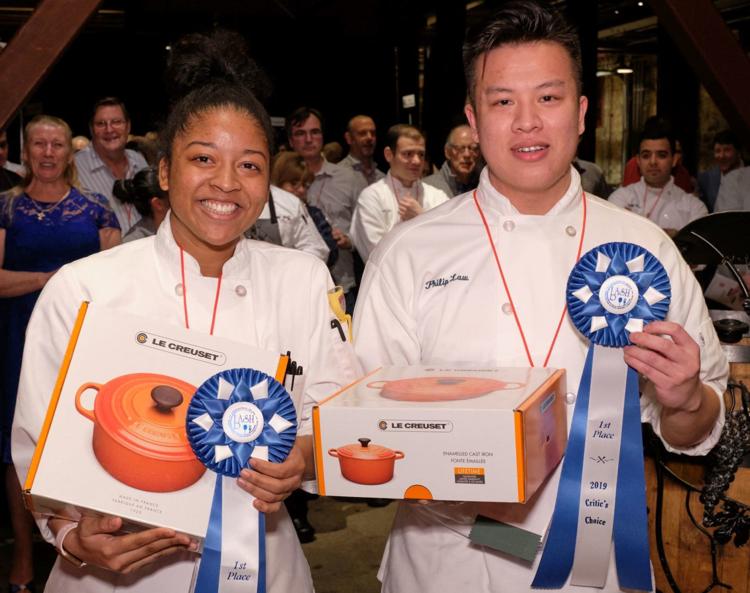 Russell said the guest list included attendees from 11 states and the U.S. Virgin Islands, as well as 46 cities in California. The food and wine pairing competition involved 32 teams and was held in Greystone's historic barrel room. Student teams and winery hosts presented in front of enormous wine barrels, while professional teams of chefs from restaurants, wineries, and supermarkets and vintners presented in the middle of the floor. As participants walked in the door, they were handed a large empty wineglass and told to start wherever they liked.
Guests mingled by standing around small tables to eat talk, discussing their favorites and the quality of the students' work. The crowd included CIA student parents, wine enthusiasts, local winery chefs, community members, and vintners, all eager to enjoy the wide variety of vintages and observe the students in action.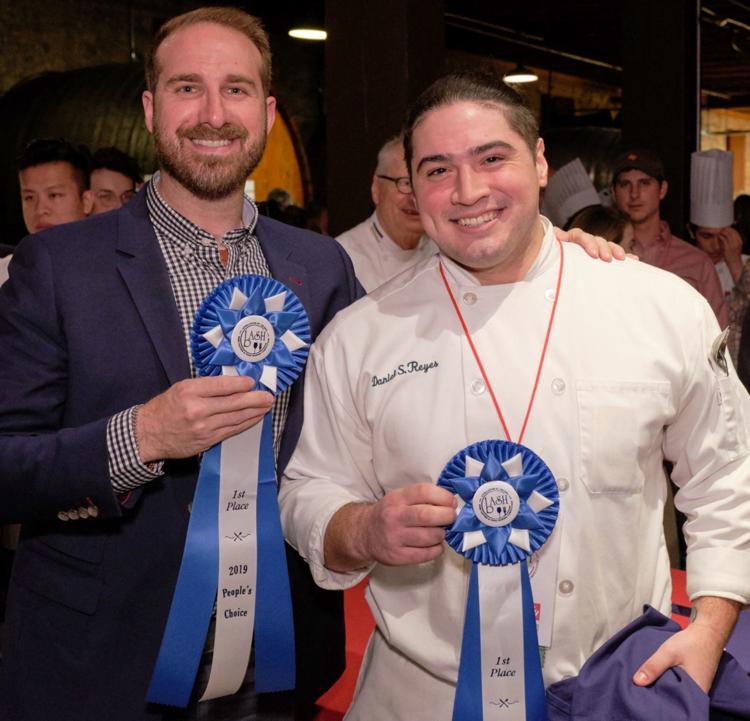 "I believe bASH is a great activity for networking and showcasing what the school is doing for students. It's an amazing opportunity," said Luis Tellez Rodriguez, a second-year culinary arts student at CIA.
Lars Kronmark, head student chef instructor at the CIA and producer of bASH, said this year's event went "better than ever."
"We had freshmen and seniors competing side by side (as well as) many other levels of students. This year we even had pastry students involved. The range (of dishes) was larger than before," said Kronmark.
Tianna Nesby, first-year culinary arts student at the CIA, said, "bASH challenged us to create an hors d'oeuvre that would complement and enhance the flavor of Salvestrin's Sauvignon Blanc. The wine had a fruity undertone, so we included fruits and citrus. Our team originally wanted to do a Vietnamese spring roll. However, we removed the rice paper and left the insides to keep the dish light on the palate. Nesby's team won first place for Critics' Choice student division category.
MaryLee Johnson, proprietor of Calafia Cellars, said it was easy for her to choose Calafia's 2016 2016 estate-grown La Reina for bASH.
"This is the only wine we make from St. Helena grapes, so it was the only one that was eligible. It's a very full-bodied wine with the flavors of black fruit, nutmeg, and chocolate. We told the students to be as adventurous as they wanted, which they certainly were. They included rhubarb and watermelon rind in the dish. I've never had those with this wine before," said Johnson.
Vicki Glass, brand ambassador and international sales director for Vineyard 29, said her first step was inviting the student chefs to the winery to learn about the wine.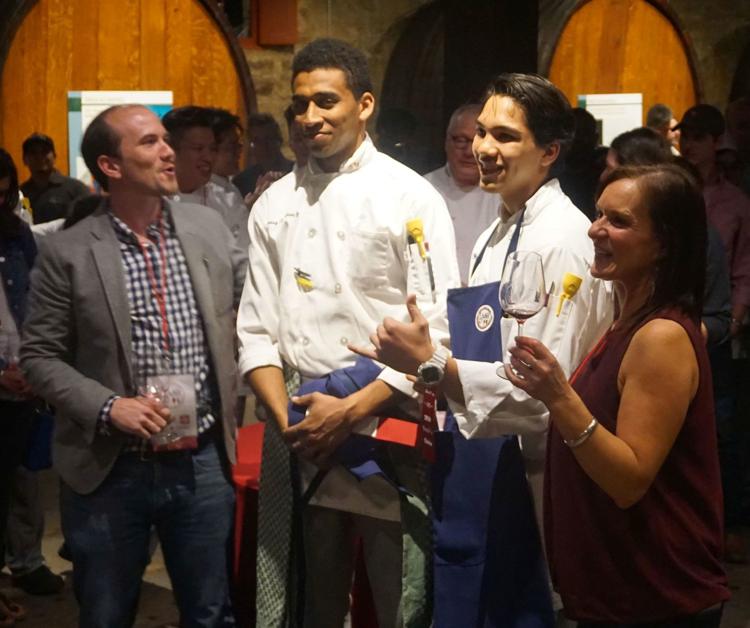 "We had the student chefs … do a full tour to learn how we make the wines and taste through them. We sat and talked about the different aspects of each wine and what goes well with it. Ultimately we chose Vineyard 29's Cabernet Franc 2014 for bASH. It's one of our most complex wines, a true expression of Cabernet Franc that pairs beautifully with a multitude of dishes. It's got just the right amount of herbaceous notes, a beautiful balance of acidity and tannins, and an elegant mouthfeel," said Glass.
Glass said bASH guests had a treat because the Cabernet Franc is a low production wine. It is usually only available at the winery. "The Cab Franc comes from a single vineyard that's on a tiny slope in front of our winery. We have only about 1,000 bottles of this particular vintage left," said Glass.
Cab Sauv is the star
Cabernet Sauvignon was the star of the event. Notable entries included Napa Valley's AXR V 2016 Madrone Cabernet Sauvignon, HALL Wines' 2014 "Coeur" Cabernet Sauvignon, and Pellet Estates' 2015 Estate Cabernet Sauvignon from the Pellet Vineyard.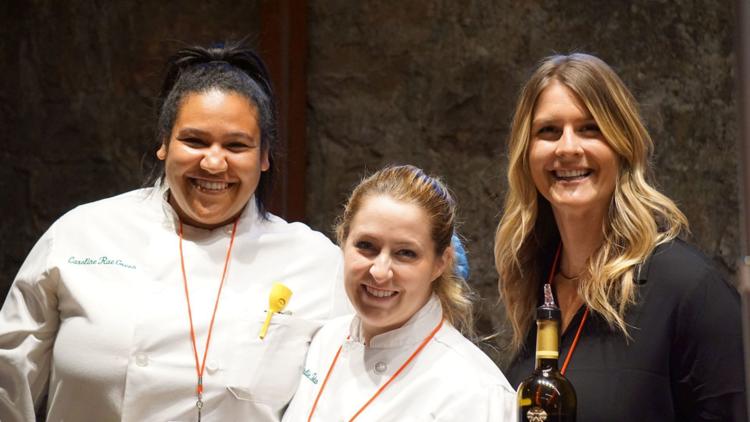 Other wines also made an appearance, including Charles Krug Winery's 2018 Sauvignon Blanc, Trinchero's 2013 Central Park West Vineyard Petit Verdot, and Praeger Winery and PortWorks' 2005 Colheita (tawny), an aged tawny port made with grapes from a single vintage.
Food pairings included sweet and savory offerings, leaning heavily toward beef, lamb, and rabbit. Entries included crocchette di baccalà, a crispy salt cod fritter with caviar, preserved lemon aioli, and chives, a duck liver habañero bonbon topped with dark chocolate, and vanilla bread pudding with Colheita caramel sauce and candied pecans. Elements of French, Asian, and Latin American cuisine were present in some dishes, such as the bouef (beef) bourguignon, Korean barbecue short ribs, and molé negro (a black Mexican chocolate sauce) with cherry and chicken skewers.
This was the first year that celebrity judges came to the event. Professional critics Leslie Sbrocco, Susie Heller, Virginie Boone, Christopher Sawyer, and Soleil Ho came early, tasting in a conference room in private. Their wine bottles were cloaked in paper bags.
The majority of the attendees also acted as judges, slipping poker chips into the boxes of their top three choices. The room frequently erupted in cheers as student chefs earned chips. At the end of the night, the crowd gathered around a central podium to hear the winners announced. The prizes were Le Creuset cookware and Salute Santé grapeseed oil, which helped sponsor the competition.
Pauline Pastor, a first-year baking and pastry student at CIA, said her team had been working more than a month to prepare their entry.
"Our dish (was) a Manchego goat cheese and cheddar cheesecake with a Marcona almond and pistachio crumble and an elderberry gastrique, (which is) caramelized sugar deglazed with vinegar, finished with oak and applewood smoke. The vinegar in the gastrique is made from our partner wine, Crocker & Starr's 2016 Casali Malbec Blend. We developed the concept for a sweet and savory balanced cheesecake early on. This allowed us to make the vinegar a month ahead," said Pastor.
Members of the Appellation St. Helena Board were pleased with the turnout and level of excitement.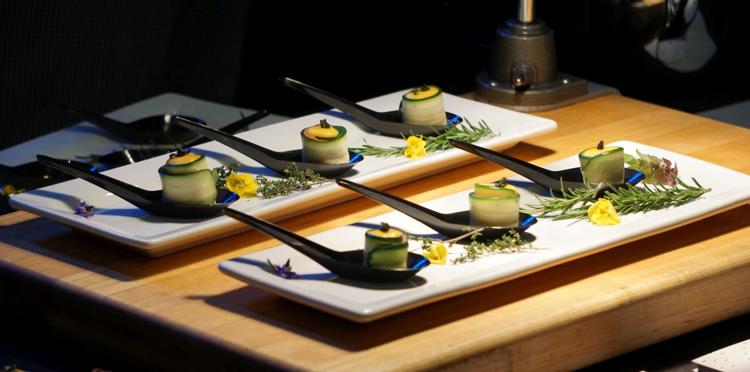 "This is a major event for ASH. The whole purpose of the event is to promote St. Helena. I think the venue has gotten better every year," said Jack Pagendarm, owner of Korte Ranch Vineyards and member of the ASH Board.
Kathy Pagendarm, also a member of the ASH Board, worked as a volunteer with Jack to count the chips in the voting boxes. Kathy said the enthusiasm of the student chefs was wonderful to see.
Attendees from across the U.S.
Attendees came from across the U.S. and beyond. This visit was Luke and Kristen Dye's first time at CIA at Greystone.
"We came from Knoxville, Tennessee, where I am a server at a prime steakhouse. We were originally supposed to go to CIA at Greystone's restaurant. When I saw bASH was happening, I switched our reservation," said Kristen Dye.
Luke Dye said, "The amount of people is a little overwhelming, but pairing food with wine is a form of art. I feel like I'm on Chopped, but everyone's nicer."
Kristen Dye said the experience will help her become a better server. The event taught her more about how to pair food and wine.
Mike and Barbara Pearl traveled from Walnut Creek to attend bASH. The couple also came to visit Barbara's sister and brother-in-law.
"We are both Cabernet-type wine lovers. This is our fourth year at bASH. We come to the event and then visit the wineries we like afterwards," said Mike Pearl.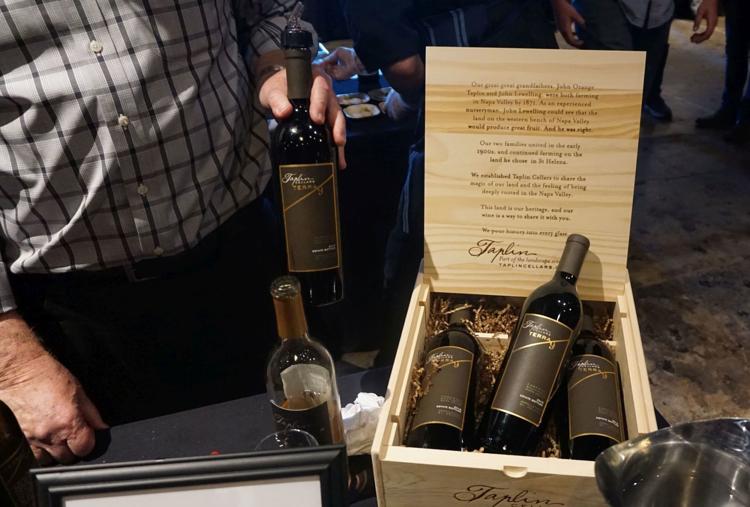 Barbara Pearl said she and Mike find new favorites every year. "It's also wonderful seeing the CIA students talk about their passion," said Barbara Pearl.
Lisa Massey traveled from Roseville to support her son, first-year CIA culinary arts student Jacob Hershberger.
"I'm here to learn a little bit about the culture in Napa also. I think the students get a wonderful opportunity to build close relationships and network at the CIA at Greystone. They're in the trenches together, working hard and building a strong foundation to base their future culinary careers on. Not many people are afforded the ability to train in a world-class institute like the CIA. I think the students know this and appreciate their opportunities," said Massey.
Massey, who works in an emergency room, was impressed with the level of organization for the event.
"I can see everyone put a lot of time planning this," said Massey.
As the event closed, Russell congratulated the winners and participants. ASH offers two $500 scholarships to St. Helena High School students each year who are entering college to study viticulture and enology and $1,000 each year toward CIA student scholarships.
When attendees began to walk out the door, student participants gathered around their friends to talk about the evening.
"Hugs, hugs all around. That's awesome," said Devin Pittinger, a second-year culinary arts student at CIA, hugging members of one of the winning teams.