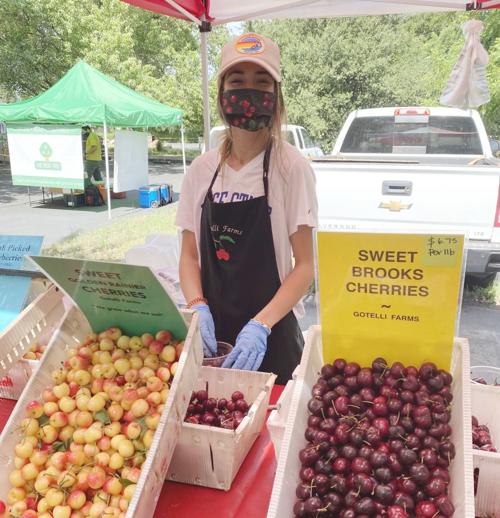 One of the comforting things about the St. Helena Farmers' Market is watching the array of locally grown fruits and vegetable change with the seasons. Things may be topsy-turvy in the world, but Mother Nature provides reassurance by predictably bringing us deliciously ripe cherries in May and June.
You'll find several varieties of cheery cherries from Arceo Ranch and Gotelli Farms. Arceo's Black Pearl Cherries have intense flavor, crispness and last longer in the refrigerator than other varietals. If you are lucky, Arceo will also have large, mild and juicy Coral Champagnes, which are elusive because they tend to be less hardy. Gotelli's offerings include the much-loved Golden Rainier Cherries, which are wonderfully sweet and crisp, as well as rich and juicy Sweet Brooks. All make great portable snacks. If you prefer your cherries in jams, The Wild Pear offers both low-sugar and no-added-sugar options.
Mother Nature knows what we should be eating at this time of year. As days get longer and temperatures rise, we spend more time being active outdoors and wearing skimpier clothing. Cherries offer health benefits that reflect this. They are low in calories (less than 100 calories in a full cup), which helps when putting on those shorts and bathing suits. They are also excellent sources of fiber, vitamin C and potassium and packed with antioxidants and anti-inflammatory compounds, all of which help our bodies fight disease – something we can all use right now.
Teaching the importance of seasonal eating is a key focus for the St. Helena Farmers' Market. Our educational programs earned us nonprofit status and allow much-needed donations to be tax-deductible.
Please join us at our temporary location at Napa Valley College's Upper Campus next Friday from 7:30 until noon. Even if life is not a bowl of cherries right now, we can help you put cherries in your bowl that will keep you looking and feeling great.
Stacey Bressler is a local vintner and member of the St. Helena Farmers' Market Board of Directors.
Be the first to know
Get local news delivered to your inbox!