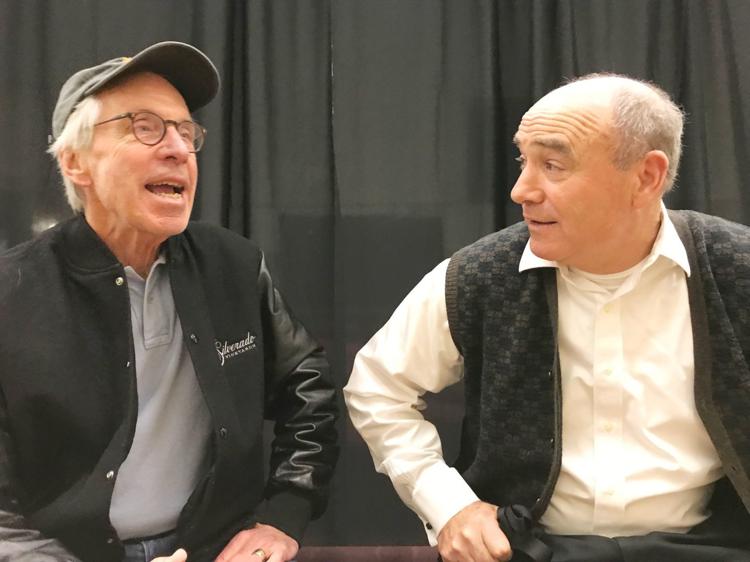 With her two legs and uncanny powers of articulation, Sylvia is not your typical dog – and "Sylvia" is not your typical play.
A.R. Gurney's comedy features a human actress playing an eager-to-please stray mutt who upends the lives of Greg and Kate, an empty-nest couple who've recently moved to Manhattan.
UpStage Napa Valley's production of "Sylvia," opening Friday, May 10 at Grace Episcopal Church, stars Alexis Forni as Sylvia, Fred Ireland as Greg, and Megan Whyte as Kate, who's exasperated by the puppy love developing between Sylvia and her husband. The play continues Fridays, Saturdays and Sundays through May 26. Friday, May 10 is sold out.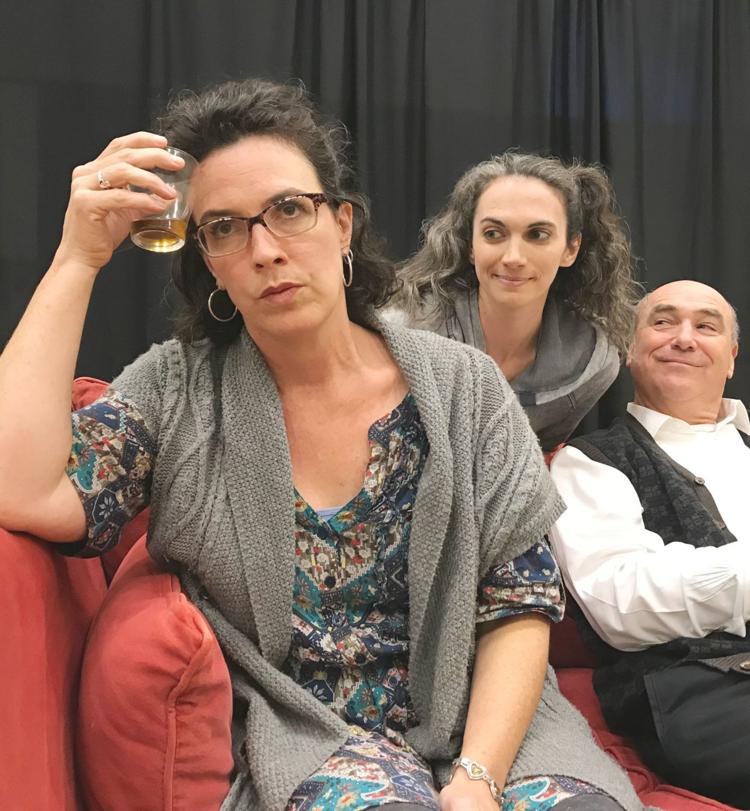 "It's a smart, witty, funny play," said Jack Stuart, who plays a sketchy fellow dog owner with a New Yawk accent who meets Greg and Sylvia at a dog park. "It's about a love triangle, except that in one corner there's a dog."
"It's the most challenging play I've ever done," said Ireland, performing in his 10th show with UpStage Napa Valley. "I have two women onstage — one's my wife and one's my pet. ... It's also an emotional play for me because I'm an animal lover."
Early scenes show Sylvia making herself at home on the couch, sitting on command, sniffing a nonplussed Kate, prancing around after a grooming session, and using human speech to express unmistakably canine sentiments like "When do we eat?" and "I love you – I think you're God" (to Greg).
The play premiered off-Broadway in 1995, with Sarah Jessica Parker playing Sylvia. Forni, who last appeared in UpStage Napa Valley's 2018 production of "Clever Little Lies," said the role challenges her to mimic doglike mannerisms without surrendering her essential humanness.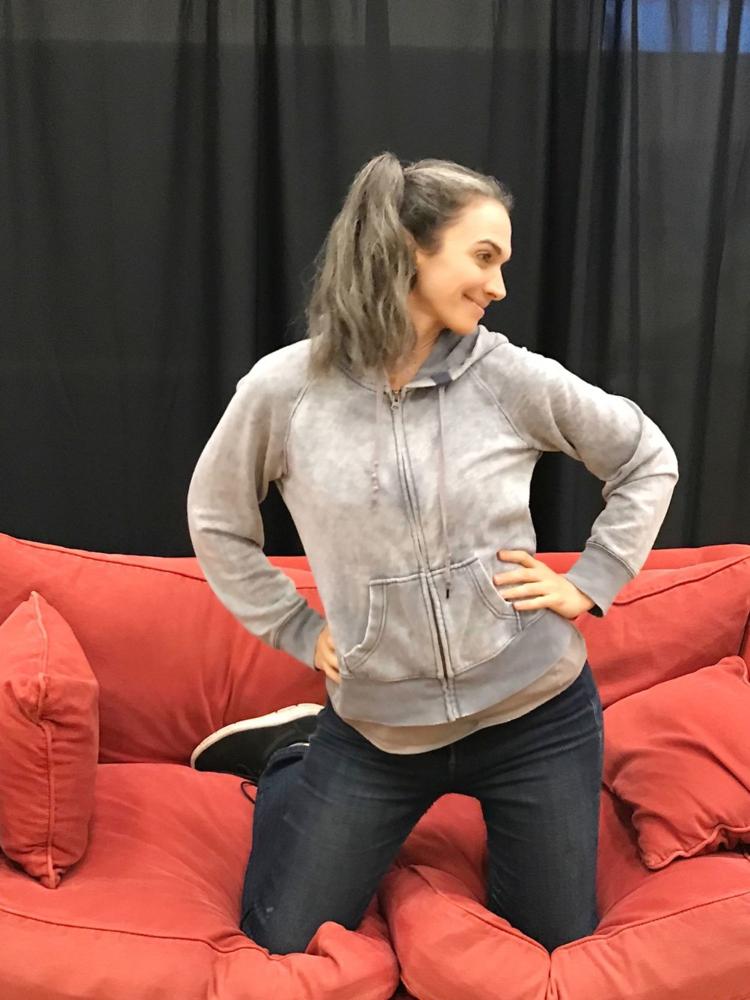 "I have to be a dog but also be a human at the same time," Forni said. "It's a chance to be silly and approach things with the innocence and wonder that an animal would have."
Forni played Snoopy when she was 11, so this is technically her second canine performance. She prepared for this one by observing real dogs, including her sister's new puppy and Renault's poodle, Duchess.
You have free articles remaining.
Sylvia's anthropomorphized antics – imagine her reaction when Greg or Kate say the word "outside" – account for many of the play's laughs, but the production also explores more serious territory with its human characters.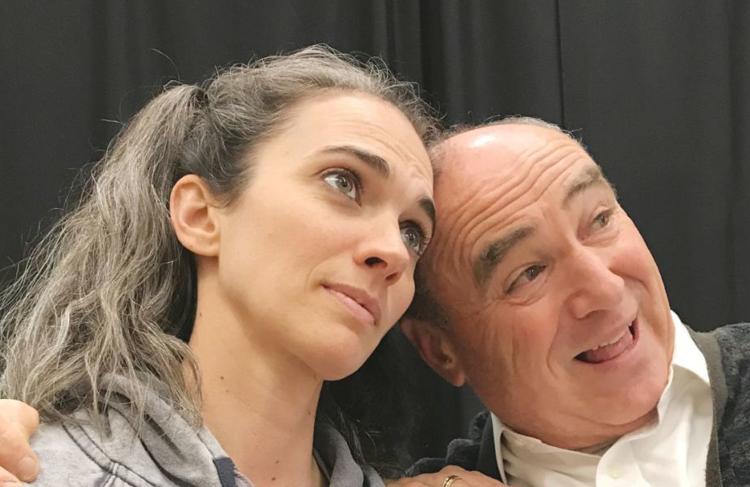 Greg is experiencing a classic midlife crisis. His relationship with Sylvia gives him the love and sense of purpose he craves, in contrast to the cold abstraction of his work as a banker dealing in currencies and money markets.
Meanwhile, Kate wants to start her own career teaching Shakespeare to urban kids. Finally free to pursue her professional ambitions now that their children are grown, Kate sees Sylvia as an unwelcome burden and a rival for her husband's affection.
"Kate is very excited about starting a career in the public classroom and she doesn't really want to be bothered with animals and tied down to a dog," said Whyte, adding that as a real-life animal lover she finds some of Kate's lines difficult to say.
The play will naturally appeal to animal lovers, but the cast and crew think audiences in general will appreciate its humor and characterizations.
For such an unconventional production, the rehearsal process has been smooth. Director Sharie Renault said the entire cast was off-book for the very first rehearsal, meaning the actors had already memorized their lines.
Renault previously directed "Sylvia" in 2011, and she decided the time was right to do it again.
"I knew Alexis would be a dynamite dog," Renault said.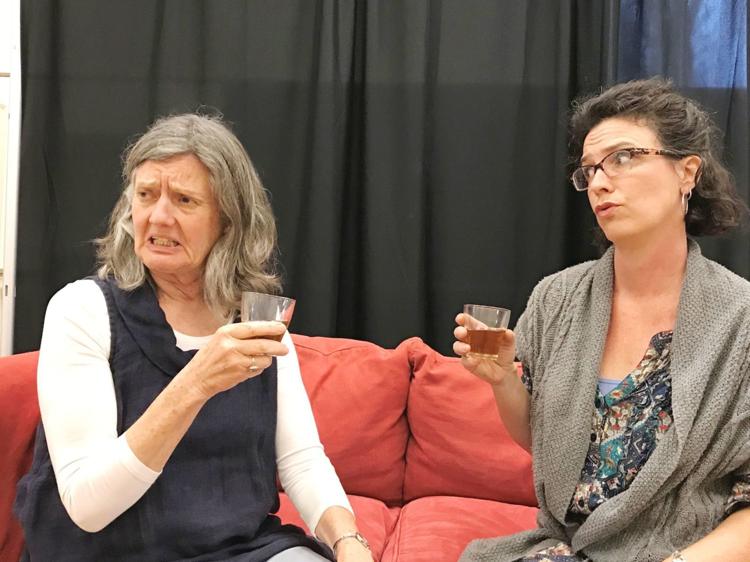 The cast also includes Elizabeth Stokkebye as Phyllis, a socialite who shares Kate's aversion to Sylvia, and Deborah Todd as Leslie, a psychiatrist who dispenses extremely bad advice.
In keeping with the animal theme, UpStage Napa Valley is collaborating with Jameson Animal Rescue Ranch, We Care Animal Rescue and Wine Country Animal Lovers to feature adoptable pets at each performance.
("Sylvia" contains adult language and themes.)