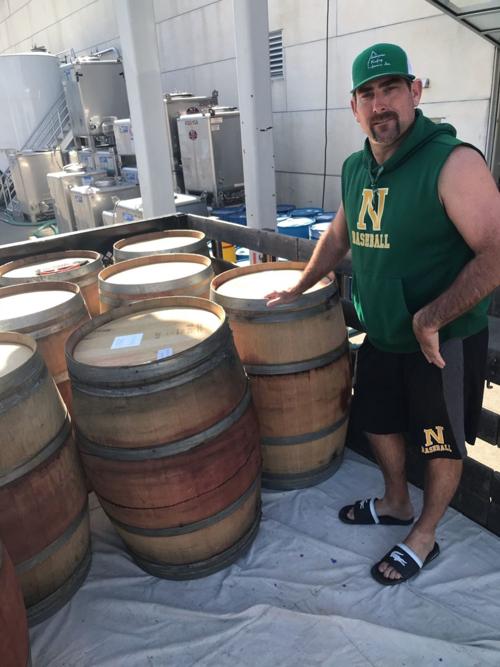 The coronavirus will prevent the group Easter egg hunts of the past, but St. Helena kids can still have some fun on Easter Sunday tracking down more than 100 colorfully decorated wine barrels scattered around town.
The barrels were donated by Hall Wines and distributed by Tony Montelli and other members of the St. Helena Odd Fellows Lodge #167.
With so many events canceled throughout the Napa Valley, Montelli said he was "trying to get something uplifting going for the community." Montelli's best friend and fellow Odd Fellow Matt Mumford, who works for Hall, said the winery was looking to donate some barrels.
"He had the idea that we could get a few people to paint them like Easter eggs," Montelli said. "And then kids could ride around on bikes or parents could drive their families around and go Easter egg hunting at a social distance."
As word spread, "a few people" turned into more than 100, with Odd Fellows delivering barrels throughout St. Helena in exchange for donations to the Napa Valley Community Foundation. The foundation is doling out money from its Disaster Relief Fund to help those affected by the COVID-19 pandemic.
Volunteers delivered 64 barrels on Thursday and Friday, plus another 48 on Monday.
Hall is donating as many barrels as are needed, but by Monday the volunteers were so overwhelmed that they were no longer accepting new orders.
As of Monday the effort had raised $725 in cash donations, not including online contributions to the Napa Valley Community Foundation.
Contributors included Lisa Pelosi (marketing), Matt Hileman and Russell Gold (dispatch), and the delivery team: Dan Parker, Andrew Smith, Jason Bitman, Tom Dixon, Tash Bunge, Eddie Molina, Angus Cleland, Bert Casten, Duane Dappen, Greg Neal, Scott Symon and Jason Kelperis.
Concerned about COVID-19?
Sign up now to get the most recent coronavirus headlines and other important local and national news sent to your email inbox daily.