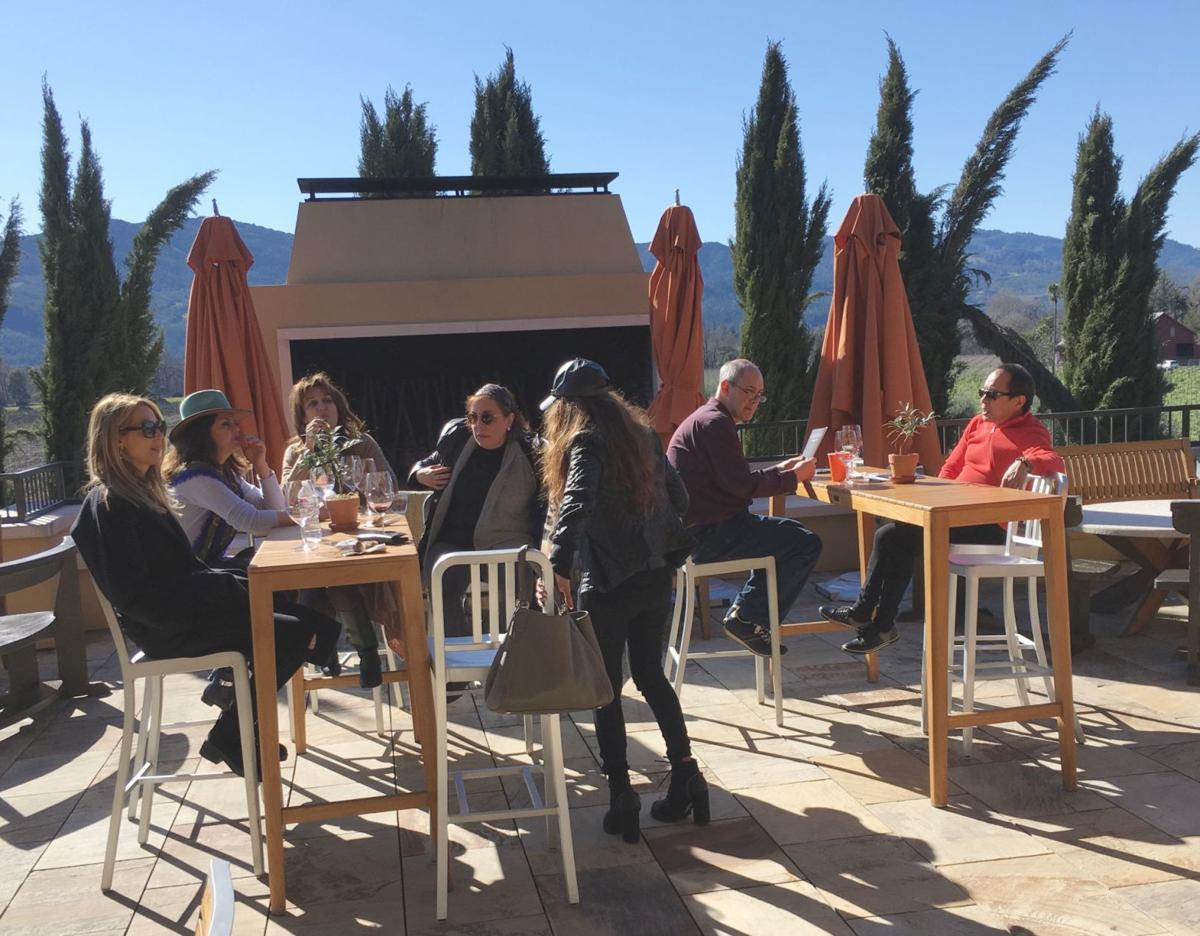 As the gavel came down on the sale of Shafer Vineyards' Premiere Napa Valley wine lot on Saturday, fellow winemakers and trade next to winemaker Elias Fernandez enthusiastically shook his hand and patted him on the back, and a stream of others would continuously come by to congratulate him, including Doug Shafer.
A pair of distributor reps were taping the active auctioning of another lot, pushing fists in the air as if to encourage the upswing of bidding paddles.
When one winery's lot was announced, a wave of clapping and whoops of excitement rung out from the back of the bidding hall.
Everywhere you turned during Premiere Week 2019, there were signs of lively encouragement among winery staff, for bidders and guests, but also for fellow vintners, and ultimately for the Napa Valley.
Thursday and Friday's collaborative tasting parties, leading up to Saturday's grand auction event, were early signs of the region's camaraderie. There were AVA-focused parties: Yountville producers gathered together to pour their selections at Domaine Chandon; a large collection of winemakers greeted guests at the Mount Veeder AVA Preview Party; Spring Mountain District vintners held their annual gathering at St. Helena's Odd Fellows Hall; Stags Leap District Winegrowers' threw their festive House of Cab event; and the Far Niente caves were lined with vintner tables to showcase Oakville Winegrowers. There were also collaborations without borders such as the Hall event with winemakers from Spring Mountain, Diamond Mountain, Oak Knoll and more.
Hearty hugs and genuine friendships were continually on display at every turn, but also a keen interest in what neighbors and friends were showcasing. During Friday's Spottswoode Winery tasting event, Beth Novak Milliken, President and CEO of Spottswoode, was having a lively discussion with another winemaker and guests, and taking meticulous notes as she tasted.
During Saturday's pre-auction barrel tasting, you were just as likely to see vintners talking, tasting, laughing, and joking at other winemaker's barrels, all while including trade guests in on the fun.
As with any community, there are fights and feuds that help fuel gossip and keep minds distracted from the underlying bonds that exist among vintners and related trade of Napa Valley. But watching the trade collectively entertain guests and interact during the Napa Valley Vintner's Premiere week, you see the real synergy of the community on display. Decades-long collaborations and friendships also spill over into auction lot offerings. For 10 years, the Del Bondio and Hoxsey families have been celebrating a friendship that spans three generations with a joint Ghost Block and Markham Vineyards Premiere red wine.
And ultimately, this is what our special trade guests take home along with their rarest-of-rare auction wins: a sense of the very special community that they have joined.
The wines' story
Almost 75 percent of the auction lots were from the 2017 vintage, and the wines were a liquid display of what really happened that harvest. The year's early and generous rains were followed by a series of heat spikes that collaborated to bring in much of the region's fruit early, before the arrival of the fires. But that was barely a focus of many of the conversations of the day.
The bright vibrant fruits and silky richness of the 2017 wines claimed their rightful place on the Napa Valley throne. It was, until the fires came, an outstanding vintage, and there were hundreds of wines nestled safely in the cellar, some of which were earmarked for this special barrel tasting event at Premiere.
What are the 2017s like? Eye-openers for sure: a style that guests were excited to talk about. Wine after wine showed vibrant aromatics and an exciting freshness that complimented the power and intensity of Napa Valley fruit.
A list of top wines is hardly possible given publishing constraints but standouts include: the bright-fruited 2015 Corison Cabernet Sauvignon; deeply complex 2010 Dominus; the 2014 Acumen Peak Cabernet Sauvignon keeping the mastery of winemaker Denis Malbec on our lips; the fresh black-fruited 2016 Barnett Vineyards Spring Mountain Cabernet Sauvignon; Bouchaine's 2016 Pommard clone Pinot Noir full of deep, red fruits; the 1998 (not a misprint) Schramsberg Late Disgorged J Schram sparkling wine still full of vibrant deliciousness; Gamble Family Vineyards Oakville Cabernet Sauvignon; the 2015 St. Eden Bond (dark, dense, and super silky); Far Niente's superb 2016 Estate Cabernet Sauvignon; the kiwi-tropical goodness of the 2017 O'Shaughnessy Estate Chardonnay; Oakville Ranch's ripe, black-fruited 2014 Cabernet Sauvignon; Cliff Lede's 2017 tasty Dream Wild Premiere Lot; Stanton Vineyards vibrant 2006 Cab that perfectly showcases Napa ageability; and the gorgeous aromatics of the 2016 Textbook Mise en Place.
Certainly not an exhaustive list; Napa Valley has outdone itself with Premiere Napa Valley 2019, and the 2017 wines are ready to sing.
Catherine Bugue is the St. Helena Star's tasting panel writer and is the co-founder of the Napa Valley Wine Academy in Napa.
Be the first to know
Get local news delivered to your inbox!