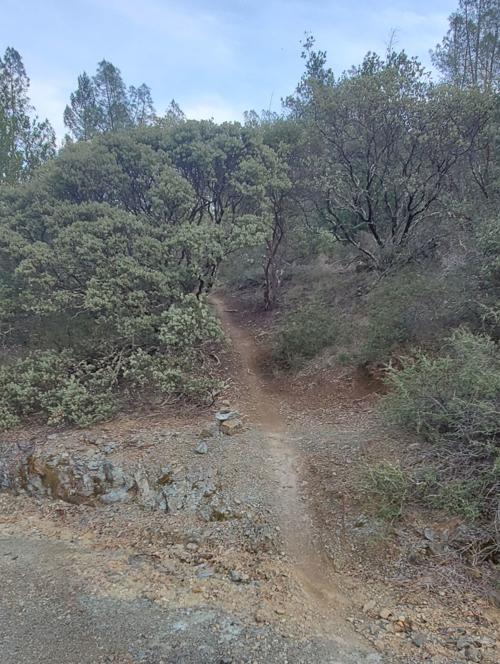 The rugged trails and scenic vistas of Angwin's Las Posadas State Forest have provided decades of enjoyment for local hikers, bikers and even one sitting president.
Now, as Cal Fire tightens up management of the 796-acre forest, those days of recreational use have come to an end.
Anita Blake, a naturalist and botanist, donated the property to what is now Cal Fire in 1930. She was adamant that it be reserved for forestry and botany research and tree propagation — not for recreational use.
"It's very clearly stated in the deed: sole use forestry, botany, kindred subjects. No recreation," said Peter Leuzinger, Cal Fire forest manager for what is now called Las Posadas Experimental Forest as well as Boggs Mountain Demonstration State Forest in Lake County.
"I understand that it doesn't make people happy to hear that they were never supposed to have been on Las Posadas," Leuzinger said. "But the state of California through the Department of Forestry made a commitment to the Blake family many years ago that we would not allow recreation."
The deed restriction came under renewed scrutiny as Las Posadas was evaluated under the Demonstration State Forest program and Cal Fire secured authorization for its new fire station at Las Posadas. Meanwhile, Leuzinger became the first forest manager to have a physical office at Las Posadas.
Blake's family has declined to alter that deed restriction out of respect for her wishes, so authorities have begun enforcing the ban on recreation.
The prohibition does not extend to Boy Scouts, 4-H and other educational programs that are consistent with Blake's original vision for the forest. It also won't affect the evacuation corridor that runs through Las Posadas, offering Angwinites an alternate route to Chiles-Pope Valley Road in case of a wildfire or other disaster.
The shift in policy comes as Pacific Union College has expanded public access to its own adjacent forests.
The college reached an indemnification agreement with the Napa County Regional Park and Open Space District last year shielding the college from potential liability and allowing it to formally welcome outdoors enthusiasts to the PUC forest and its 35 miles of trails.
The best way to access PUC's forest is from the Angwin Airport. It's also accessible from a gated easement that extends from the "elbow" along Las Posadas Road and through the Las Posadas forest.
To facilitate public access to the forest from Las Posadas Road, the college plans to build a recreational staging area, 20 to 30 parking spaces, and a roofed structure for picnics and outdoor classes at the point where the easement enters PUC's forest.
"This is one of the ways the college can support Las Posadas, by taking some of the recreational pressure off of their forest and putting it onto ours," said Peter Lecourt, PUC's forest manager.
Lecourt is trying to raise about $150,000 to fund the improvements. For information about how to help, email him at plecourt@puc.edu.
Las Posadas, which lies south of PUC's forest, has been popular among nature-lovers, hikers and mountain bikers, despite the lack of recreational facilities like water, restrooms, signs and trail maps.
Then-President George W. Bush rode his bike there in April 2006, accompanied by Secret Service agents and medical staff. (Just in case he got hurt, the White House's chief nurse paid an advance visit to St. Helena Hospital, which was told to have plenty of snake antivenom on hand.)
Smartphone apps geared toward hikers and bikers made unofficial Las Posadas trails like Dan's Wild Ride more popular than ever. Leuzinger estimated that recreational use of Las Posadas quadrupled during the last decade while Cal Fire was still "turning a blind eye."
The Redwood Empire Mountain Bike Alliance is getting the word out to bikers about riding in PUC's forest instead of Las Posadas. Old routes like Dan's Wild Ride, which connects to Moore Creek Park, are being realigned to run through PUC's forest instead of Las Posadas.
"It'll be different from Dan's Wild Ride, but it'll be just as fun if not more fun," said Deb Bloomquist, executive director of the alliance. "It'll be super-scenic once you get up to the ridgeline."
Mountain bikers who've been using Las Posadas didn't learn until recently that it's supposed to be closed to recreation, Bloomquist said.
"This is an educational opportunity," she said.
Be the first to know
Get local news delivered to your inbox!