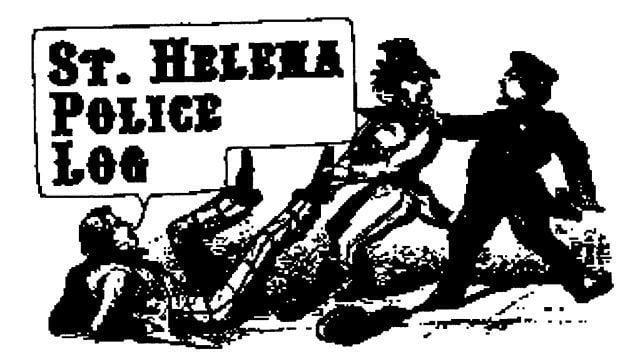 1834 — Report of a possible natural gas leak on Crinella Drive.
2131 — Report of a suspicious car idling for an hour on Oak Avenue.
2315 — An officer warned a bicyclist about riding at night with no lights.
0442 — Non-injury lift assist on Main Street.
1101 — Report of an assault and battery on Hunt Avenue.
1350 — Police assisted another agency with a foot pursuit on Silverado Trail.
2025 — Report of dogs barking incessantly at a Charter Oak Avenue home.
2029 — Report of a possible drunk driver swerving and almost hitting a mailbox on Highway 29 near Galleron Lane.
0535 — A caller reported what sounded like a helicopter near Stockton Street. Dispatch said it was probably vineyard machinery.
1020 — Report of a car parked on Hunt Avenue for over a week. Police marked it to be towed in 72 hours.
1424 — Report of a reckless driver on Silverado Trail. The CHP was notified.
1812 — Report of at least two kids up on top of the city water tank near Spring Mountain Road.
1816 — A woman said her husband wanted to drive after drinking. She prevented him from leaving.
0737 — Report of a leaf blower and weed whacker going since 7 a.m. on Edwards Street.
1333 — Report of a customer at a downtown jewelry store making a $2,400 purchase today and a $4,300 purchase on Thursday using a credit card without a chip. He insisted on entering a card number that didn't match the number on the card. Police arrested the 35-year-old Oakland man for outstanding warrants.
1450 — A woman reported that man approached her at about 1 p.m., showed her a bottle of baby oil, and asked her an inappropriate question. The incident happened on Howell Mountain Road, so the woman was put in touch with the sheriff's office.
1559 — A woman reported being attacked by bees on Laguna Seca Court. She hadn't been stung and didn't need medical attention. Police gave her the phone number of a beekeeper.
1646 — Non-injury accident blocking the southbound lane of Silverado Trail at Deer Park Road.
1843 — Report of five or six people gathering by a dirt lot on Hollis Lane. The caller said it seemed like they might be setting up for a party. They told police they were just setting up for a road trip.
1848 — Medical aid on Los Robles Court.
2054 — Report of a suspicious man on Adams Street.
0040 — During a traffic stop at Main/Pope, police cited a man for driving without a license and for an outstanding warrant.
0204 — A woman asked police to check on her husband, who had sent her troubling text messages.
1001 — Juveniles came to the PD lobby asking for a bike helmet.
1158 — Medical aid for an intoxicated man on Spring Mountain Road.
1317 — Medical aid for a man who fell off his bike on Stralla Court. He declined medical attention and left before help arrived.
1502 — Medical aid for an unconscious woman on Main Street.
1635 — Report of extra cars, music and a party on Dahlia Street.
1900 — Multiple callers reported cars racing up and down Valley View, Mitchell and Crane. Police checked the area.
2140 — A caller on Spring Mountain Road said she was lost and didn't know how she'd gotten there or what was happening. Police arrested the 23-year-old Santa Rosa woman on suspicion of mail theft, possession of burglary tools, and drug possession.
2141 — Non-injury accident on Charter Oak Avenue.
2154 — A Tainter Street resident said someone knocked on her door, but they were already gone when she opened it.
2308 — Police were told to be on the lookout for an erratic driver on northbound Highway 29 near Whitehall Lane.
0337 — Report of an intoxicated man trying to get into a house on Birch Street. Police detained the 30-year-old Angwin man on suspicion of public intoxication.
1040 — Report of a landscaper using a chainsaw on Crinella Drive.
1616 — A vehicle parked near Main/Hunt was damaged in a hit-and-run.
1819 — A black fabric sleeve containing money was lost on Main Street. (Editor's note: See Aunt Helena for details on how to return the money to its owner.)
1832 — Medical aid for a stroke victim on Spring Street.
1914 — Report of a driver swerving near Madrona/Main. Police stopped the car and determined the driver was not drunk.
1946 — Medical aid for a sick woman on Del Rio Court.
0839 — Report of a loose dog on Chablis Circle.
0943 — A person asked to talk to an officer about a child custody exchange.
1343 — A package was reported missing from Hunt Avenue.