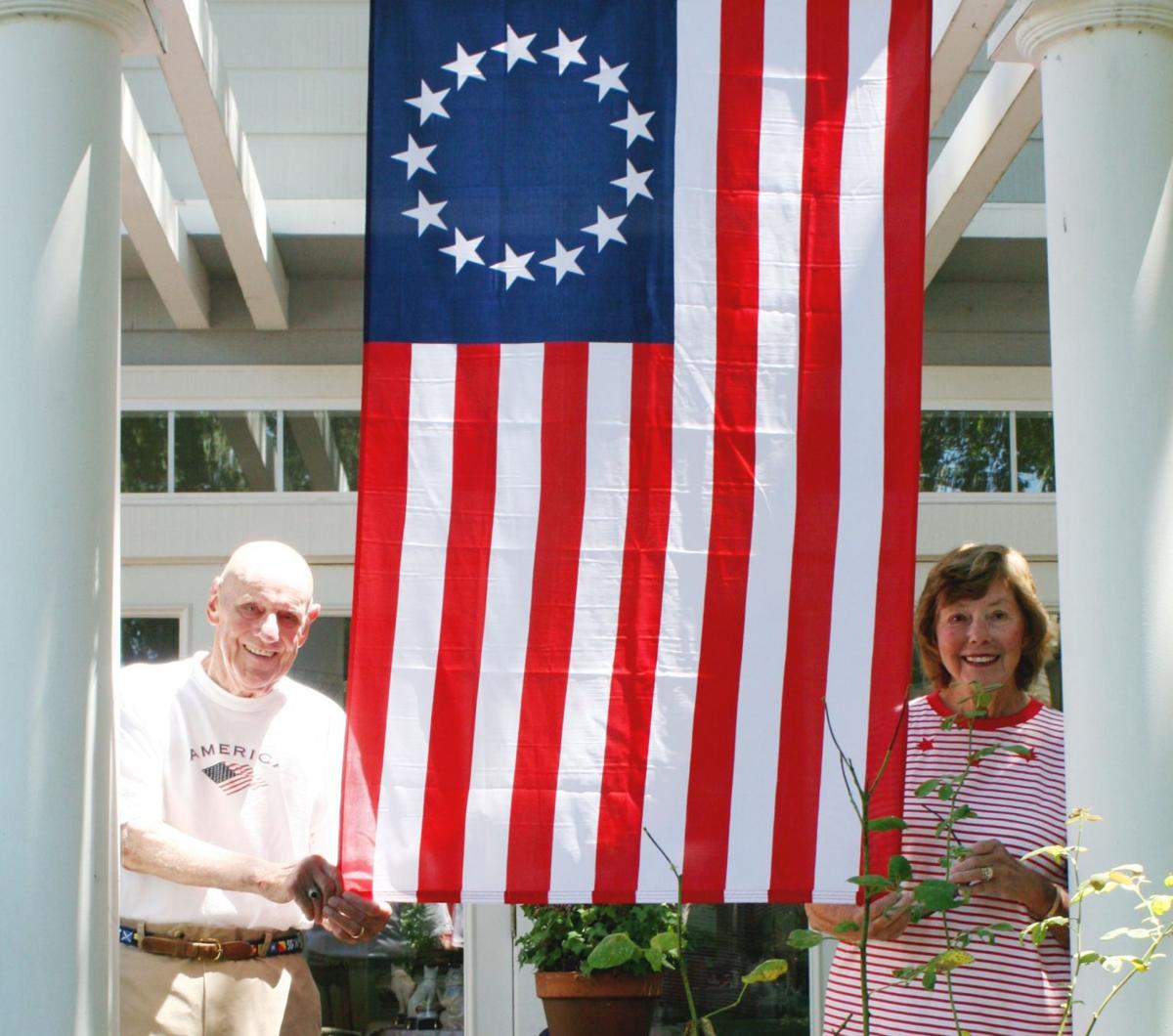 Four years ago, the Star reported on a Fourth of July display of a large "Betsy Ross" flag on the porch of the late Bernard Vash and Elizabeth Couse. In the story, Vash claimed the flag was known "historically as America's first flag."
At the time, Vash said he bought the flag for his wife, who was flag chairman for the Caymus chapter of the Daughters of the American Revolution. He also stated the flag's history is made up of myth, including that Betsy Ross sewed it and presented it to George Washington.
In April 2020, paleovexillologist (flag historian) Earl P. Williams, Jr. wrote to the Star and said new information about the "Betsy Ross" flag is now available and the article could be updated.
In fact, according to a 2016 biography published by Marquis Who's Who, it was Williams who discovered that New Jersey Continental Congressman Francis Hopkinson designed two Stars and Stripes flags, one for the United States and one for the U.S. Navy. Williams' conclusion: "Hopkinson's Navy flag was the prototype for the official U.S. flag."
In 1996 Williams published a 52-page paperback, "What You Should Know About the American Flag." It is for elementary and middle school students. For nearly 30 years, Williams was an editor with the U.S. General Accounting Office. He has been a Washington, D.C.-based freelance writer since the 1970s.
Williams suggested we do three Wikipedia searches, on "Betsy Ross," "Betsy Ross flag" and "Hopkinson."
Although the "Betsy Ross" flag is a symbol of American patriotism, Wikipedia says the origin of the flag is based on a questionable family legend. Although the familiar 13 red and white stripes represent the 13 original colonies, the circular star arrangement should be credited to Hopkinson.
Ross (1752-1836) was a Philadelphia upholsterer, who made tents, uniforms and flags for the Continental forces, but she apparently did not make the first U.S. flag. In the 1770s, Wikipedia said there were 17 upholsterers and flag makers in Philadelphia, including Margaret Manny, Rebecca Young, Anne King and Cornelia Bridges, as well as flag painter William Barrett.
The Betsy Ross myth was first started by Ross' grandson, William Canby, who presented a historical paper in 1870 that his "grandmother made the first flags of the United States in June 1776." Canby claims his grandmother was asked by George Washington, Robert Morris and George Ross to make the flag. Wikipedia, though, states there is a "lack of historical evidence and documentation to support the story" and lists six claims to dispute it.
Additionally, there was not one U.S. flag design, instead it evolved and there were 17 designs from 1779 to 1796. The U.S. flag was the "work of many hands."
Be the first to know
Get local news delivered to your inbox!