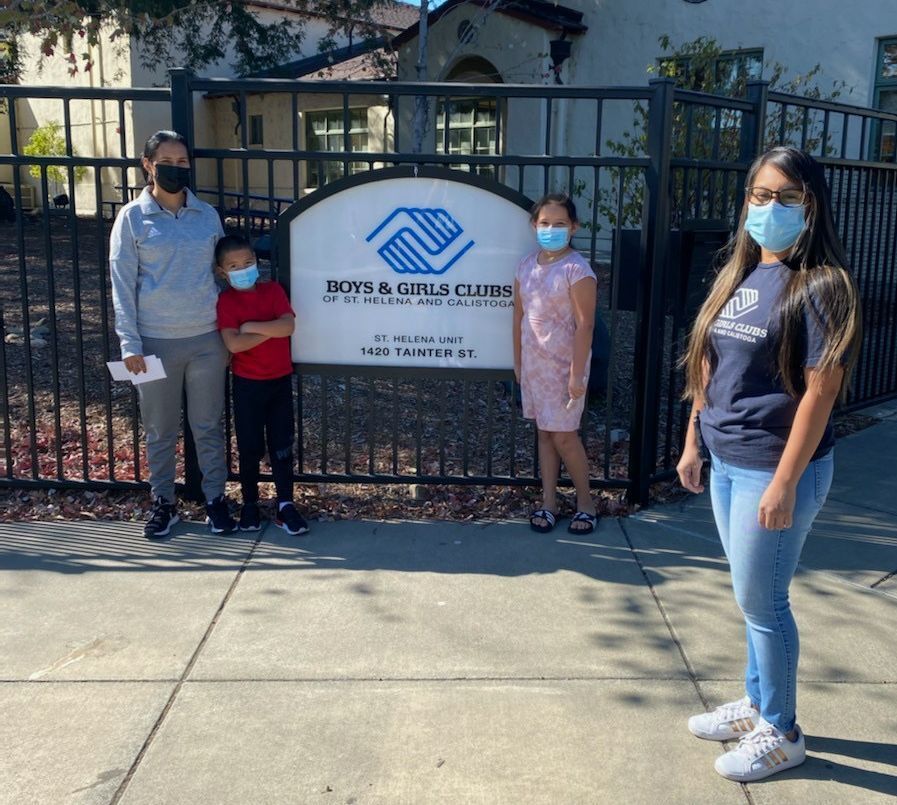 In a year marked by pandemic, disaster and economic hardship, the Boys & Girls Clubs of St. Helena and Calistoga continues to find new ways to serve local families.
The organization recently teamed up with the nonprofit My New Red Shoes (MNRS), which donated $15,000 to be distributed among three local families who lost their homes in the Glass Fire.
In addition to the $15,000, MNRS provided personal care items acquired through a partnership with the Orlando Magic's Aaron Gordon, Dove Men+Care and the National Basketball Players Association.
The collaboration began after news about the Boys & Girls Club delivering thousands of meals to fire evacuees caught the attention of Joanne Gouaux, a former St. Helenan and board chair of MNRS, which is based in Redwood City but serves the greater Bay Area.
Trent Yaconelli, the club's executive director, explained to Gouaux how some Glass Fire victims were farmworkers or domestic workers who have children but weren't eligible for disaster relief funds.
Gouaux put Yaconelli in touch with Minh Ngo, executive director of MNRS, which ultimately donated $15,000 out of a new grant program.
"We wanted to play a role in supporting our neighbors and the children who are most in need," Ngo said.
"Through their incredible support, families, single moms and migrant workers who lost what little they owned were given financial support to get them back on their feet again," Yaconelli said. "This would not have been possible without MNRS and their dedication to helping those on the fringes. With their support there are families who now have clothing, shelter and vehicles to start a new life. MNRS is a shining example of what can happen when good people give their hearts and energy to those in need."
Yaconelli lost his own home in the Tubbs Fire of 2017, so he understands how much fire victims need cash — not just gift cards — for miscellaneous expenses.
"You don't know what you're going to need," he said. "When you get a gift certificate or a gift card, it limits what you can get."
Yaconelli and Ngo are already talking about teaming up in the future to provide clothing, shoes and various household goods for needy families.
Other donations
The Boys & Girls Club has greatly expanded its original child care mission in response to this year's COVID-19 pandemic and wildfires.
It worked with local restaurants to serve more than 20,000 meals to local families. The Feed Our Families program resulted in a partnership with Chef Jose Andres' World Central Kitchen, which has talked about using the kitchen at the club's Calistoga clubhouse as a base of operations during future disasters.
The club distributed more than $70,000 in direct gifts to 15 club families who lost their homes in the Glass Fire. Club staff helped secure meals, lodging and gift cards for affected families.
The club also obtained three cars to donate to families who lost their own cars in the fire.
The club is currently serving St. Helena Unified School District students who are participating in distance learning and whose parents need to work during the day.
"It is important that we stay relevant in these trying times," Yaconelli said. "Our job is to serve our community especially the families and kids that need us the most. We will continue to do that with new programs and partnerships in any way that we can. As we head into an extremely active time for the virus the Clubs will work diligently to help our Club families while keeping our community safe. If we all work together we can do great things."
WATCH NOW: COVID-IMMUNE ROBOTS PACK THANKSGIVING FOOD FOR THOUSANDS OF NEEDY FAMILIES
PHOTOS: THESE FAMILIES LOST EVERYTHING IN THE GLASS FIRE