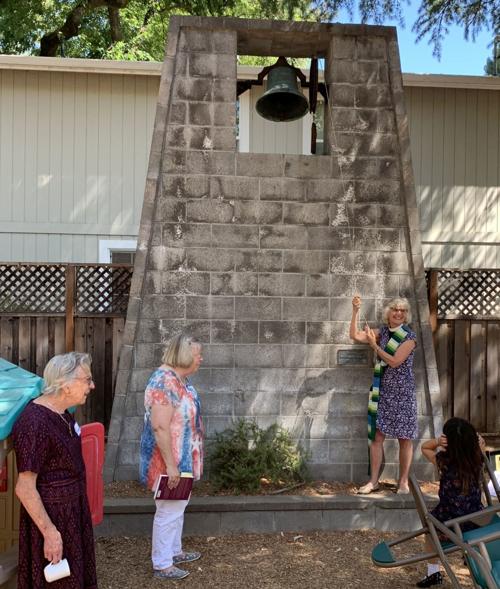 About two dozen people gathered at St. Luke's Episcopal Church on Sunday, Aug. 25, for one of America's most somber anniversaries.
Churches throughout the United States rang their bells for four minutes (one minute for each century) to mark the 400 years since the first African slaves arrived on the shores of what would become the United States.
Deacon Susan Napoliello introduced the Healing Day National Bell Ringing by saying, in part, "At a time when the dream of liberty and justice for all continues to challenge our country, we take this opportunity in the words of the national African American History Commission 'to expand our collective understanding and appreciation of the contributions of African Americans.'"
She added many faith and secular organizations, including the Episcopal Church, are "committed to the healing and reconciliation of the persistent wounds of slavery and racism of which we repent our explicit involvement and complicity."
Charles Johnston, a member of the church's leadership group, recounted the history: "As recorded by English colonist John Rolfe, the arrival of '20 and odd' African men and women at Point Comfort in late August 1619 was a pivotal moment in the nation's history. Stolen by English privateers from a Spanish slave ship and brought to Point Comfort on a ship called the 'White Lion,' these natives of west central Africa are believed to have been traded for food and supplies. They were the first Africans to be brought to English North America."
Point Comfort is the present-day Fort Monroe in Hampton, Virginia. The landing of the Africans marked the beginning of 246 years of slavery in the United States, which ended with the passage of the 13th Amendment to the U.S. Constitution in December 1865.
Johnston said the Africans "brought useful skills that the early English colonists needed to survive. They were skilled farmers, herders, blacksmiths and artisans. Along with their skills, they brought their own culture, language and beliefs that shaped innovations in food production and crop cultivation and contributed to American cultural traditions."
Cathy Keag, another member of the church leadership group, read a poem for Barack Obama's presidential inauguration called "Praise Song for the Day" by Elizabeth Alexander.
The poem ends with these stanzas:
"Some live by love thy neighbor as thyself,
others by first do no harm or take no more
than you need. What if the mightiest word is love?
Love beyond marital, filial, national,
love that casts a widening pool of light,
love with no need to pre-empt grievance.
In today's sharp sparkle, this winter air,
anything can be made, any sentence begun.
On the brink, on the brim, on the cusp,
praise song for walking forward in that light."
Napoliello then led those gathered in prayer and in ringing St. Luke's bell, which came from an old church in Collingsville, California. It was donated in memory of Winifred Washburn by her daughter and son-in-law, Marjorie and Andrew Tahja.
Be the first to know
Get local news delivered to your inbox!