David and Amy Garden were on the sidewalk in front of Lyman Park in the 106-degree heat Monday, holding Black Lives Matter signs and "watching the birds," as David Garden said.
A heat wave brought unusually high temperatures to Napa County on Sunday and Monday. Temperatures were expected to be in the mid-90s — at least 10 degrees cooler — on Tuesday.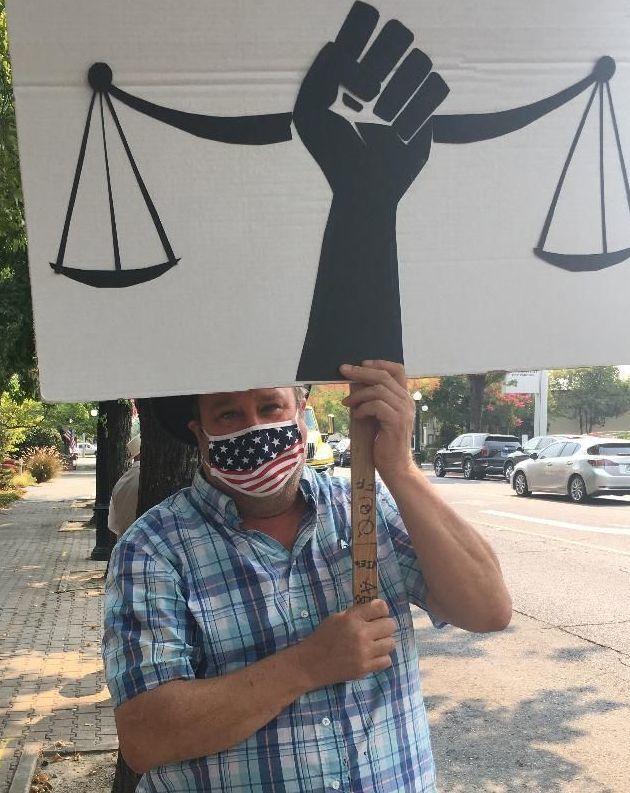 The Gardens have been part of a group of people – seven braved the heat on Labor Day – seeking racial justice and protesting the police killing of Black men like George Floyd, who died on May 25 in Minneapolis. The group has gathered since Memorial Day from noon to 1 p.m., every Monday at Lyman Park, facing Highway 29 and the U.S. Post Office across the highway. At the beginning of the weekly protests, there were 40 or 50 people standing in line – more recently, there have been a couple dozen or so.
On Monday, David Garden said, "I'm just expressing the basic right of equal justice for everyone, for all of our citizens."
His sister, Amy, standing six feet away – both wore masks – said the reaction has been "pretty consistent" in the past month, adding it has been 99 percent positive. Just then, a driver honked his car's horn car in support and another driver raised his fist outside the window. "If the need has abated, that would be one thing, but it hasn't," she said.
David said there have been a couple of "birds" – middle fingers – and a couple of people displaying "thumbs down." But, he said maybe the drivers are puzzled by a "bunch of demonstrators in our lily-white town." He added, "What's interesting is the different reactions from people, whether they are in a Mercedes or a beat-up Toyota pickup truck."
Walking from the post office to the Star office, just a couple of blocks, was more tiring than usual, in part because of the heat. The Bottle Shop was offering "heat relief," an air-conditioned retail space at 69 degrees and free water.
Cooling Center
It was not only heat but the smell of wildfire smoke that hit me in the face stepping outside at 2 p.m., the hottest part of the day, an estimated 110-plus degrees. At 5 p.m., the digital thermometer at the high school confirmed that reading — 111 degrees.
Offering relief from the heat was Victoria Ramirez, who manned the St. Helena Cooling Center, which was open from noon to 8 p.m., both Sunday and Monday. As of mid-day Monday, two people had dropped by the Carnegie Building – Mayor Geoff Ellsworth and this editor. One person had stopped by on Sunday.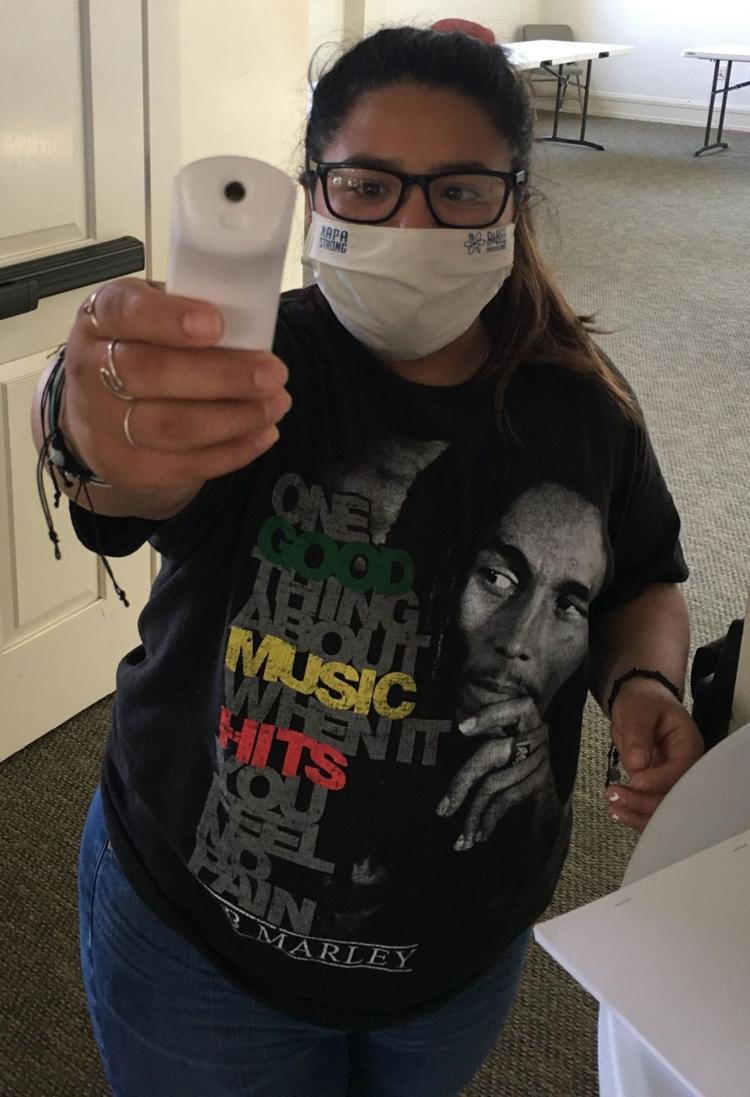 The first thing Ramirez did was write down my name and phone number, then took my temperature and recorded it. For the record, mine was 98.1 entering the building and 91.4 coming out 15 minutes later.
For the past four years, Ramirez has worked for St. Helena's Rec Department, under supervisor Amalia Kulczycki. Usually, Ramirez helps Kulczycki with after-school programs and rec programs like Zumba and yoga and youth summer camps, although they didn't happen this year. She has lived her whole life in St. Helena.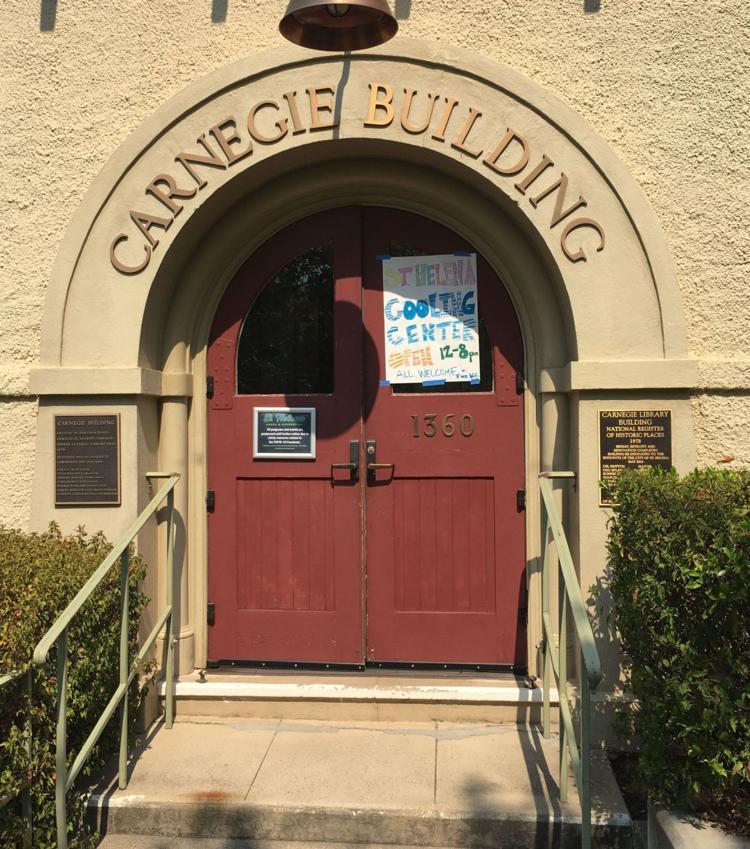 On Monday, she was doing school work on a laptop. She is in her third year at Napa Valley College and she has plans to transfer to UC Davis to study sociology. Inside the main room at the Carnegie Building, the chairs were spaced six feet apart, and inside the cooling center the temperature was in the low 70s. According to a city press release, "The Carnegie Building was initially warm on Sunday, Sept. 6, but the thermostat has been adjusted and now is a cool refuge."
The city implemented strict safety protocols at the cooling center to prevent the transmission of the COVID-19 disease among both visitors and staff, according to a press release. Measures include temperature checks, use of masks or face coverings, physical distancing between individuals or household units, staff dedicated to disinfecting restroom and commonly touched surfaces and lowering capacity limits of the building.
Walking through town, it was nice to see signs of normalcy: a couple eating lunch at Market; a poster advertising the sale of three roosters – for $20 to $30 each – on a electrolier at Main and Spring streets; people on the street mostly wearing masks; and a large, noisy crowd at Caffe Della Valle, with many people ordering iced drinks and cups and cones of various flavors of gelato.
Sunshine's Jimmy Adams
In the morning, when it was relatively cool, Jimmy Adams was as upbeat as usual working a cash register at Sunshine Foods. He has worked there for 15 years and has been a checker for the last 12. He was telling his customers that he was performing as part of an audiobook directed by Travis Edwards of Sacramento.
"We started talking – he is a security guard that I know – and he liked my voice and asked if I wanted to be involved. I've never been a part of an audiobook before," Adams said. The book is the "Luminous Chains of an Impoverished State" by author Yahniq Vision. Adams will play a small character, John, who is a homosexual drug addict, although he adds he will also be a narrator.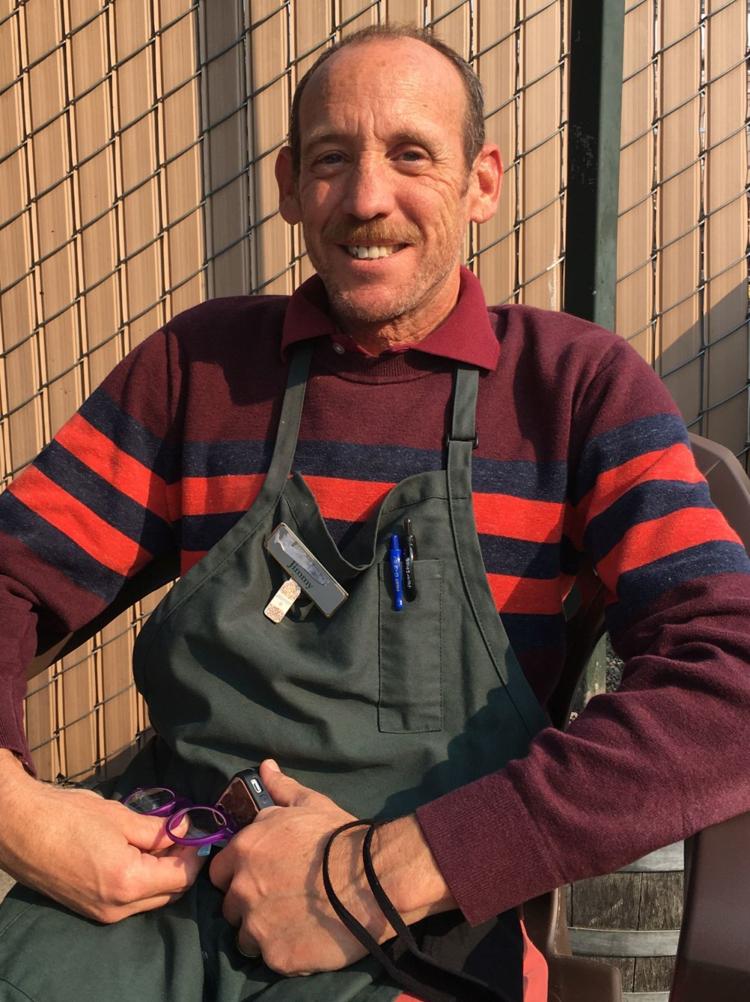 The recordings for the audiobook either will be done by phone or in a studio, and Adams said he'd prefer doing it in a studio – to get the full experience. The Vallejo resident, who has been an actor for the past decade said the preview will come out in December and the audiobook will be released a month later.



Watch now: Black Lives Matter Monday Vigil
Be the first to know
Get local news delivered to your inbox!