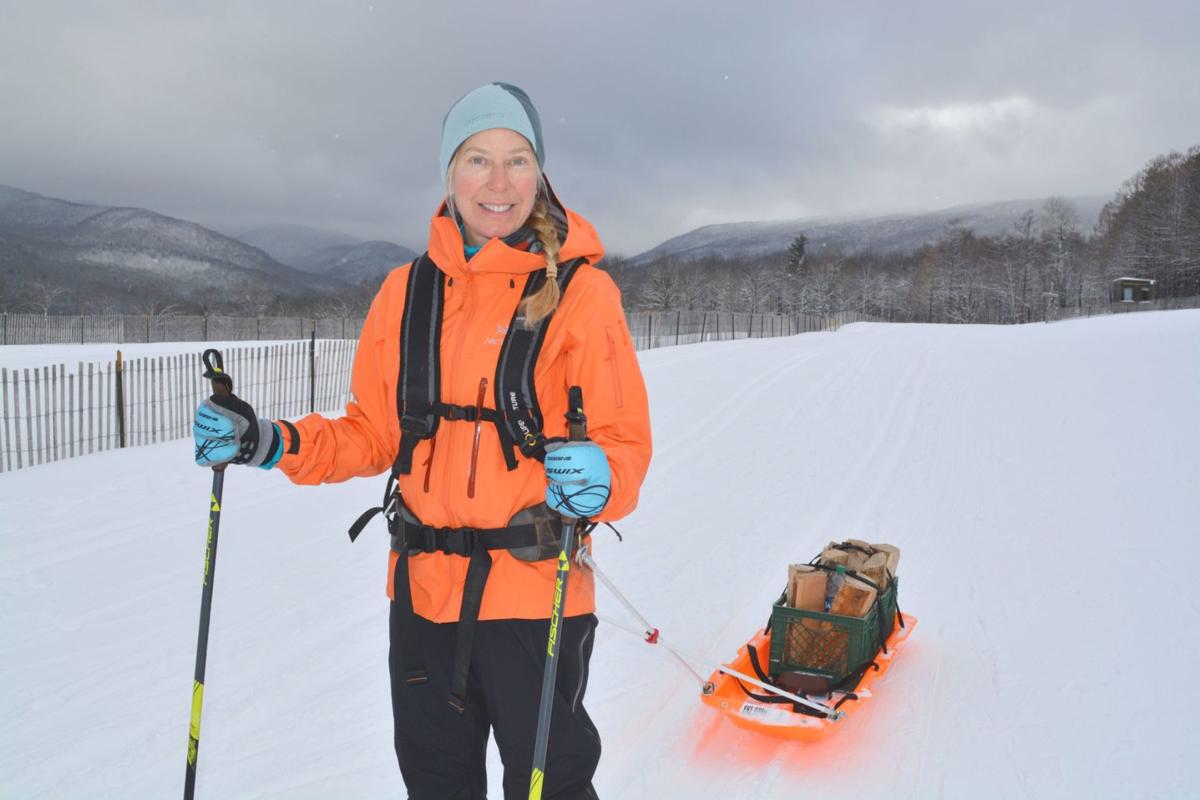 Of the many reasons a person might risk life and limb, fundraising isn't usually one — unless you are Alison Michaux Reynolds.
Reynolds, a one-time St. Helena resident known to many locals by her former name, Alison Piziali, is preparing to trek across the frigid Norwegian wilderness later this month to raise research dollars that could be put toward a cure for her 17-year-old daughter, Tia Piziali.
Tia, who spent her early years toddling around Crane Park before relocating to Washington, D.C. with her mother and stepfather, was born with a rare, inherited metabolic disease called Phenylketonuria or PKU.
First identified in 1934 by Ivar Asborn Folling, the Norwegian biochemist to whom Reynolds is dedicating the trip, PKU is now routinely screened for in newborn babies. Of those tested in the United States, 1 in 10,000 to 15,000 will be afflicted.
Children born with PKU lack the ability to metabolize phenylalanine or Phe, an amino acid found in almost everything we eat or drink. When Phe builds up in the blood stream, it turns toxic and begins to attack the central nervous system. Before the recent introduction of enzyme therapies, PKU patients had only one way to protect themselves from brain damage: adhere to a strict and expensive low-protein diet of formulas and medically engineered food — in perpetuity.
"It's no way to live, worrying constantly if what you eat is going to hurt you," said Reynolds, who is 46 and the mother of four. "Tia deserves a better life. They all do."
Seeking a cure
Through determined fundraising and patient activism, some of which originated in St. Helena, Reynolds and company were able to accelerate drug development for two enzyme replacement therapies now on the market. By trekking across Folling's homeland, she is hoping to prod the scientific community once again.
"It's been 85 years since he discovered PKU," said Reynolds. "We should be closer to a cure."
"Crossing Norway for a Cure," the website Reynolds set up a year ago has raised close to $900,000 in donations, double her starting goal. Reynolds, who won't start the trek until Friday, Feb. 21, hopes that number will grow.
All the monies raised from the trek will be funneled through the scientific advisory board of the National PKU Alliance she and her family helped found in 2008. According to Reynolds, there are a number of promising PKU-related gene- and cell-based therapies that she hopes can be hurried along with the research funds she hopes to raise.
According to biochemist Dr. Raymond Stevens, Reynolds and her goals are credible.
Stephens, director of the Bridge Institute at the University of Southern California, pioneered two breakthrough drug therapies now on the market that lower Phe in the bloodstream with fundraising help from Reynolds and Tia's two sets of grandparents — Richard and Ginny Michaux and Bob and Kathy Piziali, the latter who reside in Calistoga.
"Without Alison and her family, there would not be Kuvan and peg-pal, it is that plain and simple," said Stevens. "They changed the course of this disease treatment."
Women will ski into Hell
Tia, who started on Palynziq, the commercial name for peg-pal, late last year, has gone from ingesting only a few grams of protein per day to almost 60 grams. "Though it's not a complete cure," Tia said by phone last month, "it's like a day cure," one that is improving her brain function and physical stamina.
When asked about the trek, Tia said at first she, "felt so bad like my mom had to ski across Norway where it's 2 degrees and sleep in a tent and all because of me." As the months passed and her drug therapy started working, awe and gratitude replaced guilt. So far as Tia's concerned, "Mom's a bad ass."
Given what lies ahead, Reynolds will need to be.
Accompanied by her guide, Elise Koren, Reynolds will traverse the narrow band of remote terrain that stretches from the Swedish border to the coast of Norway, pulling an 80-pound pulk sled loaded with gear and food.
Traveling an estimated 21 kilometers per day, the two women will ski for eight to 10 hours. At the end of their long day, they will not retreat to a cozy cabin but will instead camp outdoors, sharing a tent and a cook stove. Meals will be mostly freeze-dried and water replenished nightly from boiled snow.
If all goes as planned, the two women will ski into Hell, an aptly named rural village about 30 kilometers outside Trondheim on Feb. 29.
A former college athlete and experienced cross-country skier, Reynolds started training for the journey a year ago, running, biking and pulling tires for hours on end. Reynolds' biggest fear isn't her stamina, but hypothermia. Her guide has prepared her for daytime temperatures in the single digits and sub-zero at night.
Unable to predict the weather or snow depth, Reynolds is hoping for the best and planning for the worst. She'll use a satellite phone and GPS tracker to stay connected. Ripcord Travel Insurance, the emergency evacuation service sponsoring her and Koren, is already on speed dial.
Elizabeth Adams, owner of Abigail Adams Wines in Yountville and one of Reynolds close friends, is bullish. Adams remembered visiting Reynolds after Tia was born. Reynolds, Adams said, was "nervous and scared… but was absolutely going to figure this out… and wasn't going to stop until she did."
Among the people who will be rooting for Reynolds in absentia will be Christina Love, a 39-year-old PKU patient and mother of three living in Orlando, Fla..
"For so long I felt like I was walking alone in a desert," said Love, who is currently being treated with Palynziq. "And here's Alison and her family and Dr. Stephens and it's like someone giving you food and water. It's life changing what they have done."
Holly Hubbard Preston is a St. Helena-based freelance writer.
Be the first to know
Get local news delivered to your inbox!