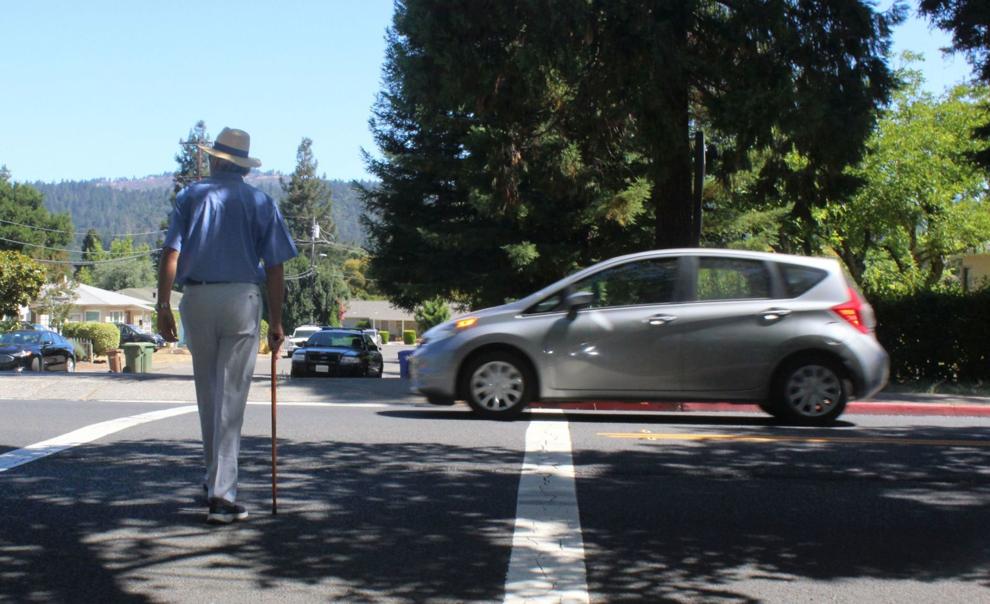 A police sting is underway in St. Helena, and it's happening in plain sight.
At the corner of Main Street and Crinella Drive, Sgt. Steve Peterson aims his radar gun at oncoming cars. He's running Wednesday's pedestrian safety enforcement operation.
Two plainclothes police volunteers, Chris Bearman and George Watson, are getting ready to enter the crosswalk on foot. They're the bait.
If a driver fails to yield to Bearman or Watson, they'll quickly notice flashing red and blue lights in their rear-view mirror. When officers Melissa Brown or Sandra Felix, discreetly positioned north and south of the intersection, pull over the offending car, the trap snaps shut.
This isn't a gotcha operation. There have been press releases, notices in the Star, alerts on social media, and even big unmissable signs warning drivers of the sting. Yet there's still enough action over the next three hours to keep Brown and Felix on their toes.
The CHP is conducting a simultaneous operation at the Charter Oak Avenue crosswalk.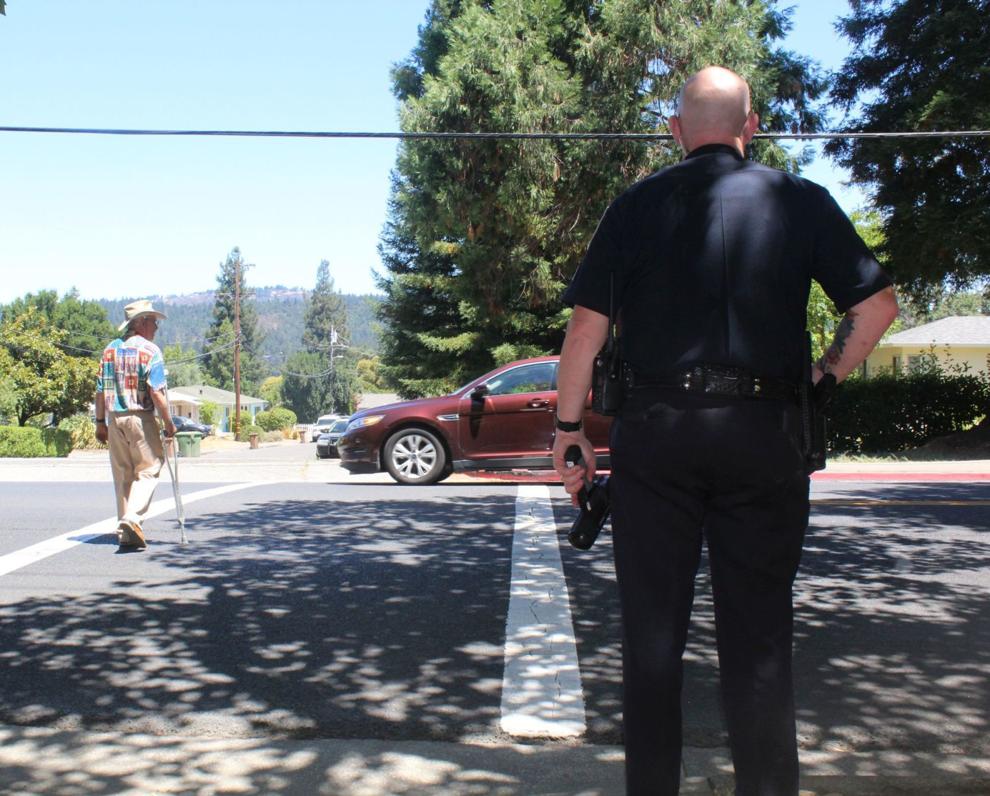 "The goal is just to educate people" about the rules of the road, Peterson says. That education could come in the form of a ticket or, if the driver is lucky, a warning and a brochure explaining right-of-way laws.
The sting starts at 10 a.m. As Watson steps into the crosswalk, a southbound blue Toyota stops for him but then accelerates through the intersection before he reaches the sidewalk.
That's illegal. As the driver soon learns, you can't enter the crosswalk until the pedestrian is safely on the sidewalk. Brown, assigned to southbound traffic, educates the driver and the sting continues.
Watson and Bearman are both able-bodied, but just for effect Watson is hobbling around on a crutch and Bearman is using a cane. Whenever they enter the intersection, Peterson activates his body camera to produce video evidence in case the incident winds up in court.
As one of the volunteers steps into the crosswalk, a southbound driver belatedly hits her brakes hard enough for the tires to chirp. Two cars that had been following close behind her also hit their brakes. The close call is a lesson in maintaining a safe following distance, Peterson says.
Then comes the most obvious violation yet when a red Subaru barrels through the crosswalk just feet in front of Bearman. A motorcyclist behind the Subaru wisely yields.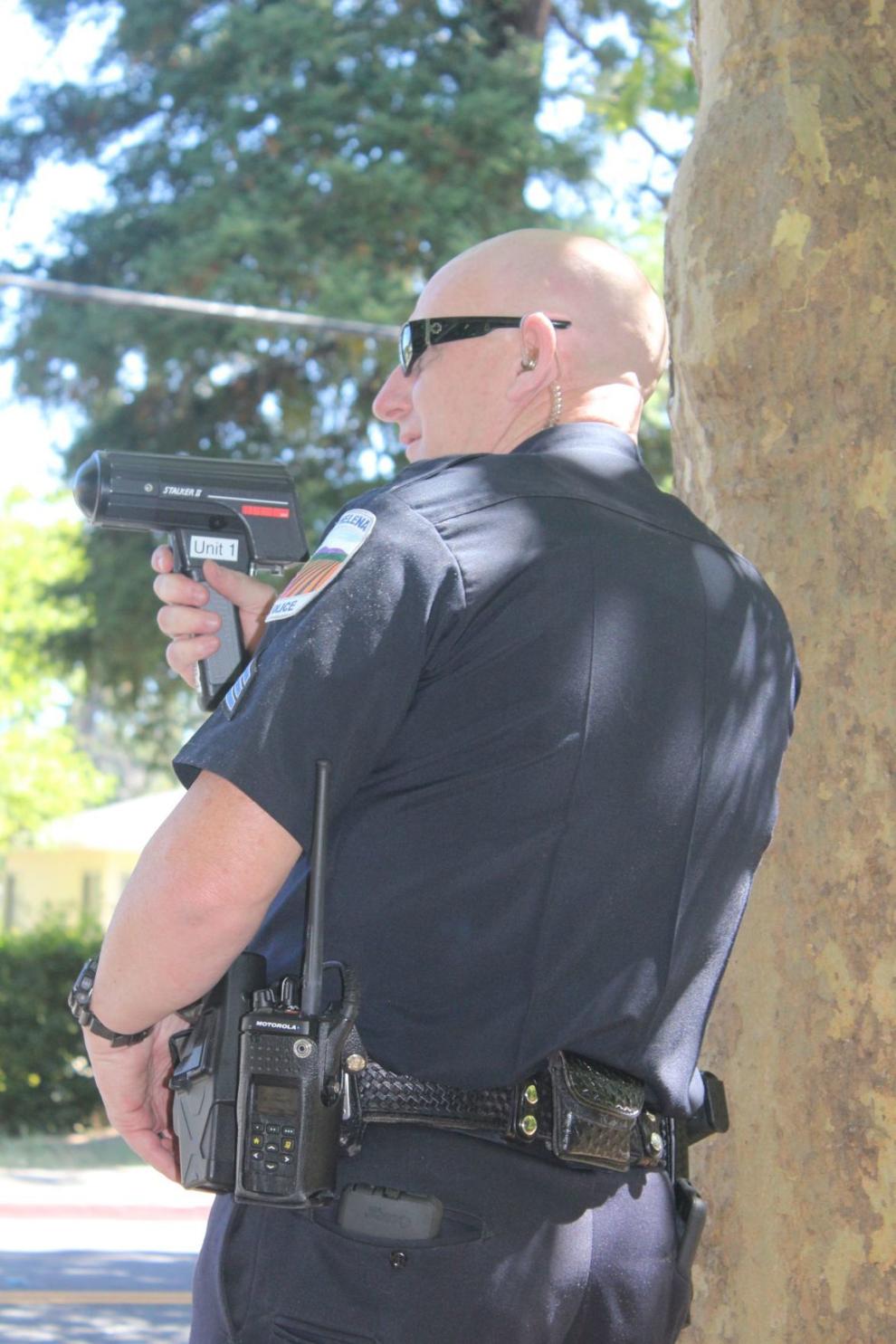 "It doesn't get any more blatant than that," Peterson says as Felix pulls over the Subaru. "Just paying attention to the sound of the car, you could tell there was no intent to slow down."
A woman who lives in the Crinella neighborhood turns onto Main and pulls up along the curb where Peterson is semi-hidden behind a tree.
"I cannot tell you how happy I am that you're doing this," she tells him. "I walk this crosswalk myself with my dogs all the time and nobody stops."
Another local resident, this one on foot, walks over to thank Peterson and recount the time when he almost got hit by a car in this very same crosswalk. It was partly his fault for wearing dark clothing, he says, but he's always extra-careful now about making eye contact with oncoming drivers.
No jaywalking in St. Helena
With all this focus on inattentive drivers, why aren't the police going after those pedestrians who jaywalk across Main Street? Because, as Peterson explains, there is no such thing as illegal jaywalking in St. Helena.
Jaywalking is only illegal between two signalized intersections, with no other intersections in between. St. Helena's stoplights are spaced so widely apart, with so many non-signalized intersections in between, that jaywalking doesn't apply anywhere in town — except maybe along the tiny stretch of Main Street between Pope Street and Mitchell Drive, which is really just one big intersection.
"If Spring and Hunt didn't intersect with Main Street, then we could hold people accountable for jaywalking (between Adams and Pope)," Peterson said. "But does it drive me nuts when I see (pedestrians) not paying attention? Absolutely."
After all, pedestrians still have responsibilities. The Vehicle Code requires pedestrians to exercise "due care for his or her safety." You can't just dart out into a crosswalk when an oncoming car is so close that it's an "immediate hazard." And while in a crosswalk, you can't unnecessarily stop or delay traffic – say, to educate someone about their driving or call their parentage into question.
The safest way to cross is to take one or two steps into the crosswalk, look left, then right, then left, and only proceed when it's clear that oncoming cars are stopping for you.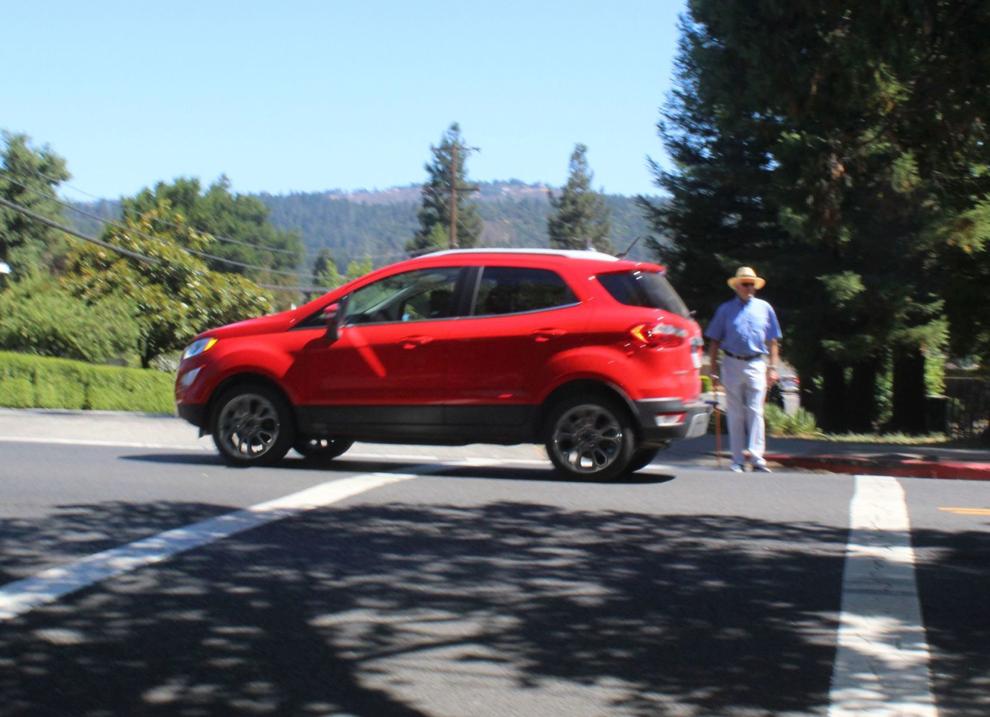 "You have to give the driver enough time to react," Peterson said.
'Get off your phone'
The sting nets more drivers. An Audi SUV enters the crosswalk before Bearman is clear of the crosswalk, and Peterson tells Felix to let the driver off with a warning and give them a brochure.
After a more egregious incident where a driver passes through the crosswalk right in front of Watson, Peterson tells Felix to issue a citation. But in most cases, he leaves the decision up to the officer's discretion.
As Bearman crosses, a distracted southbound driver hits her brakes hard enough to make her tires chirp. She throws her hands up in apparent disbelief or indignation. She yields, but she's clearly not happy about it, and she accelerates as soon as Bearman crosses the center line. Brown lights her up.
Aside from failing to yield, officers are also on the lookout for people using their cell phones – which is obvious at least a dozen times – and speeding. Peterson clocks one southbound SUV at 43 mph, and the rising tone of his radar gun indicates that it's speeding up as it enters town. Peterson sends Brown to pull it over.
While Brown is tied up on that traffic stop, Peterson sees another southbound driver using her cell phone. When she stops for traffic backed up from Madrona, Peterson walks up to her blue Ford, taps on the passenger's-side window, and says, "Get off your phone." The startled woman does so and continues on her way.
After 14 years with the department, Peterson knows a lot of the passing drivers. He points out a man from a well-known St. Helena family who was texting and driving and makes a mental note to chastise him later.
Another passing driver whom Peterson recently nabbed for unlicensed contracting taunts him as he drives by, yelling "Why are you hiding?" Peterson ignores him.
Later, Peterson notices a woman in a white SUV who's been waiting a few minutes to make a left turn off Crinella. He takes pity and steps out into the crosswalk to stop traffic so that she can turn. As she drives by, they exchange waves and he realizes he knows her too.
More often than not, the drivers yield to the volunteers. "People are being so polite," says Watson, who waves his thanks to a yielding driver.
More scofflaws
Sometimes it's hard to tell whether the drivers are being nice or merely sensible.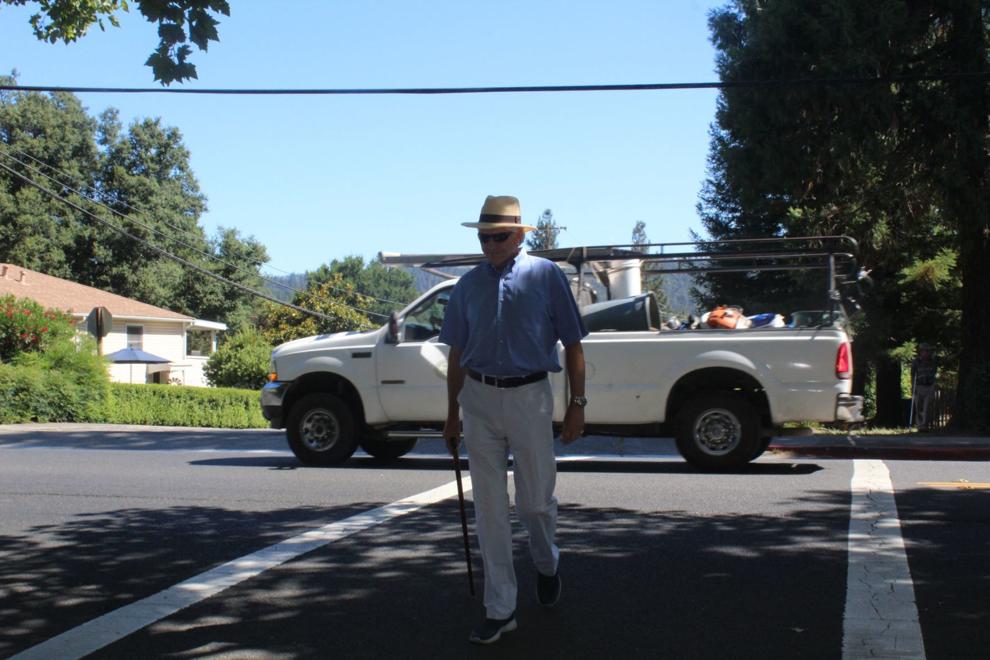 In one case, a driver was clearly on his best behavior because another St. Helena police car unrelated to the sting happened to be right behind him. Later, Peterson sends a volunteer into the crosswalk in front of a white utility truck that turns out to be from the city's Public Works department. In fact, it's driven by the same worker who placed the sign warning of the sting. Clearly not fooled — and probably a conscientious driver anyway — he yields to the volunteer and waves to Peterson as he passes.
Police pull over a silver Mercedes driven by a person Peterson pegs as "a pathological California stopper." Then a utility truck bearing the logo of a landscaping company. Then a white SUV, a black Mercedes, a blue Ford, a blue Nissan, a silver Ford, a red Ford, a white Jeep, etc.
Traffic gets heavier as the noon hour approaches. Cars are bunching up, so fewer of them are barreling through the crosswalk like before. Brown pulls over a driver who was using his cell phone and discovers he's a probationer with a suspended license. As she arranges to have his car towed, the southbound half of the operation comes to a halt.
Peterson decides to end the operation at 1 p.m., an hour earlier than he'd planned. The final tally: 27 warnings, 23 citations, and an untold number of educational experiences.