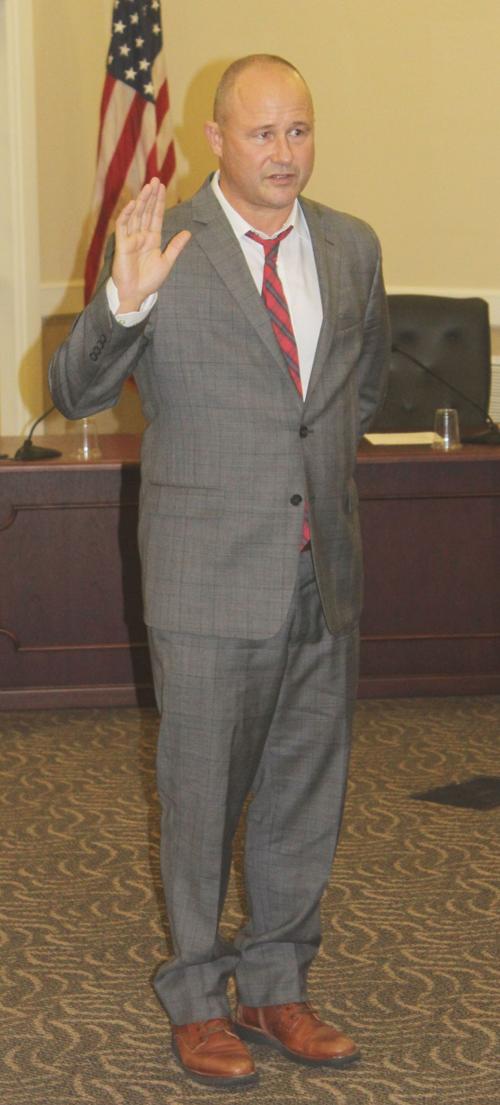 Geoff Ellsworth is now officially mayor of St. Helena – but please don't start calling him sir.
Just Geoff will suffice, Ellsworth joked after being sworn in at Tuesday's City Council meeting alongside councilmembers Anna Chouteau and Paul Dohring.
"I've been hearing the word sir more and more when people speak to me," Ellsworth said with a laugh. "I don't like that. My name is Geoff, and I'm comfortable with that."
Ellsworth defeated former Mayor Alan Galbraith by 59 votes.
"I realize it was a close election for mayor here, and I want to respect that," Ellsworth said. "I believe that we all have many of the same objectives. I'm sure we will continue to disagree on issues, but through dialogue and open communication and a willingness to listen to each other, we should be able to come closer to consensus."
Ellsworth nominated Dohring as vice mayor, and the rest of the council approved the choice.
Before Ellsworth took the oath of office, the council honored Galbraith and outgoing Councilmember Peter White. Councilmember Mary Koberstein read a humorous statement harking back to some of the council's most memorable discussions. She thanked both men for their service to the city and gave them gifts: a three-minute sand timer for Galbraith, who'd been responsible for moderating public comments, and a sidewalk paver for White, who helped secure a grant to repair St. Helena's notoriously bad sidewalks.
City Manager Mark Prestwich also recognized Galbraith and White's combined 17 years of service to the city, estimating that they'd spent at least 1,000 hours in public meetings alone, not to mention their other work. He gave them both plaques honoring their service.
In their closing remarks, Galbraith and White highly praised the city staff and gave their best wishes to their colleagues, with Galbraith saying he looks forward to "observing City affairs from the sidelines."
Ellsworth's elevation from councilmember to mayor leaves a vacant seat on the council, which agreed to appoint someone to fill the seat rather than call a special election.
Prestwich said the application process will begin by the end of the week. The deadline to apply will be Jan. 3. The council will hold a special meeting on Jan. 8 to interview candidates and choose someone to appoint. The new councilmember will be sworn in at the council's regular meeting on the same day.
- The council took the first formal step toward suspending St. Helena's 10 p.m. curfew for youth under the age of 18. The temporary suspension won't take effect until 30 days after the second reading and adoption of the ordinance, which is scheduled for Jan. 8.
Depending on how things go during the trial period, the council could do away with the curfew permanently or move it back to 11 p.m. or midnight.
- The council awarded a $529,000 contract to the consultant BKF and their landscape architect Gates and Associates for engineering, architectural and design services for the replacement of the downtown sidewalks.
St. Helena has secured a $1.2 million grant for construction, but the city has to pay for the design itself. It had already budgeted $295,000 for the design, and the remaining funds will come from gas tax and SB 1 revenue.
Construction is scheduled for 2021, after extensive community outreach regarding the design.
- The council introduced an ordinance allowing a new council subcommittee to review previously confidential water use data to ensure that customers are complying with their water use agreements, water neutrality requirements, and water use conditions imposed on their projects.
The council hasn't chosen who will serve on the ad hoc subcommittee, and the Planning Commission still needs to approve one aspect of the process that involves the city's zoning ordinance.