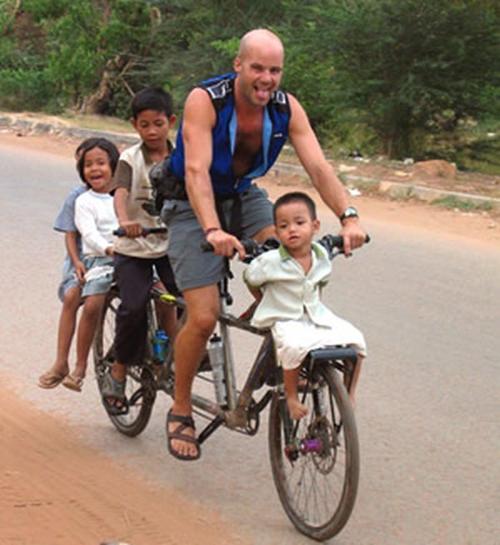 You may remember when St. Helena's Velo Vino hosted Jamie Bianchini, author of "A Bicycle Built for Two Billion," on Oct. 22.
Bianchini shared his multimedia presentation of his eight-year/81-country bicycle expedition around the world. Unfortunately, sometime between Nov. 6 and Nov. 22, while Bianchini was in Florida as part of his book tour, the custom-built, titanium tandem bicycle was stolen, along with two other bikes from a KOA campsite at La Selva Beach, near Watsonville.
The three bikes were locked and the thieves used bolt cutters, which they left behind, to cut the locks, Bianchini said. "When I came back after two weeks, everything was gone," he said.
He is offering a $5,000 reward for information leading to its return.
Edie — as the bike is known — is handmade out of titanium, has eight frame couplers, and the custom design is, according to Bianchini, "totally unique." It was built in 2001 and he estimates he has put 50,000 miles on it. "It looks its age and it has been around, but it is the only one in the world," Bianchini said.
He admits the bike isn't worth much, but it has sentimental value. "It will make its way back to me, I'm sure," he said on Thursday.
The tandem has a history of being stolen, Bianchini wrote in an email. However, each time it was recovered so the author was able to continue on his journey around the world.
Bianchini's 81-country expedition was called Peace Pedalers, which happened between 2002 and 2010. He left the rear seat of the bicycle open to invite more than 1,000 total strangers to jump on and join the adventure in a gesture of peace, acceptance and friendship.
Bianchini's journey was the topic of his presentation and the subject of his book "A Bicycle Built for Two Billion: One Man's Adventure Around the World in Search of Love, Compassion and Connection."
During the eight years of the expedition, according to Bianchini, he gathered donations to provide 100 bikes to an impoverished township in Cape Town, dispersed hundreds of doses of malaria medication to small African communities, started a school for AIDS orphans in Uganda, and brought fresh water to a community suffering from sickness in Bolivia. All of these adventures were done while riding "Edie," the tandem bicycle.
When the bicycle was previously stolen — once in China and once in Zanzibar in East Africa — he writes that he was able to rally the communities to help find it so the expedition could continue. Bianchini said he hopes another public hunt for the bike will bring it home again.
Bianchini is currently giving a series of free slideshow presentations about his "Peace Pedalers" expedition from now through Dec. 9 at five REI locations in the Bay Area, in San Francisco, Berkeley, Saratoga, Mountain View and Corte Madera. "I usually have the bike on display at my presentations and love giving rides to those who come," he wrote in his email. "I'm hoping someone reads this and finds a way to wheel Edie back in and surprise me in the next few weeks."
"This bike and I are one. I spent over eight years riding nearly every day together tens of thousands of miles," Bianchini wrote in his email. "I even met my wife on this bike and conceived our first child out on the tour. There's simply no option for it not to come home again."
To attend one of Bianchini's Bay Area presentations, check out his events page at bb42b.com/events.