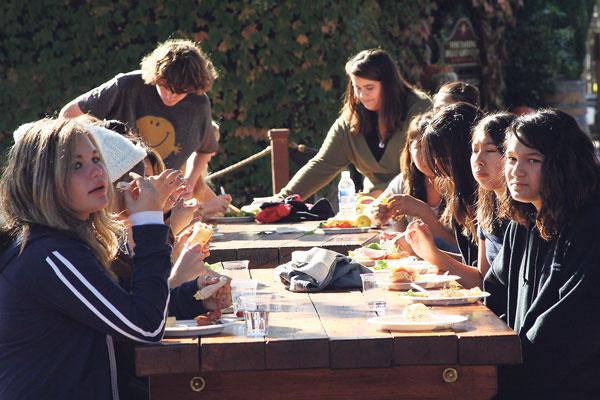 Of the 48 schools throughout the Napa Valley, 32 are participating in the "Adopt A School" program, which is coordinated by the Napa County Office of Education and the nonprofit trade group, Napa Valley Vintners. Although it is a nationwide program, locally the effort partners schools with local wineries.
In St. Helena, all five of the schools have been adopted by local wineries; in the Calistoga school district, wineries are working with staffs at both the elementary school and the junior/senior high school. Palisades Continuation School is available for "adoption."
The program seeks a continuous and ongoing partnership between local wineries and the schools. Some of the wineries host teacher appreciation days, buy school or art supplies, provide guest speakers to the different classes or help with a beautification project at the school. It just depends on what the school needs, said Anne Steinhauer, who coordinates the program for the Napa Valley Vintners.
According to the NVV, the Adopt A School program began because "supporting education and vocational programs for youth is a priority for the NVV and the community." Additionally, in discussions with community leaders and educators, it became clear that local teachers and students need our help, especially during tight budgetary times for schools.
"Along with NVV's grants to youth development programs and nonprofits through Auction Napa Valley proceeds, this is another way for the NVV to support our neighbors."
In St. Helena, Jones Family Vineyard has adopted the St. Helena Primary School; Chappellet Winery & Vineyard has adopted the St. Helena Elementary School; V. Sattui Winery has adopted Robert Louis Stevenson Middle School and Trinchero Family Estates has adopted the high school.
In Calistoga, Schramsberg Vineyards has adopted the elementary school and Clos Pegase Winery has adopted the Calistoga Junior/Senior High School.
Viader has adopted the Howell Mountain School and the Eagle & Rose Estate Winery has adopted the Pope Valley School.
Only one of the Court and Community Schools has been adopted. Earlier this month, Broman Cellars adopted Wolfe High School, a part of the Wolfe Center, in Napa. Broman Cellars plans to provide the high school with school and art supplies, field trips and overall support and involvement with the classroom.
Wolfe High School, which is operated by the Napa County Office of Education, is a self-contained classroom located on the Napa campus of Wolfe Center. It serves students who are enrolled in the Wolfe Center program and is the first Napa County program devoted exclusively to treating teens who are using alcohol or other drugs.
Others NCOE schools available for adoption are: Creekside Middle School, Chamberlain High School, Crossroads School and Liberty High School, all in Napa, and Hilltop High School in Angwin.
This holiday season, guests visiting Rutherford's Peju Winery are asked to help the winery's "Holiday School Supply Drive" by donating copy paper to the winery's adopted school, Silverado Middle School. Donations will be collected in the Peju tasting room at 8466 St. Helena Highway. For more information on the school drive, call or e-mail Katie Lewis at 302-1162 or klewis@peju.com.
The partnership between St. Helena's RLS Middle School and V. Sattui Winery recently had students meeting the owner.
On a recent Tuesday in November, 115 eighth-graders, five teachers, a parent and Principal Mary Allen descended on the winery. Winery owner Dario Sattui spoke to the group in the cellar.
Malcolm McClain, a science teacher at RLS, said Sattui talked about his great-grandfather and how he founded the winery in 1885 in San Francisco. The winery shut down with the passage of Prohibition, though, and it was only decades later, in 1975, that Dario started the family business again, "with a little bit of money and a lot of passion," McClain said.
"Dario stressed how much hard work it was, how many times he had to fail, before he was finally successful," McClain said.
The teacher calls Sattui's rags to riches story "very powerful" and adds the students were "very engaged" during the telling. Sattui talked about the sacrifices he made when he started his business — at one point living in a van — and then moving to a small house, where he stored wine barrels inside and barely had room for a bed. He added the "kids really enjoyed it and were excited about what he was saying."
Besides McClain, the other teachers who were on the field trip were Terry Messmer, history; Jennifer Marinace, English; Margie Gouveia, math; and Cameron Jones, who is a special education aide. Debbie Bryant, parent/chaperone, also attended.
The annual field trip helps the students make connections between this and the 'real world,' McClain said. After Sattui's talk, the students broke into four groups. Brooks Painter, V. Sattui's director of winemaking, talked to the group about the science of winemaking. "It's basically chemistry, but you have to do it correctly," McClain said. "If you make a mistake, your wine could become vinegar." Winemakers are called both scientists and artists, he added.
Claudette Shatto, marketing manager for V. Sattui, talked to the students about communication, both with employees and the company's customers. That communication could be verbal or written, including monthly newsletters, or on the company's Web site. That ties into students' English and public speaking classes.
Pat Krrueger, vice chairman for the winery, spoke about marketing, which ties math, English and social science together, McClain said. Krueger spoke about the company's employees and how they have to know about wine and external marketing, which included how V. Sattui wines are laid out on store shelves.
The winery's president, Tom Davies, spoke to the students about the nuts and bolts of running a business. He explained income and profits and what a winery's  expenditures include. "He talked about where the money goes and the need to forecast into the future," McClain said.  Davies also addressed why 50 percent of new businesses fail and about selling products not through a distributorship, but by marketing it directly to customers, as V. Sattui does.
Before the trip, V. Sattui Winery President Tom Davies said, "So much of today's education is teaching so students can perform well on tests. In real life, there are no tests, but real life situations and decision making. Hopefully, this field trip will give the students a glimpse of how businesses are started and grown, and if we can inspire a few of the students to start their own business in the future, that's icing on the cake."
At noon, the students were treated to an outdoor picnic lunch.
Eighth-grader Emily O'Kelly said she liked the trip and said her favorite part was learning about retailing and business and walking around the winery's store. "I found out stores tilt their mirrors so customers look thinner and they'll buy the outfit they're wearing," she said. "I think I might go into retail," she added.
Another eighth-grader, Matteo Abreu, said he liked being in the cellar and learning how wine is made. He added he learned that wine barrels only last a year or two. He liked learning that barrels add flavors to the wine. He also said he enjoyed Sattui's story, especially how he started his business.
As part of its efforts in adopting Robert Louis Stevenson Middle School, V. Sattui also gives a grant to the hiking club, caters a recognition lunch for teachers, staff and administrators and participates in a Summer Scavenger Hunt.
Most of the remaining schools available for adoption are in the Napa Valley Unified School District. For information on how to participate in the program, call the Napa Valley Vintners, 963-3388.
The business news you need
With a weekly newsletter looking back at local history.