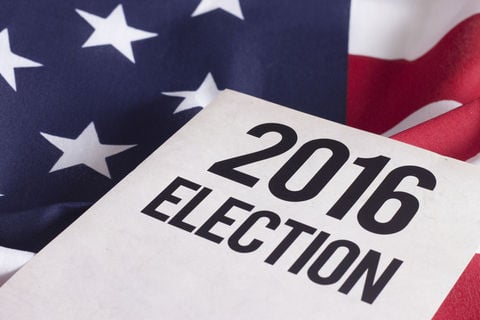 Napa County voters will face more than a choice of supervisors on the June 7 primary election. They also will help decide the future of funding for public school improvements, earthquake safety upgrades and a new jail – not to mention who will compete to become the next U.S. president.
Donald Trump, Ted Cruz and John Kasich face a district-by-district battle for 172 delegates in the state's Republican presidential primary.
The GOP candidate with the most votes in each congressional district will appoint all three of that district's convention delegates. Another 10 seats go to the top statewide vote-getter, the state Republican chair and two Republican National Committee directors controlling three seats.
In the Democratic primary, Hillary Clinton and Bernie Sanders will vie for support from 548 delegates, including 475 whose votes are tied to voting results statewide or within congressional districts. The remainder are "superdelegates" who can support the candidate of their choice regardless of ballot results; more than 40 already have declared support for Clinton.
Napa County Board of Supervisors
Eight candidates are competing for three seats on the Napa County Board of Supervisors, including two members seeking re-election.
Supervisor Mark Luce is defending his 2nd District seat in a four-man field. Challenging him are civil engineer Ryan Gregory; Derek Anderson, a business consultant who ran for Napa City Council two years ago; and James Hinton, who lost a long-shot bid in 2014 to oust Rep. Mike Thompson from Congress.
In the 4th District, incumbent Alfredo Pedroza faces two challengers with ties to slow-growth advocacy: Vision 2050 member Diane Shepp and Chris Malan, a local environmentalist who ran for supervisor in 2000.
American Canyon Councilwoman Belia Ramos is on track to gain the 5th District seat unopposed, barring a last-minute write-in campaign. She would replace Supervisor Keith Caldwell, who will not seek re-election after his term concludes at the end of the year.
U.S. House of Representatives
Thompson, the St. Helena Democrat who announced in February that he would seek a 10th House term, faces three opponents, including business owner Carlos Santamaria of Browns Valley. Also pursuing the congressional seat are Nils Palsson, a Middletown educator, and Alex Poling, a systems administrator from Emeryville.
Thompson represents the 5th Congressional District, which includes Napa County, Santa Rosa, part of eastern Sonoma County, and areas of Solano, Contra Costa and Lake counties.
Assemblyman Bill Dodd is one of four contenders for the state Senate's 3rd District seat, which represents Napa County. The Democrat and former Napa supervisor is part of a field that also includes former Assemblywoman Mariko Yamada, D-Davis, along with the Vacaville Democrat Gabe Griess and Greg "Coach" Coppes of Dixon, a Republican.
Five candidates are pursuing the Assembly's 4th District seat, including Davis Mayor Dan Wolk and Yolo County Supervisor Don Saylor. Also in the race are Charlie Schaupp, an Esparto Republican who lost to Dodd in a 2014 Assembly race, as well as Winters Mayor Cecilia Aguiar-Curry and Elmer Mark Kropp, a Davis Democrat.
Napa Valley Unified school facilities bond
The Napa Valley Unified School District is asking voters to accept Measure H, the largest school bond in the district's history – $269 million to help pay for the costliest infrastructure project ever for local public schools.
Upgrades to add classroom space and improve earthquake resistance and safety are the goals of the project, estimated to cost $475 million. The district's master plan calls for more than $100 million to rebuild two Napa elementary schools and a third in American Canyon that lie atop the West Napa Fault, which triggered the earthquake of August 2014. Twelve other campuses also are in line for seismic upgrades.
At least 55 percent of voters must approve Measure H for the school bond to move forward.
Napa County sales tax for a new jail and children's services
Napa County is placing a 10-year, 0.25 percent sales tax measure on the ballot to bolster county coffers. Measure Y aims to raise $8 million a year toward a new jail, children's programs and other needs.
Unlike a targeted initiative, Measure Y can pass with only a simple majority vote instead of a two-thirds majority. However, county supervisors have marked as a prime funding goal a new jail off the Napa-Vallejo Highway to supplement the undersized detention center in downtown Napa.
Fresh sales tax revenue is expected to help pay for debt service on a projected $68 million gap on the new jail, which is estimated to cost $103 million. Napa County also is seeking $20 million of jail funding from the state, which would free up new sales tax funds for children's day care, health care and pre-kindergarten schooling programs.
Pope Valley school facilities bond
Measure A seeks a $4 million bond for Pope Valley Union Elementary School to issue to create new classrooms to replace temporary trailers, modernize existing classroom space, and build a multipurpose room for the Upvalley school. The measure, like other funding initiatives, requires support from 55 percent of voters.
Bay Area parcel tax for habitat restoration
A parcel tax proposed by the San Francisco Bay Restoration Authority is meant to raise about $25 million a year for projects to protect water quality and wildlife habitat in Napa and eight other counties. Measure AA would impose a $12 tax on each parcel of real estate for 20 years, starting in July 2017.
The measure requires a two-thirds vote for approval.
Ballot measure to allow suspension of state legislators
Scandals surrounding three state lawmakers — all of whom continued to be paid despite indictments — helped inspire a ballot measure that, for the first time, would allow legislators to suspend one of their own, without pay.
Proposition 50 would amend the state constitution to allow the Assembly or Senate to sideline a member and stop the lawmaker's salary and benefits by a two-thirds majority vote. The proposal came in the wake of charges against three state senators in 2014, including Leland Yee, D-San Francisco, who eventually pleaded guilty to racketeering and received a five-year prison term.