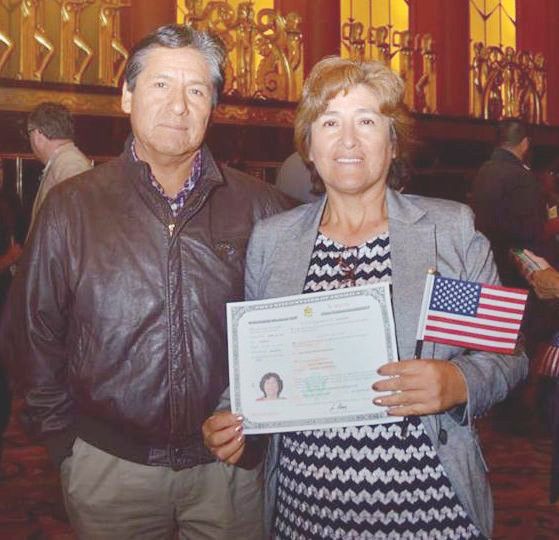 Angwin resident Elsa Cairo Carlos joined 1,200 other people in a special ceremony in Oakland in early August. She took an oath and became a United States citizen.
Joining Carlos was her husband, Jorge Vicente Carlos Poma, and Blanca Dixon, who is the Immigration Program coordinator for the UpValley Family Centers. Dixon and Carlos first met when Carlos went to the Centers' St. Helena office on Spring Street to pay her PG&E bill. They got to talking and Dixon convinced Carlos to sign up for a citizenship class.
That process ended Aug. 3 with the naturalization ceremony, but it really began 16 years ago when Carlos first wanted to become a U.S. citizen. In 2000, she didn't finish the process, though, because during an oral interview the officer didn't "treat me well," Carlos said. This time, though, it was different, in great part because of Dixon's encouragement and friendship.
Carlos doesn't speak English, so for this interview, Dixon acted as the translator, going back and forth between Spanish and English.
Carlos said she was "so happy" to be a part of the ceremony in Oakland. Most of those becoming citizens were either from China or Mexico, she said, and she stood up with four other people when officials announced Carlos' home country, Peru.
After the ceremony, Carlos, her husband and Dixon went out to lunch to celebrate. During the lunch, Dixon said the new U.S. citizen shared so many stories, including when she first came to the United States with her husband and oldest daughter, Joselin, who is now 24. They were escaping the terrorism that plagued Peru in the 1980s and were granted political asylum in the United States. Dixon, who also grew up in Peru, said she remembers the terrorism from those days. "I was a child there, 6 or 8 years old," she said. "I remember being in that situation. They were so lucky to escape from that." Then, Dixon asks, "Why did we have to suffer so much?"
As a Lawful Permanent Resident (LPR), Carlos could have traveled back to her homeland, but she didn't. Since she became a U.S. citizen, Carlos went to the Social Security office and changed her status, obtained a U.S. passport and registered to vote in the November election.
She and her husband will take their three children, Joselin, Dayana, 20, and Emanuel, 16, to Peru in December. Dayana and Emanuel were born in the United States and this will be their first trip to Peru, to see where their mother grew up. They also will visit the family Carlos left behind when she emigrated to the United States. She hasn't seen those family members for 22 years.
Carlos has another plan as a U.S. citizen. She wants to petition the U.S. government to obtain legal status for her brother, who has been in the United States for the past five years. Dixon said the process of getting that legal status can take many years.
Carlos is so thankful for Dixon's help and she encourages anyone who wishes to become a U.S. citizen to go to the UpValley Family Centers to start the process. The UpValley Family Centers are one of four nonprofits that are part of the One Napa Valley initiative, which helps foreign-born Napa County residents become U.S. citizens. The initiative is possible because of a grant from the Napa Valley Community Foundation, and the nonprofits work with the International Institute of the Bay Area.
Dixon and Carlos have a lot in common. Both were born in Peru and came to the United States and both have families. Soon, they will have another thing in common: Dixon has passed all the tests and will soon become a U.S. citizen. She said she is proud to work for the UpValley Family Centers to help people become citizens.
"Overall, I feel how important it is when you come to our center, we can start everything from zero," Dixon said. "The only thing is you have to be an LPR. We have classes, we have tutoring program, we have workshops where you can get help in filling out the application, we have attorneys, we have IIBA reps, we have everything for you. It is just connecting the dots. We are here to help, to guide you to become a citizen."
Carlos wanted to add one more comment to the interview. She only had to pay $50 for the IIBA rep to fill out the form, she qualified for a fee waiver for the $680 requested by the Department of Homeland Security. Also, she said, "I want to thank the IIBA for their help."