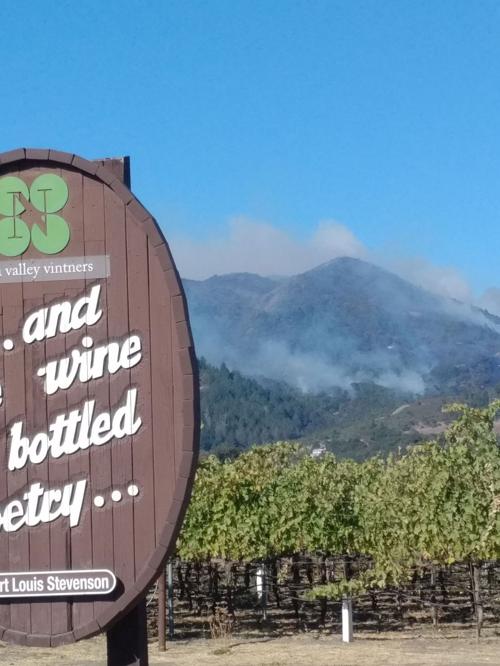 What started as a promising vintage has ended as one of great hardship, with fires in both Napa and Sonoma valleys, in the words of Christopher Hyde of Hyde Vineyards. Thankfully, firefighters are getting the fires contained and harvest is wrapping up for many growers throughout the Napa Valley. As Jon Ruel from Trefethen Vineyards states, "We know that the Napa community is resilient and that we will support each other as we move forward together."
The last of the harvest reports for 2017 is as follows:
Howell Mountain – Alan Pierson and Erin Smith, O'Shaughnessy Estate Winery, "As the fire persists around Napa, Angwin has remained relatively clear and we have continued our harvest. We are pleased to say that we will be finished before the end of the week."
Spring Mountain District – Stuart Smith, Smith-Madrone, "After the Labor Day hot spell, it seemed that harvest couldn't get any more challenging. Wrong! The Spring Mountain District has been extremely fortunate to have escaped the fires and most of the smoke but no power, no Internet, no cell service, no access and no information have stressed everyone to the max. Yet harvest continues and will continue for at least another week or more, mostly with cabernet sauvignon and cabernet franc. As usual, everyone is doing their very best to make the best wine possible."
St. Helena – Elizabeth Tangney, winemaker and vineyard manager, Saint Helena Winery, "We had approximately 50 percent of our estate on Pratt Avenue harvested before the fires began, and we resumed harvest on Saturday, Oct. 14, roughly four days after we had planned to begin picking the rest of our estate cabernet sauvignon. The crop is coming is at normal brix levels with very few raisins, partly due to using overhead sprinklers during high temperature days in September. Fruit looks and tastes very good. We are testing juices for smoke impact."
Oakville – Linda Neal, Tierra Roja Vineyards, "As fires raged at our borders for the past week, the flames did not actually creep into the Oakville AVA until Friday, Oct. 13. Prior to that, most had power restored, though the Silverado Trail remained closed and residents along that road and the eastern hills were under evacuation until late Thursday, Oct. 12. During that time the only picking and delivery I saw along the trail was carried on by Russell Bevan, moving fruit from his Saunder's Vineyard down to the new Tench Winery, of which he is a partner. By Friday and Saturday, harvest was at full throttle throughout Oakville, precious days lost. Opus and others harvested by the light of the flaming hills above To Kalon at night, and by day, the constant shuttle of the helicopters brought water from reservoirs to the fire."
Yountville – Sandra Hewitt Bell, Bell Wine Cellars, "This week we brought in the majority of the cabernet grapes that we've been patiently waiting for, amid the chaos of fires surrounding our valley. Watching fermentation progress, conducting tank circulations, and pressing off the dry tanks occupy every minute. Combined with the concerns produced by fires and the ever-present smoke, this is shaping up to be a most challenging harvest."
Oak Knoll District – Jon Ruel, Trefethen Vineyards, "Our hearts go out to everyone affected by the catastrophic fires and we are grateful for the incredible hard work of first responders and civilians. We feel fortunate that our employees are all safe and our winery and vineyards did not suffer damage. Nearly 90 percent of our grapes had already been picked before the fires began. We will be picking the remainder this week. As of Monday morning, we have returned to full operations including re-opening our tasting room. This week, we will be donating 100 percent of our tasting fees to the Napa Valley Community Disaster Relief Fund. As survivors of the 2014 earthquake, we know that the Napa community is resilient and that we will support each other as we move forward together."
Carneros – Christopher Hyde, Hyde Vineyards, "This week the fires in Napa have begun to subside, and with that, harvest is winding up for many. What started as a promising vintage has ended as one of great hardship. The fires which began on Atlas Peak and in Carneros burn on in the hills of north Napa."
For real-time harvest photos and updates, visit the Napa Valley Vintners' Harvest 2017 website at napavintners.com/harvest.