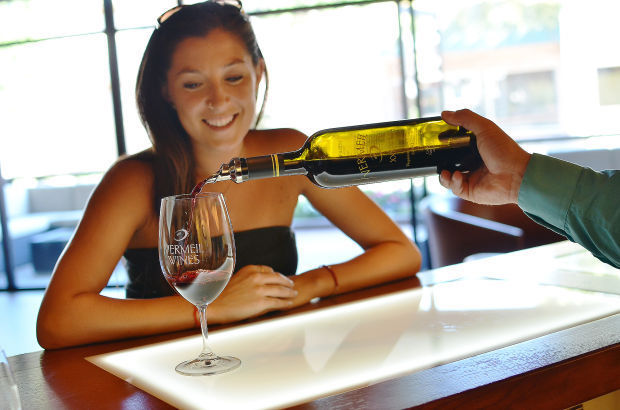 ST. HELENA — For many younger drinkers of wine, the gateway to their pocketbooks is through not a tasting counter or a supermarket display or a glossy magazine ad – but rather through their cellphones, and the rings of selfies, snap reviews and social links radiating from them.
That was the argument of Sarah Elliman and Kevin Blum, social media directors who shared their strategies for marketing the Napa Valley's signature product to the Americans known as millennials, usually described as those born between 1980 and 2000.
"When I hear people say 'I want to market to millennials,' I hear in my brain, 'I want to market to connected consumers,'" Elliman, co-founder of the Cellarpass winery booking and ticketing firm, said last week during the Wine Country Hospitality Symposium, which Napa Valley College hosted at its St. Helena campus.
Americans ages 18 to 34 totaled about 75.3 million last year and surpassed baby boomers (those born from 1946 to 1964) for the first time, according to Pew Research. The first generation to fully embrace mobile Internet, social networks, and online photos and video, millennials have an opinion-shaping influence that wine sellers can and must leverage, according to Blum, the North Bay community manager for the Yelp customer review website.
"Word of mouth has always been the best marketing," he said. "It's just that we have new tools now to spread the word."
Hand in hand with millennials' smartphones has been an increasing desire not just to sip wine at the winetasting counter, but to soak up its surroundings, said the 39-year-old Blum and 37-year-old Elliman.
Tasting rooms offering memorable experiences along with their wine – live music, creative food pairings, hikes in the Mayacamas Mountains, even yoga classes – not only do better at grabbing customers' curiosity but provide an experience they can instantly share on social networks, effectively become free advertising for their hosts.
Blum shared his experience of a group excursion to Rutherford for Sequoia Grove Winery's "Cabernet Culinary Challenge," a lighthearted competition between teams of visitors to assemble the best matchings of wine with meats, cheeses, preserves and other ingredients.
"I had about 50 people in my party, and 15 joined the wine club and 80 percent bought something – and everyone got on social media about it," he recalled.
The points made by conference presenters are gospel to Tyffani Sedgwick, who in her year and a half as marketing and brand manager of V. Sattui Winery has had to stay agile to keep in touch with the St. Helena winery's younger fans.
Wine lovers following Sattui get their due attention on today's social media mainstream – two or three posts on Facebook, one or two tweets and an Instagram per day, along with a blog. But Sedgwick and other winery staff also are experimenting with outreach through the Snapchat cellphone app, whose self-destructing snapshots and fleeting videos have made it a favorite among those just becoming old enough to legally imbibe – or will within a few years.
"We've read a lot that this is where the millennials are now; the skew on Snapchat is under 21," she said. "We want a younger generation to get to know us, so we felt like it would be a good avenue."
The march of Internet usage from desktops to pockets also will leave its imprint on the Sattui winery's website, which Sedgwick said will relaunch with a new phone-friendly design in the coming weeks for easier use and loading on small screens and spotty connections – historically a bottleneck to e-shoppers.
For a winemaker with no grocery or restaurant presence – and that leans as much on its delicatessen and picnic grounds as its cabernet to draw visitors – reaching wine drinkers, especially newer ones, from afar is critical, she said.
"Better mobile viewing is a key," said Sedgwick. "It's a mobile world now. If your site isn't easily read on phone or tablet, you're at a disadvantage."
Much like Sattui coming to grips with the youth-oriented Snapchat, other wine sellers also must keep tabs on which channels fall into – or out of – favor with younger millennials, said Elliman, who described herself as already leaving Facebook to her parents' generation.
"My mother is the only reason I have a Facebook page – so she can see photos of my kid. That's it," she quipped.