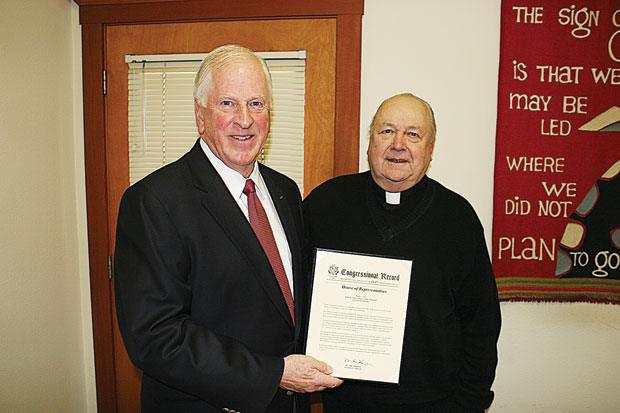 Thousands of Americans were inspired by President John F. Kennedy's exhortation to "Ask not what your country can do for you, but what you can do for your country."
But it was another Kennedy who set a young priest named John Brenkle on a mission that would become his life's work — a personal crusade that would lead him to the Napa Valley, where his name would become synonymous with the struggle for farmworker housing and other causes associated with what today would be called "social justice."
It was the height of the civil rights struggle, Brenkle recalled as he reflected on his career in the church. It's a career that ends April 15 when he retires after 30 years at the St. Helena Catholic Church.
As the first Catholic to win the White House, President Kennedy and his family enjoyed rock star status in the Catholic community. Brenkle and a group of other newly ordained priests were invited to meet privately with Attorney General Robert F. Kennedy, but Brenkle wasn't sure what to expect when he entered Kennedy's spacious office at the Department of Justice in Washington, D.C.
What he got, after a friendly introduction, was a bit of a tongue-lashing.
"He said he was a little disappointed in his church and the lack of leadership they were showing in the South," Brenkle said.
The meeting left Brenkle, who hadn't had any desire to become a "quote-unquote activist," newly inspired "to get out into the community and make the church's presence felt," he said.
It wasn't the first time Brenkle had thought about the rights of the downtrodden. But it was the first step that would lead Brenkle on a path that would win him respect both inside and outside the church community.
An expert in canon law, Brenkle "took the Catholic church's social teachings from the past 2,000 years and applied that to workers being treated in a just way," said Father Angelito Peries of Our Lady of Perpetual Help Catholic Church in Calistoga.
The church is just beginning the process of finding Brenkle's successor. Brenkle plans to lay low while the new priest gets acclimated — he's told his sister to prepare for a house guest — before returning to his home in Vineyard Valley Mobile Home Park to enjoy his retirement years.
Brenkle was born Oct. 4, 1931, to immigrants from the Alsace-Lorraine region of modern-day France who established a dairy ranch near the mid-sized Contra Costa County city of Martinez. When the family gathered for dinner, the only food that didn't come from the ranch were the potatoes, which refused to grow in the hard adobe soil.
Six of his aunts were nuns, but Brenkle wasn't a particularly religious child. He attended Sunday services with his family and found them boring. The family would pray before meals, but Brenkle went to public schools and "never had a nun as a teacher," he said.
By his senior year he had signed up to attend St. Mary's College in Moraga, where he planned to start studying medicine. When his best friend's mother brought up the idea of the two boys attending the seminary, he wasn't sure it was for him.
For a few months Brenkle prayed along the lines of, "Lord, you don't want me. I think you want to take my brother. He doesn't like girls; I do," he said.
To the shock of his parents, the holy life won out. Brenkle eventually earned a degree from St. Patrick's Seminary and University in Menlo Park, and was ordained in 1958. He spent a year in a parish in San Mateo, then attended the Catholic University of America in Washington, D.C., where he earned a doctoral degree in canon law.
It was a heady time in the nation's capital, which was populated by an idealistic young crop of Kennedy acolytes. Brenkle's growing interest in civil rights was galvanized by the meeting with the attorney general. It was "a pretty defining moment for me," Brenkle said.
After 10 years working in the newly formed Santa Rosa Diocese, Brenkle signed up to go to northern Zambia, where the church ran a boarding school for 500 boys.
"I was dealing with people who just had so little, and yet if you had a happiness thermometer, you'd see that the kids there were just as happy as the kids here in the valley," he said.
Two years later, Brenkle was assigned in Eureka, first as a pastor and thenas principal at a Catholic high school. But it wasn't until he came to Calistoga in 1978 that he was able to pursue his newfound passion for social justice through his interactions with migrant workers.
In one case, a landlord neglected to pay her water bill, causing the city of Calistoga to cut off water service to her apartment complex, home to 11 families.
"We'd go up there with buckets and bring them water from the church," said Brenkle. "One of them told me, 'It's no problem, this is how it is in Mexico.'"
But Brenkle did see a problem. He joined a local housing review board that obtained some grant money to rehabilitate run-down housing units.
When he was assigned to St. Helena in 1983, he was surprised to see so much poverty in what was generally considered an affluent community. People still came to his door asking for help, especially with housing.
Brenkle and other clergy, vintners and volunteers formed Napa Valley Ecumenical Housing (NVEH) in 1985. Brenkle started honing what was to become a remarkable talent: convincing very wealthy people to give him money.
He remembered going to lunch with supportive vintners like Jim Barrett of Chateau Montelena, Bill Collins of Conn Creek Winery, and Roger Trinchero of Sutter Home Winery.
"Jim Barrett asked, 'Father, how much is this lunch going to cost us?' And I said, 'Well, Jim, $25,000.' He smiled and then he said, 'What do you really need?'"
Brenkle thought for a moment, then responded, "Why don't we add a zero to that? $250,000?"
Brenkle remembered Barrett saying, "Now we're talking." About 30 wineries eventually contributed $407,000 to NVEH over three years. That seed money produced Hunt's Grove Apartments, a collaboration with Bridge Housing.
It was the first of many times that Brenkle would be impressed by the generosity of the local wine industry.
"These are people who are socially conscious," he said, pointing to Sutter Home as an example of a business that goes out of its way to treat its employees with respect.
"Once people see that you're using their money productively, the donations just pour in," he said. "People are looking for an outlet that's going to make good use of their donations. So you have to build that trust."
With deep-pocketed vintners in their corner, NVEH built on its early success. A collaboration with the nonprofit housing firm EAH and a generous donation of land from David Garden resulted in Stonebridge Apartments, NVEH's second success story.
Meanwhile, Brenkle was leading the fight for farmworker housing. When Brenkle came to St. Helena in 1983, a lot of wineries provided housing to their workers. But one by one, those facilities closed. People were sleeping in their cars and huddling under bridges.
The county allowed Brenkle and his compatriots to operate a tent city at the Carmelite Monastery in Oakville for one year. An executive with Heublein, which acquired Christian Brothers Winery in 1989, then offered the winery's old farmworker housing center for the grand bargain of $1. That became the flagship for a program that today operates three farmworker housing centers in Calistoga, St. Helena and Yountville.
As in the early days of NVEH, vintners were instrumental. They imposed a tax on themselves of $10 per acre of grapes per year.
Immigration consultant Rosa Segura, who chairs the Napa Valley Migrant Farmworker Housing Committee, praised Brenkle's leadership during that time.
"Bless his heart, he opened his porch on the parish grounds," she said. "At one point he had 20 to 30 people living on his porch. He brought all of his church community together and they cooked and had donations for the workers and that in itself was a big crisis.
"He was able to rally the community. He was a champion for those people in more ways than one."
Brenkle's activism extended beyond housing. A few years ago he intervened in a labor dispute involving workers at the Catholic-run Santa Rosa Memorial Hospital. In St. Helena, the church's St. Vincent de Paul Society provides money for poor families to buy food or pay the rent.
Brenkle helped start the Work Connection, which helps day laborers find work. When the program briefly shut down, then-Police Chief Bert Johansson pleaded with Brenkle to reopen it because as many as 40 day laborers were hanging out in the Sunshine Foods parking lot.
The city agreed to provide annual funding, and the Work Connection is still in operation today in a trailer on the Sutter Home property.
Brenkle helped the diocese recover from a major financial scandal in the late 1990s and early 2000s. Financial mismanagement by a former bishop — which Brenkle attributed to overzealous generosity rather than greed — had left the diocese on the verge of collapse. At one point the diocese had a payroll of $4 million and was taking in only $2 million.
Brenkle was asked to help rebuild the diocese, and he accepted the unpleasant task of calling 40 of 75 people on the payroll "and telling them they didn't have a job anymore."
Brenkle and a few other church officials traveled around the diocese explaining to parishioners what had happened. Ripples from the scandal are still felt today, and the diocese remains in debt to other dioceses that bailed it out during the crisis.
When people ask Brenkle about malfeasance committed by clergy, he points to the precedent set by Jesus' disciples.
"Christ selected 12 people," he said. "They had the best teacher in the world, and he was their mentor for three years. But two of them screwed up royally — Judas betrayed him and Peter denied him.
"That's two out of 12. The odds are about the same in the church today," Brenkle said with a rueful laugh. "But the church has found a way to survive for 2,000 years."
Even more painful than the financial scandal was the growing awareness of sexual abuse by Catholic clergy. Brenkle sat on a diocesan panel reviewing abuse cases. He said that when dealing with victims, his attitude was always one "of deep sadness for their lives being destroyed."
The conversations would be particularly difficult when lawyers were involved. But when Brenkle was able to meet with victims in a more personal setting, he would listen to them intently, and then try to focus on healing.
"I would apologize. I would say, 'You've been victimized. But you have a choice right now. Do you want to identify as a victim for the rest of your life or do you want to move your life along?'"
Local members of the clergy, both Catholic and non-, hold Brenkle in high esteem.
"God's special gift is advocacy and he really modeled that for all of us," said Father William McIlmoyl of Grace Episcopal Church, who called Brenkle "an inspiration" and "one of the leading voices in the community."
Father Gerard Brady of St. Thomas Aquinas Catholic Church in Napa has known Brenkle since their seminary days. He said Brenkle has always shown a soft spot for the underdog, which led him to champion the rights of immigrants and workers.
Brenkle has repeatedly proven his skill with finances, whether it was helping the diocese avoid bankruptcy, undertaking farmworker housing projects, or rebuilding the St. Helena Catholic Church during its seismic retrofit, said Brady.
"He's always been able to get people to rally around a cause and financially support it," he said. "He has a gentle, balanced style that's not abrasive at all."
Despite his involvement in the community, Brenkle has never failed to support the church either, by working in Africa, helping get the Santa Rosa Diocese started, and serving individual parishes from Eureka to the Upvalley, Brady added.
Father Peries said Brenkle will be remembered for his leadership within the diocese, especially during the financial crisis, as well as his work in different parishes, his advocacy on behalf of immigrants and the poor, and his continual efforts to connect the church with the larger community.
Brenkle has often been approached by parishioners who are less than comfortable with his outspoken nature and willingness to take sides on divisive political issues. He's unapologetic.
"I don't think you should belong to a church because of the personality or the theology of the pastor," Brenkle said. "I think your faith should be deeper. But I realize that that's very idealistic, and a lot really does depend on the pastor's personality."
He acknowledged that some parishioners have opted to attend the Catholic churches in Calistoga or Yountville "because they think I should be more spiritual, I suppose. They don't see the imperative I see of getting involved."
Part of Brenkle's drive for social justice is motivated by his belief that the church should be involved with people's earthly needs — like housing and food — not just with their spiritual needs.
The call and response of the Catholic liturgy recently changed from "The Lord be with you — and also with you" to "The Lord be with you — and with your spirit."
The new wording is more consistent with the original Latin, but it troubles Brenkle.
"I'm not a spirit," he said. "I'm not here to save souls, I'm here to help people, and people are body as well as soul. Jesus cared for people's physical well-being as well as their spiritual well-being."
(Reporter John Lindblom contributed to this story.)
Be the first to know
Get local news delivered to your inbox!