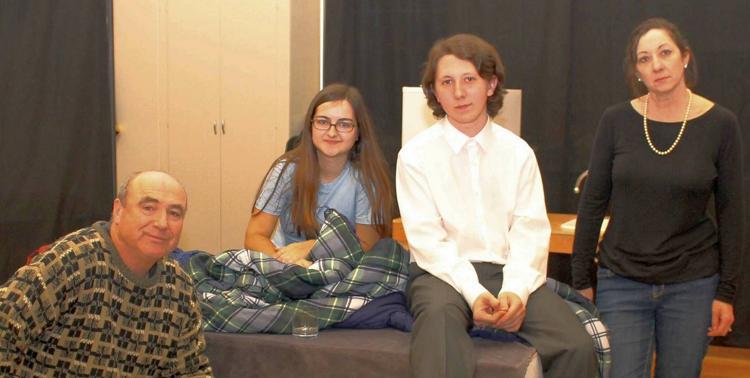 Stepping in to cover a tech rehearsal of the John Kolenbach play "Goldfish," was a rare pleasure. The four consummate actors in the Upstage Napa Valley theater group, Fred Ireland, Alani Denton, Marcus Baumbach, and Lauren Haugan were polishing their characterizations amid the chaos of set movements and blocking directions.
Meanwhile, director Shari Renault sat with sound cues and a yellow notepad taking notes while stage manager Alan Schneider rushed back and forth positioning props and marking set pieces with blue painters tape on the floor.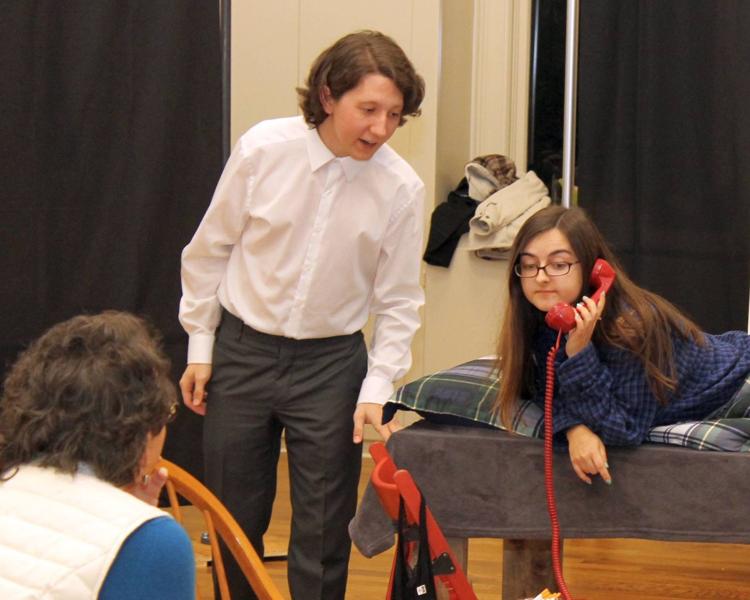 But in the blink of an eye — as sound cues played from Renault's computer — each micro-scene of Kolenbach's play snapped into place.
"They're like kernels of scenes," Renault said at a break. "Each one is a moment in time in the relationships of the characters." And that's precisely what the actors conveyed: domestic scenes that echoed hauntingly from a bare set with a poignancy that every parent and young adult child will quickly recognize.
Each scene feels like a coupling between the parents and the young adults. They seem to be trying desperately to maintain their mutual love for one another while simultaneously branching toward new dimensions. It's the "deconstruction" of their old parent/child relationships that creates the new relationships by which each hopes their dreams for the future might flourish.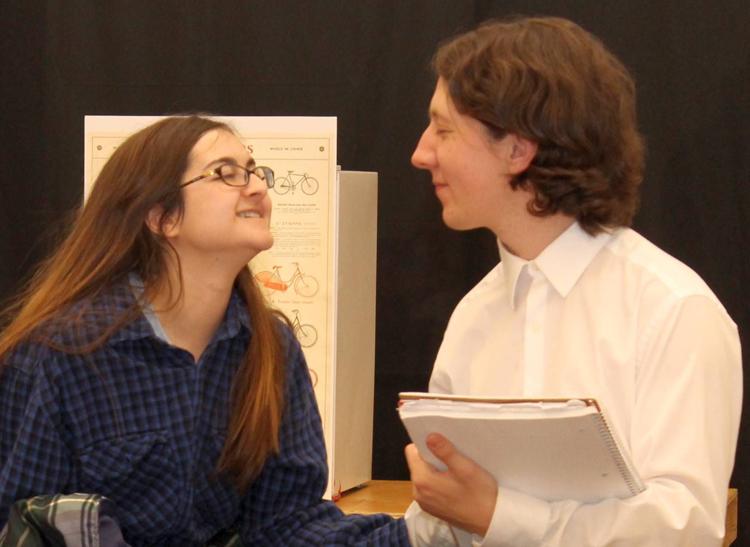 Lucy (Denton) is described as a rich young co-ed who is falling in love with Albert (Baumbach) as the young and "brilliant" working-class student she has met in a small Vermont college. All the things that Lucy has taken for granted – paid tuition, dorms, and social position – are at odds with the challenges experienced by Albert, whose financial circumstances are much more delicate and uncertain.
You have free articles remaining.
Albert's and Lucy's romance fosters Lucy's need to know more about her absent father whom she has never met. But her mother Margaret Whitney (Haugan) is reluctant to reveal the feelings of her lost and betrayed youth.
Meanwhile, Albert's father Leo (Ireland), is struggling with the realization that his son is moving on, and that he must come to terms with his own past lifestyle choices that has left the love-struck Albert with an uncertain future.
Every parent will recognize the trials faced by these characters – both in their own challenges and the challenges faced by their children. Each scene is a snippet of family reality as the children grow into distinct personalities that are no longer dependent upon the parental relationships that have nurtured them.
But it's the changed realities of college life that strike such brilliant sparks in the Upstage Napa Valley production.
"We wanted to focus on how difficult it is for college kids to make it in today's world," Renault said at the rehearsal break. "Many really can't afford to be there, in college. Some are living in cars, working side jobs, and just trying to make ends meet as they try to achieve their future hopes and dreams."
And yet it's the energy and the innocence of the new love between Lucy and Albert that propels the play forward, and Denton and Baumbach are wonderful in expressing that innocence within a context that eludes past disappointments and failures of their parents. The play seems to ask the question: "If these are my parents, then who am I, where did I really come from, and how can I still fulfill my dreams?"
Kolenbach's style as a playwright is to offer the audience "glimpses" of each character, and "leitmotifs" into how each relationship is constructed. He never gives "too much" in his wacky dialog, but zeroes in on the heart of each character's interaction. And through a twisted kind of process, as he reveals the flaws of each of his characters, he also reveals the underlying depths of their true emotional worth.