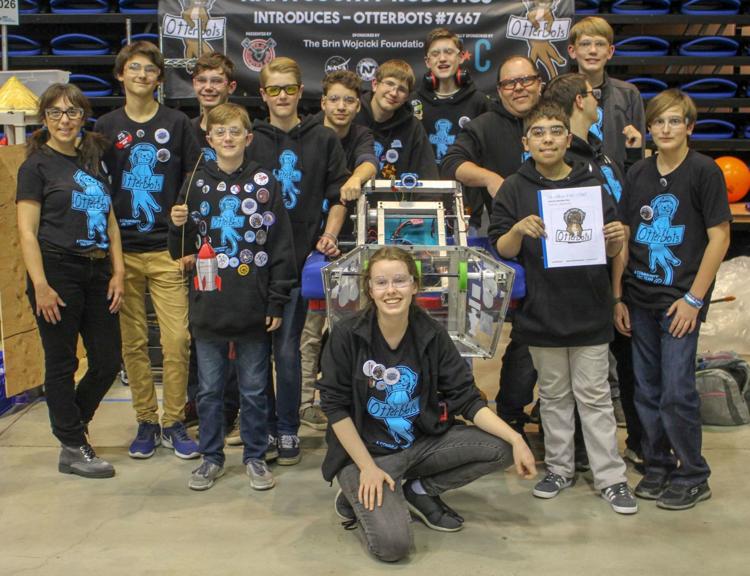 Christopher Olivier of St. Helena was having trouble getting to Santa Rosa every day to work with a local robotics team, so he did the same thing he's been doing for years: He engineered a solution.
Months later, the 15-year-old aspiring engineer was at San Jose State University being honored as captain of the top rookie team in the FIRST Robotics Competition's (FRC) Silicon Valley Regional event March 30-31.
"It felt amazing," said Olivier, whose OtterBots team will compete in the FRC world championship in Houston April 17-20. "None of us had expected to be the highest-seeded rookie team, along with winning the Rookie All-Star Award. We didn't think we had a chance."
Transportation challenges inspired Olivier to found the OtterBots team and its parent organization, Napa County Robotics, which operates under the nonprofit umbrella of Teens Connect Napa. Olivier recruited team members on Facebook and attracted students from an array of schools.
Organizing programs is nothing new to Olivier. At the age of 10, he founded Northern California Allergy & Asthma Advocates, which advocated for state legislation requiring public and charter schools to have epinephrine on hand. He followed that up with Christopher's Little Free Rolling Library, which provides books for adults and kids who've been affected by disaster, and Napa County Kids Care, which gets kids involved in community service. He's been volunteering at the St. Helena Public Library since he was 9.
The FRC is designed for high school-aged students, but Olivier also welcomed middle-schoolers to join the OtterBots. The team lacks the robust funding of some teams, but he was able to level the financial playing field by applying for more than 15 grants. Thanks to a detailed business plan, the team secured grants from the likes of NASA ($6,000), Apple ($6,000) and the Brin Wojcichi Foundation established by Google co-founder Sergey Brin ($2,500).
Pirates Press offered a discount on merchandise like T-shirts and sweatshirts. TEM Machine Shop, owned by Olivier's parents, let the team use its Napa warehouse. A mentor from Google offered valuable technical advice.
Olivier wants to pursue a career in mechanical engineering, and the FRC gave him a taste of what he's in for. Teams have just six weeks to design and build a robot. FIRST supplies nothing but a standard motorized drivebase with wheels and a sample of the ball used in the competition.
"You get two motors per side and all the electronics, but no instructions on how to put it together," Olivier said. "It's just 'here's a bunch of parts, now go.'"
This year's contest required robots to pick up balls and drop them into a trough or lift them onto elevated platforms. "Alliances" of three teams compete head to head.
Some robots are designed to lift or carry the balls. Others manipulate plastic disks to prevent balls from falling off the platforms. The most mischievous bots are designed to trespass in the opposing alliance's territory and interfere with their robots.
After coming up with several conceptual designs, the OtterBots settled on the first type of robot. It uses a bucket equipped with wheels that can suck the ball into the bucket and then spit it into the trough.
The team got help early on from Owen Hale, a St. Helena High School grad who's now a product design engineer for Apple. Hale subjected the three conceptual designs – bucket, elevator, and opposable arm/claw – to a trade study assessing their strengths and weaknesses.
Hale's analysis was brutally frank, but it helped the team settle on the bucket design. The team went through a series of prototypes – cardboard, then plastic, then wood — before creating "Dozer" out of aluminum and polycarbonate. Dozer cost $1,831.25, not including spare parts.
At just 78 pounds, Dozer is lighter and therefore faster than most of the other robots, which can weigh up to 125 pounds. The drawback is that Dozer is also more susceptible to getting pushed around by the opposing alliances' bots.
The hectic six-week timeline was only one of the team's challenges. Olivier alone logged 350 hours milling parts and designing Dozer's gearbox and other components.
"In CADD (Computer Aided Drafting and Design) the gearbox worked great, but once I built it I was quite concerned that I'd screwed up one of the holes," Olivier said. "If that one hole is off, it affects everything else."
That was the biggest engineering puzzle, but the biggest challenge overall was keeping the whole team engaged and motivated.
"Since the robot's only so big, you can only have three or four students physically working on the robot at once," Olivier said. "So the other 10 students there have to be doing something else."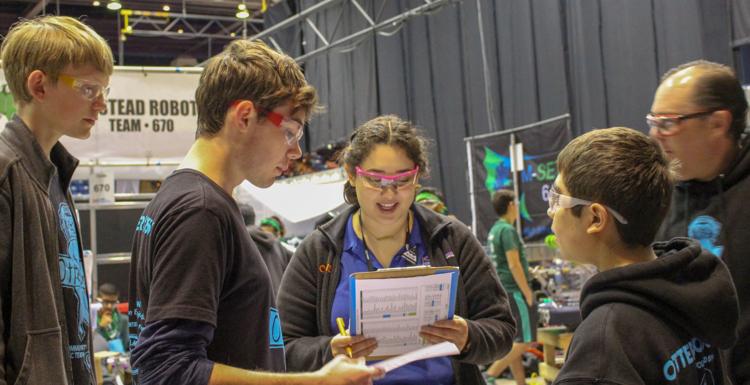 During the San Jose competition, Dozer got pushed around by the heavier robots, as they'd expected. But its speed and dexterity at handling the balls helped the team rack up points.
The OtterBots finished 11th out of 59 teams, the best finish by a rookie team. They brought home the Highest Rookie Seed Award, the Quality Award, and the Rookie All-Star Award, which won them a spot in the World Championships in Houston. Jackson Huckaby, the team's safety captain, won an award for his safety manual.
Olivier himself won the FIRST Dean's List Award as an outstanding student leader. His efforts caught the eye of Woodie Flowers, co-founder of FIRST and professor of mechanical engineering at the Massachusetts Institute of Technology, who gave Olivier's mom his contact information and told her to stay in touch as Christopher gets ready for college.
The competition helps students network with academics like Flowers and with sponsoring tech companies on the lookout for young talent.
Napa County Robotics' decentralized nature accommodates students in regular schools or non-traditional programs (Olivier is in Napa Valley Independent Studies), as well as those with disabilities and health challenges. Tenth-grader Emily Comes of Marin County couldn't attend meetings because of health problems, but she participated via videochat and designed the OtterBots' logo.
Olivier is the only Upvalley student participating in Napa County Robotics, but he wants to attract more by using the St. Helena Public Library for team meetings. He's also grooming younger team members to take on leadership roles so that the program lives on after he goes off to college.
"My goal is to make this a completely sustainable team," he said.
Be the first to know
Get local news delivered to your inbox!