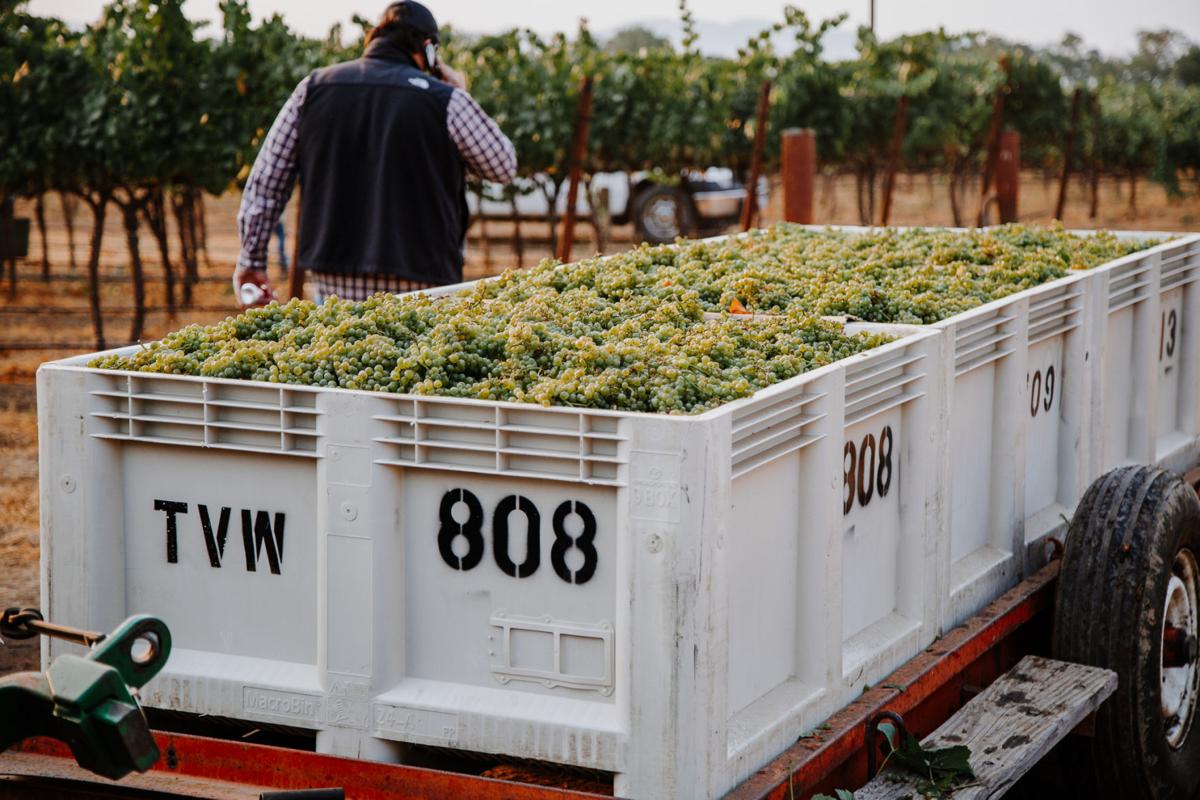 Coming off a 2020 harvest plagued by devastating fires and disruptive power outages, Napa Valley grapegrowers are optimistic that this year's vintage will be one to remember for the right reasons.
Correspondents from across the valley report high quality but low yields as vines respond to an extended drought.
"Drought impacts are a big part of the 2021 vintage conversation, with the expectation of a broader range in yield depending on soil depth and access to irrigation," reports Jennifer Rue of Oakville Ranch Vineyards.
In Yountville, Louis Kapcsandy Jr. of Kapcsandy Family Winery says the 2021 crop "has a shot at greatness."
"Berry-size is very respectable, with moderate juice-to-skin ratios, not an unusual occurrence when soil moisture is at a premium," Kapcsandy reports.
Here's the first harvest report of 2021, organized by American Viticultural Area (AVA):
Calistoga — Matt Crafton, Chateau Montelena — "An idyllic start to harvest in Calistoga with moderate temperatures and abundant fog. While most of the Semillon and Sauvignon Blanc have come off the vines in the last 10 days, there are still a few pockets of white grapes hanging, especially on the west side of the AVA. Our Viognier, in particular, is likely a week out. Yields seem to be slightly below estimates, which were already trending below average. Earlier-ripening red varieties, especially those that are dry farmed, are maturing quickly. Fruit quality thus far has been excellent to outstanding, with plenty of concentration. Hopefully this is a harbinger of good things to come."
Howell Mountain — Laura Barrett, Clif Family Winery — "It is the very early stages of the harvest season up on Howell Mountain. Cabernet vineyards have just finished veraison and we have completed our final green drop at the Clif Family Estate Vineyard on Cold Springs Road. The crop load appears to be moderate and we had a uniform transition through veraison. We are focused on managing irrigation/water supply and watching the weather as we get excited for a promising harvest season."
Chiles Valley District — Alexander Eisele, Volker Eisele Family Estate — "Careful, cautious water use with continuous monitoring has been the story throughout this extraordinary dry growing season. Sauvignon Blanc harvest has been in full swing up and down the district. Timing is slightly earlier to average with beautiful, but very small clusters and much lower than average yields. We have also seen some Viogner being picked with the first Chardonnay, Syrah, and Zinfandel right around the corner. Cabernet veraison is not quite complete."
Spring Mountain District — Stuart Smith, Smith-Madrone Winery — "Despite all that mother nature is throwing at us this year, our vines are holding up amazingly well. The vines stopped growing earlier than normal and moved from a vegetative growth cycle into their ripening cycle. As is usual on Spring Mountain the crop levels vary by block and variety with Chardonnay, Cabernet Franc and Merlot in the normal-plus range yet the Cabernet Sauvignon appears to be below normal. Last week Keenan started harvest on the Mountain with a small amount of Rosé. This weekend Spring Mountain Vineyard will start with their Sauvignon Blanc and Schweiger Vineyards will start with their Pinot Noir."
St. Helena — Tom Rinaldi — "Monday, Aug. 23, is the first day of my 46th Napa Valley grape harvest. The Sauvignon Blanc fruit comes from Tournahu Vineyards across from the Bale Mill in northern St Helena AVA. The fruit is balanced, very rich in its fruit-forward expression, clean; and it appears that the amount of yield will be less than what we had hoped earlier in the year. That may be a pattern throughout the valley; but fortunately, all the clusters I have tasted throughout the region are clean, and without any taint from the distant fires. A slow, cool (below 60 F) fermentation from direct-to-press hand-picked early morning fruit will retain the magic. Cheers!"
Rutherford — Kristin Belair, Honig Vineyard & Winery — "Rutherford wineries producing Sauvignon Blanc got an early start to harvest this year, with some harvesting Pope Valley fruit in late July. At Honig, we saw our first fruit on Aug. 3, from Gordon Valley, and our first Rutherford Appellation Sauvignon Blanc on Aug. 23. We keep expecting that we will soon be operating at full capacity, but with cooler late August weather we are in more of a start-stop-start pattern. Early take on the vintage is that the light crop is making up by giving us extraordinary flavors and textures. Happy Harvest Everyone!"
Oakville — Jennifer Rue, Oakville Ranch Vineyards — "A hot July has given way to a more temperate August, resetting an earlier harvest to closer to average. Drought impacts are a big part of the 2021 vintage conversation, with the expectation of a broader range in yield depending on soil depth and access to irrigation. Last week kicked off Oakville's harvest with Sauvignon Blanc crossing the scale at Saddleback. Lars Bjorkman reports early ripening Sauvignon Blanc blocks showing yields well below average with smaller berries and great flavors, mirroring what is being seen across the Valley. We're just at the starting gate of 2021, and it is full of optimism and energy."
Yountville — Louis Kapcsandy Jr., Kapcsandy Family Winery — "There is a blissful combination of enthusiasm and relief about the recent fall-type weather conditions. All established vineyards are exhibiting low stress, sporting robust leaf canopies that drive sugars and provide ample shade cover for the final mile of ripening. Cordon-pruned vines appear to be weathering the drought better than those cane-pruned. The early varietals (i.e. Sauvignon Blanc and blocks selected for Rosé production) began coming off the vine last week with delightful results. Yields are promising and spirits are high for those filling and tending the tanks. Cabernets are on track to ripen by mid-October. Berry-size is very respectable, with moderate juice-to-skin ratios, not an unusual occurrence when soil moisture is at a premium. With warmer but pleasant weather on the way, the 2021 vintage has a shot at greatness. Stay tuned!"
Stags Leap District — Elizabeth Vianna, Chimney Rock Winery — "In Stags Leap District, the thrill of anticipation for harvest has arrived. Chris Tynan, winemaker at Cliff Lede, will harvest some Sauvignon Blanc and Semillon from further Upvalley this week and says, 'It won't be long until we bring in Merlot from our SLD vineyards.' Elias Fernandez, winemaker at Shafer Vineyards, is working with his team to get all the equipment ready and says harvest looks like it is three to four weeks away. 'Crops are below average across all varieties. Once it starts I think it will go quickly.' At Chimney Rock, we are getting equipment and cellar ready with some Rutherford whites getting close, but no Stags Leap District reds yet in sight. We are tracking about a week behind last year and excited about the potential quality of the vintage."
Mount Veeder – Lorenzo Dalla Brea, Hess Collection — "We're approaching our first pick of the harvest season on Mt. Veeder in a vintage defined by a dry season producing lean yields and high concentration of flavor. Our white varieties — now at 25 Brix — are expected to be harvested this week or the following. For our red varieties, sugar levels are progressively on the rise, though not all varieties are fully colored as the mild weather eases them into maturation."
Oak Knoll District — Jon Ruel, Trefethen Vineyards & Winery — "The harvest in the OKD started around two weeks ago and has been moving at a very calm pace. Laura Barrett, winemaker at Clif Family Winery, said the cooler temperatures have allowed her 'to slow down and plan picks with more precision' and that they are picking their OKD Sauvignon Blanc this week and likely some Viognier and Chardonnay as well. Here at Trefethen, we have picked our Pinot Noir for Rosé, our Sauvignon Blanc and some Chardonnay. The crop is obviously a little lighter this year, given the dry winter, but the flavors have been fantastic. It will be interesting to see how the fall weather shapes up and when the pace of picking really picks up."
Coombsville — Tom Farella, Farella Vineyard — "Mild weather has dominated over recent weeks, veraison finishing up in some of the later blocks while Sauvignon Blanc and Chardonnay near full ripeness. So far, no real concerns with smoke as the Bay breezes keep a nice cleansing to the lower atmosphere. Reports are coming in of some harvesting but, mostly, people are in the preparation stage for the weeks to come. Good luck, everyone!"
Carneros — Christopher Hyde, Hyde Vineyards — "At Hyde Vineyards in Carneros, sparkling wine harvest kicked off on Thursday, Aug. 19, with Chardonnay. With a cooling trend continuing into next week, harvest will follow with Pinot Noir on the 21st. Yields are slightly down from 2020, though quality is very high, with great acidity in what promises to be an astounding vintage."
For real-time harvest photos and updates, visit the Napa Valley Vintners' Harvest 2021 website at harvestnapa.com.