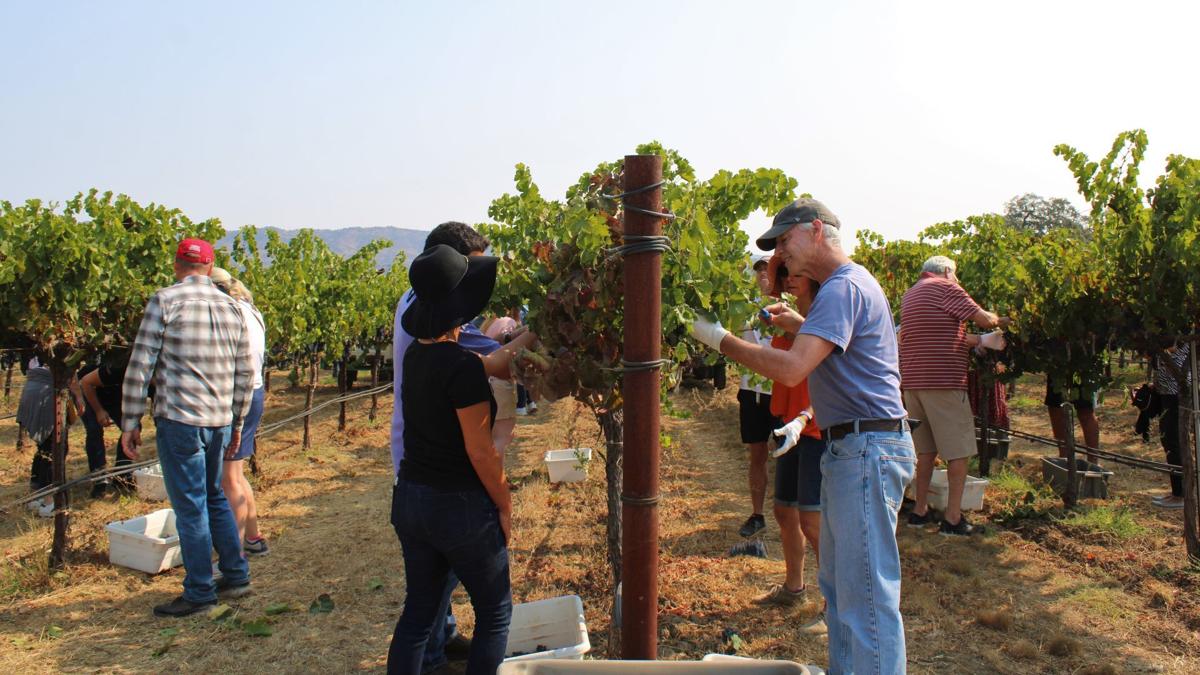 Harvest is entering its final weeks, and on the heels of a disastrous 2020, grapegrowers can't believe their luck.
"Excellent," "really exciting," "wonderful," "thrilling" and "stellar" are some of the ways growers are describing the quality of this year's vintage, even as drought conditions have resulted in a smaller crop.
Lorenzo Dalla Brea of Hess Collection expects to be done by mid-October, "significantly earlier than in the past recent years."
"We are thrilled with early flavors as well as the great weather, which has allowed us to harvest at a manageable rhythm," said Elizabeth Vianna of Chimney Rock Winery in the Stags Leap District. "Mother Nature has indeed been kind."
Here's this week's harvest report, organized by American Viticultural Area (AVA):
Calistoga
Matt Crafton, Chateau Montelena — "Traffic is easing up and I'm seeing fewer light bars in the early morning hours. There's no doubt harvest is slowing down in the vineyard although most wineries in Calistoga are quite busy. My vineyard manager has had the last two Sundays off, so that says something right there. Our latest picks have been from vineyard blocks that were carrying close to a normal crop. I wish we had more of those. Regardless, quality remains excellent and I continue to be impressed with how well our vines fared with little to no water all year. It's easy to forget how tough grapevines are, but this vintage has once again proved that point."
Diamond Mountain District
Dawnine Dyer, Dyer Vineyard — "There are just a few vineyards unpicked on Diamond Mountain and as we wrap it up we mark the one-year anniversary of the Glass Fire — recalling that in 2020 harvest had just started in the Diamond Mountain District. What's the take home for 2021? It was an early vintage — very early for some and stalling a bit towards the end. The crop was small, but not evenly so with a few vineyards reporting fairly normal crops to many down 30-35%. Grapes came in in a surprising order Rob Lloyd at Vineyard 511 who picked Sept. 24, said it's the first time he's picked Cabernet before finishing with his own Chardonnay. Diamond Creek will wrap up this week 'with low yields and lots of sorting.' As we get further into the fermentations the quality in the wines is really exciting — now let it rain!"
Howell Mountain
Laura Barrett, Clif Family Winery — "We are definitely in the final stretch of harvest up on Howell Mountain. A few reports of wineries being completely done (including Cimarossa, who finished last Friday), but most are close. The grapes that are still hanging are benefiting from the cooler temperatures, allowing acids to drop, flavors to mature, while sugars are maintaining. Mike Dunn of Dunn Vineyards is picking Petite Sirah this week and has about 12 tons of Cabernet remaining. At Clif Family Winery, I will finish picking our Estate Howell Mountain property this Friday. The cooler weather has been the perfect way to finish up the season."
Chiles Valley District
Alexander Eisele, Volker Eisele Family Estate — "Down to only a few blocks remaining, mainly Cabernet Sauvignon. We all appreciate an early and uneventful harvest 2021. So far all signs point to a quality vintage."
Spring Mountain District
Stuart Smith, Smith-Madrone Winery — "Wes Steffens at 7&8 is still picking some small blocks of Cabernet and will probably finish later this week. He's really pleased with the quality. Nancy Walker from Schoolhouse reports that they're finished and while the crop was much lighter, she is grateful the quality is so wonderful. Ron Rosenbrand at Spring Mountain Vineyard reports that they have been waiting for their vines to mature and re-started harvesting last week. They'll be going strong for several weeks and so far the vines look good and they're happy with the quality. Frank Schaefer next door at York Creek Vineyards reports also that their grapes are coming in looking good, with good flavors and a good crop. Matt Sherwin reports that Sherwin has finished with Merlot, is 15% through with their Cabernet and hasn't started with Cab Franc yet: he's also happy with the quality. Pam Bergman at Bergman Family Vineyards has one more overnight harvesting session to go and she's really happy with the quality: the berries are small with an excellent concentration of flavors."
Rutherford
Kristin Belair, Honig Vineyard & Winery — "It has been nine weeks since the first fruit of the 2021 season arrived here, at Honig. The days are getting shorter, nights longer and everyone is looking forward to having all the fruit in, which looks to be towards the middle of October. Of course, after all the grapes are safely ensconced in tanks, there are several more weeks to go, while red fermentations finish, tanks get pressed, and the vintage is safely tucked away in barrel. Or, in the case of Sauvignon Blanc, heading toward the bottling line. The wines are full of promise, and we are grateful to being so near to bringing the vintage to a close on such a positive note."
Oakville
Jennifer Rue, Oakville Ranch Vineyards — "It's the equipment ballet phase of harvest. Trucks crisscross the valley repositioning bins and harvesting equipment for the next pick while at the winery we gauge throughput on the crush pad and play tank-board chess. As we head into the final stretch it is beginning to feel like a tale of two vintages. Latter picks, off more drought-resistant rootstocks, soils with better water-holding capacity, and access to water are showing closer to average yields and demonstrating a richness and plush heft compared with the intensity, power, and high-tone characters of the earlier picks off leaner soils and more stressed sites. The emerging blending options are thrilling! This last series of gorgeous summer-like days has moved the needle nicely on the remaining blocks. After a few mild days relax the fruit, we anticipate a flurry of activity leaving very little hanging after this weekend."
Stags Leap District
Elizabeth Vianna, Chimney Rock Winery — "Harvest continued steadily this week as more vintners get closer to that finish line. Celia Welch finished harvesting the Lindstrom family Nicali Vineyard yesterday. She reports enthusiastically that 'flavors and color this year are remarkable, everything has nice bright acid also.' Michael Baldacci, at Baldacci Family Vineyards, reports that at long last they have started to harvest grapes from their Stags Leap District vineyards. Jon Emmerich, winemaker at Silverado Vineyards, continues harvesting their SLD Cabernet Sauvignon at a steady pace. He expected to finish this week. Marcus Notaro, winemaker at Stag's Leap Wine Cellars, is moving right along and should be finished picking Fay this Tuesday and more of SLV this week, remarking that 'First wines off the skins are dark, flavorful, with good quality tannins. What a change from last year, Mother Nature has certainly decided to give us a break.' At Chimney Rock, our pace has picked up considerably. Our Ganymede Vineyard is all in and will be cold soaking in the cellar while we will be finishing up with our Tomahawk Vineyard Cabernet this week. Only a couple of blocks to go after that. We are thrilled with early flavors as well as the great weather, which has allowed us to harvest at a manageable rhythm. Mother Nature has indeed been kind."
Oak Knoll District
Jon Ruel, Trefethen Family Vineyards — "We're in the home stretch! The weather has been fantastic with some very cool nights, which help maintain the acidity in the grapes, and some very warm days, which help the vines keep ripening the fruit. That diurnal swing in temperature has been exceeding 50 degrees recently, which is truly remarkable. The vines will surely soon turn yellow with gorgeous fall colors but we're almost done picking anyhow! At Trefethen, we're down to just the Petit Verdot and the last blocks of Cabernet Sauvignon. Over at Silenus Winery, Scott Meadows reports that they are picking Cabernet Sauvignon and Cabernet Franc, with the Merlot running later than usual. He also mentioned that 'the flavors are rich and fruity with good acidity' making for a 'stellar vintage.' Cheers to 2021!"
Mount Veeder
Lorenzo Dalla Brea, Hess Collection — "Warm diurnal temperatures and cold nights are gently pushing the maturity of Mount Veeder fruit towards full ripening. This week will be all about Malbec harvest, with most of the fruit on Veeder Crest and Veeder Summit ranches being hand-picked. Past this week we will have left to harvest the last Cabernet Sauvignon out of the blocks surrounding our winery on Mount Veeder. We can see harvest coming to a wrap by mid-month, significantly earlier than in the past recent years."
Coombsville
Tom Farella, Farella Vineyard — "The first week of October has brought perfect harvest weather with warm days and cool nights taking most of the region's fruit to the finish line. Things have quieted substantially in the vineyards as fermentations are the new focus. The droughty conditions have led to a sense that we are fortunate to make it this far after a long growing season with the vineyards requiring extra attention to get to this moment successfully. Small berries and concentration are evident with early, dark color and an eye to healthy fermentations the rest of the way. There are several Cabernet vineyards — and a little Merlot — still out there but the coming cooldown will surely motivate many to pull the trigger."
Carneros
Christopher Hyde, Hyde Vineyards — "In Carneros, cool weather has provided some relief as the harvest continues into October. Harvest at Hyde Vineyards should be wrapped up in the next week. Another early finish to the season, and a relief for the vines."
For real-time harvest photos and updates, visit the Napa Valley Vintners' Harvest 2021 website at harvestnapa.com.