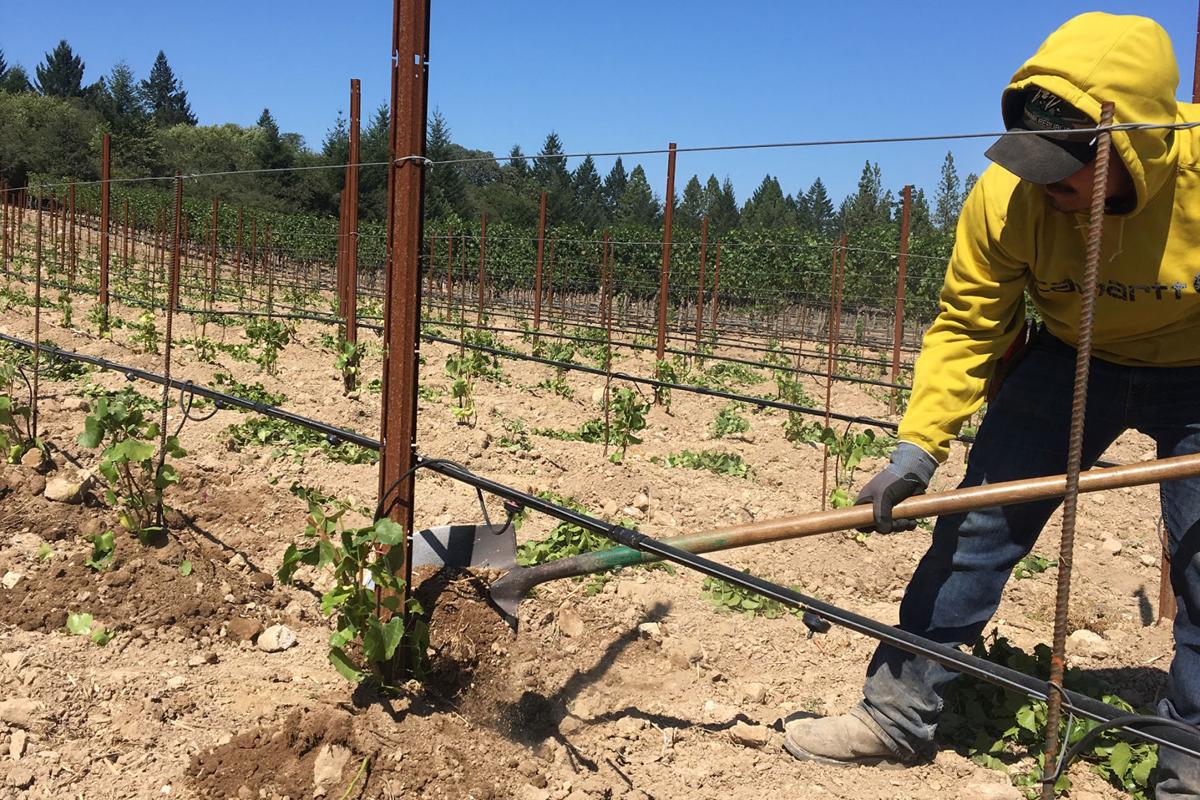 Harvest continues at a very slow but steady pace in the Napa Valley as temperatures rose into the low 90s, slightly accelerating the ripening process.
In the Oak Knoll District, the pace of harvest is "active but not hectic," reports Jon Ruel of Trefethen Vineyards. Alexander Eisele of Volker Eisele Family Estate said more Sauvignon Blanc, Semillon and Pinot Grigio were harvested within the last week, but still no Chardonnay.
"As we all know, determining a precise harvest date isn't simply a matter of reaching a particular sugar or acid level — everything ultimately comes down to flavor," wrote Igor Sill of Sill Family Vineyard in St. Helena.
Here's this week's harvest report, organized by American Viticultural Area (AVA):
Calistoga — Matt Crafton, Chateau Montelena — "The warm weather this weekend nudged ripening in the right direction. It just seems to be the nature of this vintage that we'll most likely begin picking hillside Cabernet while we're concurrently harvesting Chardonnay from down valley. It should be exciting if nothing else. The lack of a consistent morning marine layer over the last few days in Calistoga has allowed nighttime lows to hang in the low 40s. As a result, the fruit we've tasted in the vineyard has incredible acid and depth of flavor. Right in our wheelhouse."
Howell Mountain — Laura Barrett, Clif Family Winery — "With last week's heat I have seen some rapid sugar accumulation in our earlier Cabernet Sauvignon site on the north side of Howell Mountain. Our cooler site at Cold Springs Vineyard is still sitting around 21 Brix with remarkable consistency across all blocks. As we approach the second half of September, Mother Nature reminds us that autumn is near, as some basal leaves begin to turn yellow. This week's cooler forecast will certainly prolong any first picks on the mountain."
Diamond Mountain District — Dawnine Dyer, Dyer Vineyards — "There's not much in the way of white grapes planted on Diamond Mountain, but what few there are act as early indicators that harvest is close. So it is with great fanfare that I'm pleased to announce that von Strasser's Gruner Veltliner came in on Sept. 6 and, while there are no other similarities, it was the same day as last year. A few people are starting to talk about scheduling Merlot."
Chiles Valley District — Alexander Eisele, Volker Eisele Family Estate — "With the warm temperatures last week, the remaining Cabernet blocks were pushed through the final stages of veraison. Overnight lows have generally been ranging in the low to mid 50s with daytime temperatures in the mid to upper 80s even some low 90s, so we have had gentle ripening and beautiful acid retention and plump clusters. Last year we had six consecutive days at 100 degrees or more during this period, which affected cluster weights and acid levels. More Sauvignon Blanc, Semillon and Pinot Grigio have been harvested and no Chardonnay so far."
Spring Mountain District – Stuart Smith, Smith-Madrone — "With this perfect weather harvest is advancing, but is still very slow. Spring Mountain Vineyard and Smith-Madrone have finished with their white grapes and are extremely pleased. Both wineries had slightly larger crops than last year, with good low pHs and excellent flavors. Keenan, Schweiger and Pride are waiting until at least next week to start their whites. This week Keenan will pick a small block of Zinfandel and Schweiger will pick a small block of Merlot."
St. Helena – Igor Sill, Sill Family Vineyards — "After walking our St. Helena Cabernet Sauvignon terrace block and tasting the grape berries from several rows, I'm very excited as the flavors have developed significantly. With the recent cooler late August temperatures and (Monday's) 90-degree warmer forecast, we'll keep our berries on the vines a bit longer to achieve more depth without risking a decrease in acidity. I'm anticipating an end of September or very early October harvest this year. As we all know, determining a precise harvest date isn't simply a matter of reaching a particular sugar or acid level — everything ultimately comes down to flavor. I'm anticipating a great harvest year for St. Helena!"
Rutherford — Kristin Belair, Honig Vineyard & Winery — "Three weeks into harvest, a few days of warmer weather brought patiently waiting and watching to an end on Thursday last week. We have a big week ahead with a full the picking schedule through at least the end of this week. Harvest dates are running 10 days to two weeks later than last year. The weather is forecast to be on the cooler side of normal, so we may be looking at an extended season with plenty of hang time. As our first Sauvignon Blanc tanks complete fermentation, we are tasting lovely citrus, peach and melon flavors. Cabernet is still a ways off. With Brix in the 20-23 range, we don't expect to see our first reds before the beginning of October."
Oakville – Jennifer Rue, Oakville Ranch Vineyards — "The buzz at last Friday's Oakville Growers Summer Social was the arrival of warmer temperatures and the ways we busy ourselves to expend the energy of anticipation. Driving along Oakville Cross, white grapes still hang and here at Oakville Ranch our Chardonnay is just hitting 23 Brix. We will hang through the bit of cooling heading our way and are leafing the fruiting zone in preparation for our pick early next week. In the earliest block of Cabernet Sauvignon at Bonny's Vineyard, Matt Meyer reports low 21s and at 850-950' elevation to the east we are tracking about 1 Brix higher. The coming week brings Chardonnay, then more time practicing restraint and the wisdom of not acting."
Atlas Peak — Gordon Waggoner, Acumen Wines — "Veraison has finished and ripening is well under way. Many blocks are over 22 Brix, with great phenolic development and complexity. Seeds are browning with good tannin maturation. We've been warm with ample sunshine in most areas, add to that our regular breezes to stave off mildew and cool nights to preserve natural acidity. Whites will start being brought in within the next couple weeks. Reds in some warmer sites may also be brought in during that time. 2018 is shaping up to be a stellar vintage on Atlas Peak."
Stags Leap District — Elizabeth Vianna, Chimney Rock Winery — "Harvest is dramatically different this year. At this time last year, many of us in the Stags Leap District had already started crushing reds. As I checked in with colleagues in Stags Leap District this week I couldn't help but chuckle. Jon Emmerich, winemaker at Silverado Vineyards, exclaimed, 'Harvest? What harvest?' Robbie Meyer, winemaker at Malk Family Vineyards, commented on making some last minute crop load adjustments in the vineyards to promote a little more advancement in maturity development. At Cliff Lede Vineyards, Remi Cohen says, 'We have Merlot at 23-plus Brix and are thinking that we might start harvesting middle to end of next week. We like the flavors at low sugars this year and the slow and steady ripening.' Elias Fernandez, winemaker at Shafer, made me laugh out loud, 'Zzzzzzzzz ... nothing yet at Shafer, maybe late next week or the week after.' At Chimney Rock, we continue the waiting game delighted with the perfect ripening weather gracing our grapes. The crystal ball points to a bountiful and beautiful harvest ahead."
Mount Veeder — Lorenzo Dalla Brea, Hess Collection — "Last week we saw an increase in daily temperatures that helped speed up the ripening process. Night temperatures are seasonally cold and along with a persistent marine layer in the mornings our grapes are still maintaining a balanced acidity despite the increase in sugar concentration. Our Mount Veeder Estate Chardonnay grapes jumped up 2 Brix from last week, testing now in the 22-23 Brix range. Along with the sugar increase, we are seeing flavor development that is typical of the variety. We anticipate the harvest of the first lot of mountain Chardonnay to be scheduled sometime this week, of course dependent on the temperature trend. On the Mount Veeder Estate properties we also have less common varieties for Napa Valley, such as Pinot Gris, Gruner Veltiner and Albarino. The harvest of those varieties will follow the Chardonnay but we are still quite away from any scheduling."
Oak Knoll District – Jon Ruel, Trefethen Vineyards — "Over the weekend, afternoon temperatures reached beyond 90 for the first time in a few weeks but have since cooled down again. Overnight low temperatures have been in the 40s which explains why the grapes are maintaining acid so well. With the mild weather, the pace of harvest around our region has been active but not hectic. At Trefethen, we have continued picking our estate Chardonnay, as each individual block reaches ideal ripeness. Tres Goetting, winemaker at Robert Biale Vineyards, says their 'Zinfandel berries really plumped up in the final stages of veraison' and they are expecting 'larger than average yields.' As for Petite Sirah, Tres says 'the yields look to be average' and notes that, for a variety with clusters that are susceptible to sunburn, our 'cooler summer has kept them looking perfect.' Over at Black Stallion, the team reports that it looks like a later than average harvest but with 'pretty much ideal ripening conditions' and they suggest that 'harvesting by the flavors will be important, relative to harvesting by the sugar level.'
Coombsville — Tom Farella, Farella Vineyards — "We are finally getting going with our Sauvignon Blanc Tuesday and some Pinot later in the week. The weather has been, in a word, perfect, and seems to be a nice forecast for the foreseeable future. The late budbreak seems to be tracking along, generally one to two weeks behind 'normal.' So far, we couldn't be happier but hope for six more weeks of perfect weather."
Carneros – Christopher Hyde, Hyde Vineyards — "Harvest continues to move slowly, with cool weather in Carneros all through last week. Things have heated up the past couple of days, which should get things moving again. Crop has come in about 15 percent heavier than 2017 so far, and the later season varieties are holding what looks like a promising crop."
For real-time harvest photos and updates, visit the Napa Valley Vintners' Harvest 2018 website at harvestnapa.com.