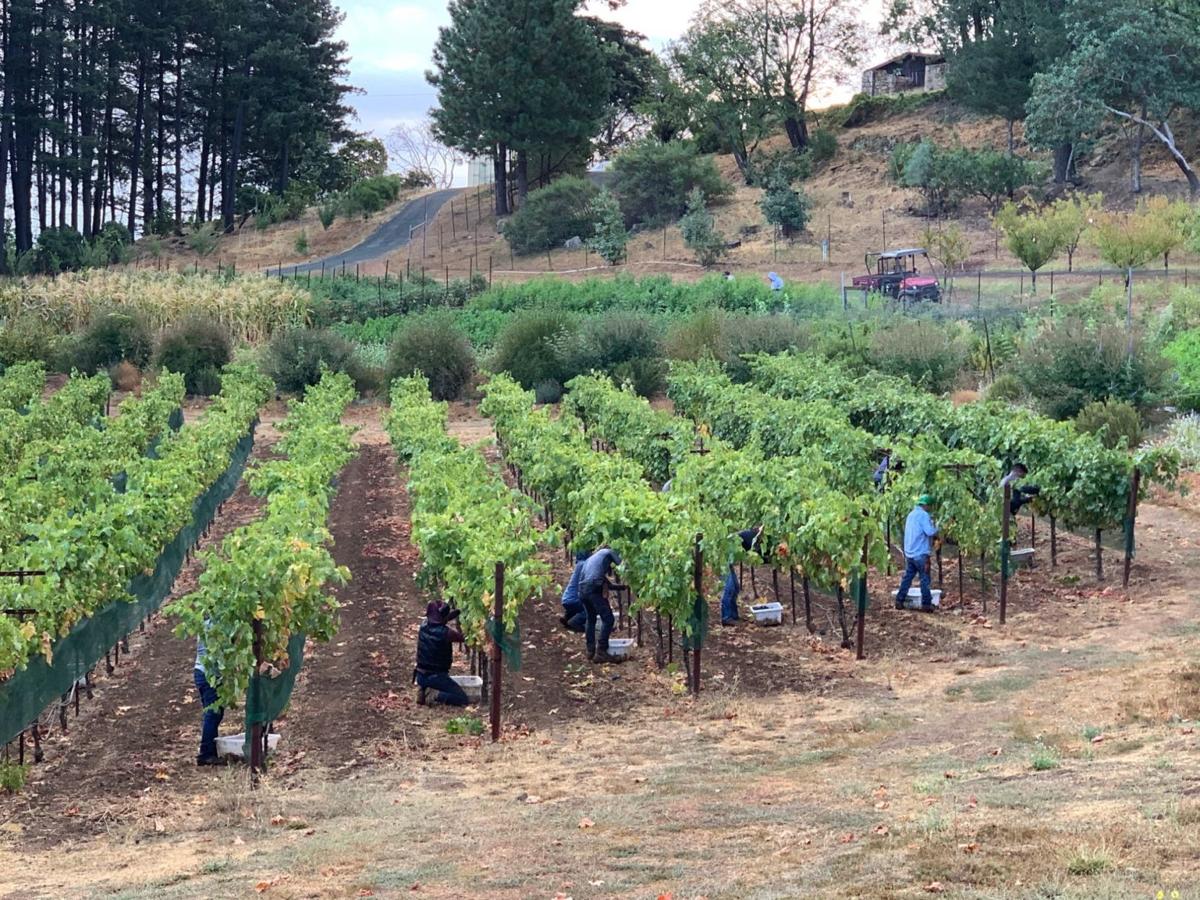 Temperatures have cooled down after a brief heat spike, and harvest continues at a steady pace as some growers plan to pick Cabernet Sauvignon next week.
No correspondents reported damage from Monday morning's brief rainstorm, which dusted off the grapes and served as a reminder that the fall equinox is approaching.
"We've all enjoyed a return to the more normal slower pace of this year's harvest as opposed to the frenetic action of the drought years," said Stuart Smith of Smith-Madrone on Spring Mountain.
Meanwhile, the pace isn't quite so relaxed on Diamond Mountain, where a fence-wrecking bear has been making his presence known.
Here's this week's harvest report, organized by American Viticultural Area (AVA):
Calistoga — Matt Crafton, Chateau Montelena — "A hot end to the week along with correspondingly warm nights pushed Calistoga vineyards one step closer to ripeness. Flavors and acidity in the fruit are on the move especially in those areas more prone to stress. Fresh raspberry and blueberry are common descriptors with very little herbal or vegetal influence. With cooler temperatures and some moisture on deck, we anticipate more harvest activity this week, particularly in thin-skinned varieties such as Zinfandel and Grenache. At Chateau Montelena, we'll be high up the hillside terraces, picking our first Cabernet of the season."
Howell Mountain — Laura Barrett, Clif Family Winery — "Monday morning's rain showers were a good reminder that it's mid-September. A fall-like weather pattern settled in early this week and encouraged some harvesting decisions. At Clif Family Winery, we picked our Estate Zinfandel. The quality was exceptional, with ripe seeds, delicious flavors, great acidity and sugars that were not over-the-top. The rain has just settled the dust and more heat is on the way. We anticipate our early block of Cabernet Sauvignon to come in next week."
Diamond Mountain District — Dawnine Dyer, Dyer Vineyards — "The big news on Diamond Mountain is not the harvest but the bear that broke down fences at Summit Vine Vineyards (Michael Klopka reports he didn't eat much) and has been seen prowling around Constant. Beyond that, the rain on Monday did get our attention. No damage — but letting us know that the winter storm window is now open and it's time to pay attention. Kevin at Constant says that their Chardonnay is just 20.5 Brix, so even it will be awhile (summer high temperatures have been closer to 95 F at their lofty elevation). Not scheduled but closer to harvest are Merlot at Sori Briquot on Kortum Canyon, Malbec at J. Davies, and Hard Six Cabernet ... with most of the volume still out two to four weeks. Should have some hard numbers by next week."
Chiles Valley District — Alexander Eisele, Volker Eisele Family Estate — "Mild temperatures followed by a little heat spike and now significant cooling. We are seeing a little of everything. Just about all of the Sauvignon blanc and Viognier have been harvested with nice balanced sugars and acidity levels, no water or acid additions were required and the flavors in the fermenting must are fantastic. Chardonnay and Tempranillo both at least 2 weeks later than last year, are being harvested, as well as Zinfandel and Syrah. Yields so far sound to be about average with beautiful clean fruit."
Spring Mountain District – Stuart Smith, Smith-Madrone — "It's still very quiet on the Mountain, but the short heat spell last week did prompt an uptick in action with Keenan and Stony Hill harvesting Chardonnay, Smith-Madrone bringing in Riesling and Stony Hill finishing its Gewürztraminer. Keenan, Stony Hill and Smith-Madrone all hope to finish their Chardonnay this week. Schweiger, 7 & 8 and Pride are still waiting on their Chardonnay. Keenan did a small lot of Zinfandel. We've all enjoyed a return to the more normal slower pace of this year's harvest as opposed to the frenetic action of the drought years."
St. Helena — Richard Lenney, Prager Winery and Port Works — "Steady ripening in our valley floor Petite Sirah vineyard continues, with the cool weather this week slowing things down a bit. Fruit chemistry is looking great, and flavors are developing nicely. We anticipate harvesting about an average size crop, with somewhat smaller than usual berry size and concentrated flavors. This vineyard typically comes in around the middle of September, but this year looks a little late, perhaps near the end of the month. It's looking like another spectacular Napa Valley harvest."
Rutherford — Kristin Belair, Honig Vineyard & Winery — "The fall equinox, heralding the official first day of fall is but a week away. Hints of autumn are popping up everywhere. Cottonwoods and walnuts are showing splashes of bright yellow and the breezes are pushing more and more leaves around. At Honig, we should be wrapping up whites by the end of this week. Most of our estate Sauvignon Blanc was harvested last week and is just starting to ferment, promising some very tasty wines. Reds appear to be right on the heels of the whites. It is likely that we'll see our first Cabernet next week. In other Rutherford news, Chris Phelps of Inglenook report the following: 'The nights have been quite cool, in the low 50s, slowing ripening but preserving freshness, elegance and overall quality. Young Cab blocks were harvested last week, and the early Merlot and Syrah come in this week. Virtually all the mature blocks of red Bordeaux varieties are at 20-23 Brix. The next three to four weeks are going to be busy, as the bulk of our estate is harvested."
Oakville — Jennifer Rue, Oakville Ranch Vineyards — "Warmer days late last week nudged the last few white blocks to ripeness, ending the 2019 Oakville white harvest. Walking vineyards under clear skies and breezy conditions after the 'dust settler' rain Monday revealed dry fruit. The rolling weather pattern of alternating warmer and cooler days continues, maintaining a nice pace to ripening. According to Alec Klobuchar, viticulturist for Yount Mill Vineyards, their Oakville Cabernet Sauvignon sampling program 'shows sites slightly behind in Brix and acids dropping faster compared with last harvest.' This mirrors what we've seen with the white varieties already harvested with fuller flavors at lower Brix signaling juicier wines with lower alcohols and fresher fruit characters."
Yountville — Louis Kapcsandy, Jr., Kapcsandy Family Winery — "After the balmy weekend, the early Monday rain did little to frustrate growers and winemakers, except for making the morning commute more treacherous than usual. Early reds will be drained and pressed in the next week to clear tank space for what is shaping up to be a spectacular Cabernet harvest. Valley-floor Chardonnays are nearly all in and most growers are extremely pleased with yields and levels of acidity. So long as our afternoon breezes stay calm there will be little threat of dehydration in the late varietals. Overall, our fertile valley is in high spirits and the glorious aromas of harvest and fermentation are apparent everywhere."
Atlas Peak – Mark Castaldi, Acumen Wines — "We've began to harvest Sauvignon Blanc last week, so far yields are average for us and juice chemistry is looking great. We have a watchful eye on the weather over the next couple of weeks as we get into the final stretches of ripening. We don't expect any issues with the light rains early this morning, as weather conditions are not ideal for botrytis and other fungal pathogens to get started in the vineyard. The 10th of an inch of rain we received this morning was just enough to wash the dust off of our leaves, but not enough to cause a problem. Our earlier red varieties (Malbec and Merlot) are progressing nicely and we expect to harvest our first reds in about two weeks."
Stags Leap District — Elizabeth Vianna, Chimney Rock Winery — "At long last the crush pads in Stags Leap District are starting to see some harvest action. Remi Cohen, COO at Cliff Lede Vineyards, reports they just began this past Friday with two blocks of Merlot. Cohen said, 'The fruit looked beautiful and tasted delicious! Here we go!' Michael Beaulac, winemaker at Pine Ridge Vineyards, had not started yet but thought they might be bringing in some young vine Cabernet Sauvignon by the end of the week. At Silverado Vineyards, winemaker Jon Emmerich, reports they still had not harvested any fruit from SLD although he remarked, 'One block of Cab is getting close.' At Chimney Rock, we have been busy with our Rutherford whites and enjoyed having time to babysit these ferments. We are spending lots of time in the vineyards and predict that our first Merlot could arrive on the crush pad sometime next week. We are absolutely thrilled with the flavors and fruit integrity we are tasting in the vineyard."
Mount Veeder – Lorenzo Dalla Brea, Hess Collection — "The 2019 growing season for Mount Veeder has been characterized by a late and slow start, mostly due to the spring rains we saw in May. Overall, mild summer temperatures allowed a progressive ripening of grapes, settling us approximately one week behind on maturity advancement when we compare to last year. Despite last week's heat, canopies are holding on for a vintage that in quantity looks slightly below average, but very promising in terms of quality. We are actively monitoring maturity levels through Brix and acidity testing and we anticipate potential harvest of Chardonnay later this week."
Oak Knoll District — Jon Ruel, Trefethen Vineyards — "The splash of rain this week was just enough to settle the dust and remind us that summer is coming to an end. We have continued to pick our early white varieties and we just brought in our first Cabernet Franc. Flavors have really been coming along nicely in the reds!"
Coombsville — Tom Farella, Farella Vineyard — "After a warm week, cool weather and the chance of showers have switched things up rather quickly. Sauvignon Blanc, Chardonnay and Pinot Noir have been coming off and Merlot looks like it's on the verge. The season really feels different and a little rain is always needed to kick off the glorious days of Indian summer (and keep the dust down). Things are still tracking about a week later than historic norms which will spread out the red varieties a little and, probably, avoid fermenter availability issues later in the season. So far, quality has been excellent and we look forward to the reds for 2019!"
For real-time harvest photos and updates, visit the Napa Valley Vintners' Harvest 2019 website at harvestnapa.com.
Be the first to know
Get local news delivered to your inbox!