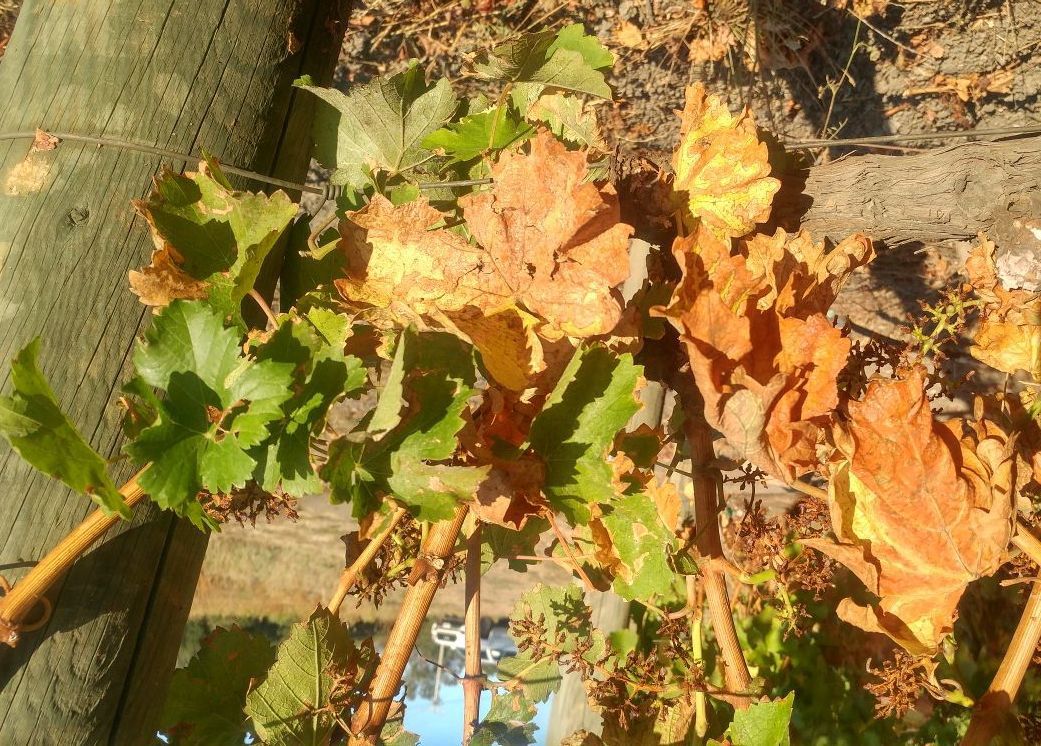 Harvest continues at full steam amid wild oscillations in temperature.
"Over the last six days, we went from an extreme 100-degree maximum temperature to frost fans buzzing at a morning low of 33 degrees at our Cold Springs Vineyard," said Laura Barrett of Clif Family Winery on Howell Mountain.
As red winegrapes roll in, growers report good quality and average yield. And after what two growers described as a "roller-coaster" of temperatures, the weather is expected to even out.
"This week looks more mild but the calendar says fall and the vines and trees are starting to look a little tired," said Jon Ruel of Trefethen Vineyards. "Thankfully, the grapes are looking and tasting fantastic."
Here's this week's harvest report, organized by American Viticultural Area (AVA):
Calistoga — Matt Crafton, Chateau Montelena — "Wow, what a week. I can't remember the last time it felt like Orlando in the middle of the night only to be starting wind machines two mornings later! As expected, the burst of heat accompanied by off-shore flow jolted plenty of picking crews into action as many fields were teetering on the edge of being ready. There's been a flurry of activity both in the hills and on the flats north of Larkmead Lane, which should taper off as mild weather settles back into the valley. Bin weights and overall yields have tracked slightly above average thus far, a good sign for things to come."
Howell Mountain — Laura Barrett, Clif Family Winery — "This week's weather pattern was a roller coaster on Howell Mountain. Over the last six days, we went from an extreme 100-degree maximum temperature to frost fans buzzing at a morning low of 33 degrees at our Cold Springs Vineyard. It was a big week spent in the vineyards for Howell Mountain growers, checking on how their blocks responded to the heat, and preparing for the cooler temperatures that followed. Some are performing a final leafing pass, so clusters can soak up all the sun that summer has left to offer. But, the quick transition to fall temperatures gave winemakers a chance to catch our breath and take some time to plan the next round of the red grape harvest."
Diamond Mountain District — Dawnine Dyer, Dyer Vineyards — "This last week was a good reminder that things can change fast this time of year. After a few days near 100, it's been in the 40s on lower Diamond Mountain where both Diamond Creek and Dyer reported 42 degrees last Sunday and Monday mornings. Canopies remain strong but basal leaves are yellowing, berries are softening and a few folks, including us at Dyer Vineyard, will be picking Cabernet by early next week. Early indications are that pHs are up and flavors are ripe and well-developed. Rudy Von Strasser reported from Sori Briquot Vineyard, where all the Merlot is in, that yields are about 15% lower than last year with strong sugars, great color, flavor, and tannins."
Chiles Valley District — Alexander Eisele, Volker Eisele Family Estate — "The couple of hot days got things moving along but the mild temperatures that followed kept everyone from panicking. A little irrigation to minimize dehydration has kept all remaining fruit looking great. At the moment conditions couldn't be much better. The first Zinfandel from the lower lying areas along with Merlot, Petit Sirah, and Primitivo are being harvested. Yields are average with outstanding quality."
Spring Mountain District — Stuart Smith, Smith-Madrone — "Harvest has truly arrived on Spring Mountain. The very cool weather is a relief to all of us and is not hindering an active harvest on our mountain. Matt Gardner at Keenan is harvesting Merlot, Cabernet Franc and even some Cabernet Sauvignon. Chris Howell at Cain Cellars is going strong after his Merlot and Malbec. Sally Johnson at Pride is starting both her Viognier and Sangiovese. Andy Schweiger of Schweiger Vineyards just finished his Chardonnay and is now picking Malbec, Cabernet Franc and Cabernet Sauvignon. Wes Steffens of 7 & 8 will finish his Chardonnay and will take a break before starting his reds. Ron Rosenbrand of Spring Mountain Vineyard will start with his reds mid-week and will likely plow right on for some time."
St. Helena — Matt Reid, Benessere Vineyards — "Our weather roller-coaster has gotten the grapes moving at last. What began as a trickle is becoming a deluge of beautiful, delicious grapes. At Benessere we have picked Sangiovese for Rosato, and will begin picking Sangiovese, Syrah and Zinfandel this week. Other reds are getting close but our Sagrantino and Aglianico, always among the last to ripen, are holding out for now. We are cautiously hoping to see whether our light rains were enough to get Botrytis started in our Moscato."
Rutherford — Kristin Belair, Honig Vineyard & Winery — "Wow, that was a roller-coaster ride of temperatures! Any early afternoon walk through a vineyard in Calistoga on Thursday, last week, the temperature dropped 5 degrees in a half an hour as the fog bank started moving over the hills. The cool air continued its way down valley, moderating temperatures and raising humidity at is traveled. Fruit everywhere seemed to survive the onslaught of hot dry weather from earlier in the week extraordinarily well. It was exciting to see how lovely the Cabernet Sauvignon on the Honig vineyard looked as we walked the vineyard Saturday morning enjoying the crisp, fall temperatures. The whites are all in and many fermentations are complete. With reds right on the heals of the whites, figuring out tank space becomes a carefully crafted chess game that get played right up until the last fruit is harvested."
Oakville — Jennifer Rue, Hoopes Vineyard — "Despite last week's unseasonably warm weather, tank space is plentiful in Oakville, and wineries eerily calm. Overall, blocks fared well through the heat, picking up 1-1.5 Brix and continuing flavor development, unlike in 2017 where the heat storm stalled action for almost a week. Zinfandel and Merlot grapes have started to trickle in, followed by Cabernet Franc and Cabernet Sauvignon from more exposed or new plantings. The current forecast contains a winemaker's three favorite words: 'dry weather persisting.' That, coupled with great looking canopies, is fantastic news as we wait for a shift in pH across most sites. By the end of next week, I suspect the calm will be a distant memory as weeks are lived in days this time of year."
Yountville — Louis Kapcsandy, Jr., Kapcsandy Family Winery — "Absolutely glorious weather is once again blessing our harvest. Even after living and working here for 20 years, I'm constantly reminded of why this valley is so ideally suited to producing some of the most extraordinary fruit in the world. These cooler days are allowing the final maturation of the reds to occur in spectacular fashion. As the vineyard workers slice through the early morning chill, the last of the golden chardonnays are coming off at full maturity. The noble Cabernets, and Merlots, are approaching the finish line nearly 32 weeks past their conception (budbreak). Across the board, yields are slightly lower than what was achieved in 2018, but phenolics are intense and the skin tannin profiles are enormous. There is practically zero threat of rain for the next 10 days, so the valley will be jumpin'. What a classic vintage this is shaping up to be. Everyone enjoy this sensational harvest season!"
Atlas Peak — Mark Castaldi, Acumen Wines — "Red harvest is in full swing this week in the Atlas Peak AVA. After seeing temperatures over 100 last week, followed by a welcome cool down, we're starting to schedule picks later this week and into next. Yields are on track with our averages, and harvest chemistry is fantastic. Last night and tonight have brought a threat of frost, which is not uncommon. We may be running wind machines if this cool, dry overnight weather continues. The weather forecast looks favorable for a nice and steady harvest over the next two weeks."
Stags Leap District — Elizabeth Vianna, Chimney Rock Winery — "The recent heat spike this past week seems to have accelerated harvest for some here in Stags Leap District. Jon Emmerich, winemaker at Silverado Vineyards, had harvested 122 tons of SLD Cabernet Sauvignon when we checked in with him. Remi Cohen reports they are about 'one-third through our Cabernet Sauvignon harvest at this time. Yields have been coming in on target and quality is looking good.' For our friends at Shafer Vineyards, winemaker Elias Fernandez reports that only Malbec and Merlot had arrived thus far at their crush pad. Marcus Notaro, winemaker at Stag's Leap Wine Cellars, was about to bring in some Cabernet Sauvignon from the upper slopes of the Fay Vineyard this Monday and excitedly reports that it 'looks pretty good.' Michael Baldacci, at Baldacci vineyards, reports they would also be bring in some Cabernet Sauvignon this week. 'Game on,' he exclaims! At Chimney Rock, we will continue to chip away at our Merlot blocks, and we don't expect to see any Cabernet Sauvignon before another week or so."
Mount Veeder – Lorenzo Dalla Brea, Hess Collection — "Harvest is in full swing for the Hess Collection Mount Veeder Vineyard Team, with picking of white grapes planned for most of this week. Chardonnay, Pinot Gris, as well as the less common Albariño and Gruner Veltliner grapes, have reached perfect sugar and flavor maturity levels. Despite the weather challenges of the last two weeks, with rain events followed by hot temperatures, our estate grapes haven't lost the acidity profile that is typical of mountain fruit, and the varietal characteristics show promise to exceed average quality this year."
Oak Knoll District — Jon Ruel, Trefethen Vineyards — "Last week was quite the temperature roller-coaster with a couple hot days topping 100 and a couple cool nights dropping below 40. This week looks more mild but the calendar says fall and the vines and trees are starting to look a little tired. Thankfully, the grapes are looking and tasting fantastic. Picking progress around the OKD has been steady but not hectic. This week at Trefethen, we are bringing in a lot of the Merlot, some more Cabernet Sauvignon and maybe even some Petit Verdot."
Coombsville — Tom Farella, Farella Vineyard — "The blunt heat spike last week moved things along right into the sudden cooling trend. It marked the end of the earlier varieties coming off with much of the Chardonnay, Sauvignon Blanc, Pinot and Merlot safely in the wineries. Now all eyes turn to Cabernet as it creeps towards the finish line and earlier blocks (and programs) getting started. With mild weather in the forecast, we are all very excited to chose our moment and get the big party started. Quality continues to be optimal, quantities generally healthy but not overwhelming."
For real-time harvest photos and updates, visit the Napa Valley Vintners' Harvest 2019 website at harvestnapa.com.
Be the first to know
Get local news delivered to your inbox!