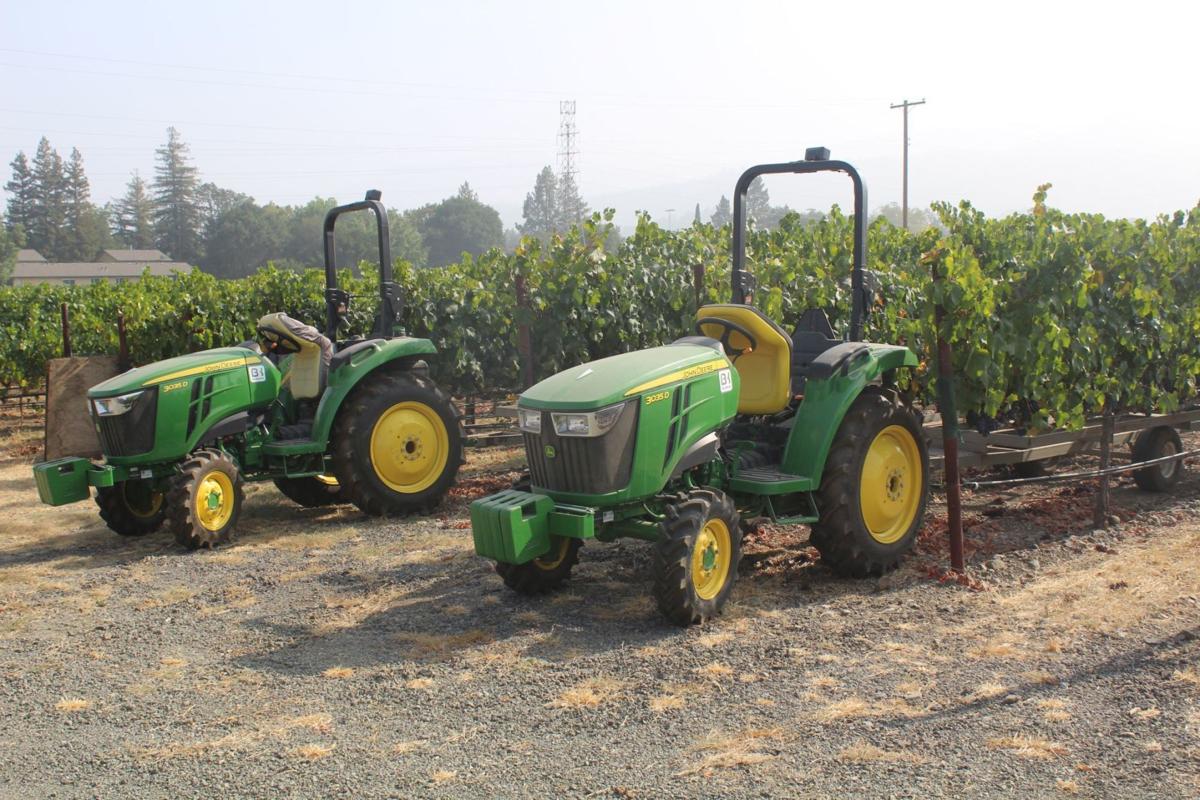 The harvest of red varieties is about to begin in earnest, as a short harvest races toward an early conclusion.
In the Oak Knoll District, Trefethen Vineyards & Winery is on track for an early finish around the first week of October. So is the Inglenook estate in Rutherford.
Cabernet, typically one of the last crops to come in, has in some cases been harvested ahead of Merlot and even Zinfandel, said Matt Crafton of Chateau Montelena.
"It's abundantly clear that growers and wineries continue to walk a fine line between additional exposure to the elements and the hangtime needed for ripening," Crafton said. "It remains to be seen whether quick action or patience will be rewarded."
Here's this week's harvest report, organized by American Viticultural Area (AVA):
Calistoga — Matt Crafton, Chateau Montelena — "Despite the lingering questions surrounding the wildfires and smoke, harvest seems to be ramping up in Calistoga, albeit somewhat differently this year. Halfway through September and on the heels of a hot start to the season, it's no surprise to see bare vines on both the hillsides and valley floor. Picking seems to be somewhat selective as later-ripening Cabernet has been harvested ahead of Merlot and even Zinfandel in some vineyards. It's abundantly clear that growers and wineries continue to walk a fine line between additional exposure to the elements and the hangtime needed for ripening. It remains to be seen whether quick action or patience will be rewarded."
Howell Mountain — Laura Barrett, Clif Family Winery — "After last week's heat spike, harvesting continues on Howell Mountain. Danielle Cyrot, winemaker at Cade Estate, reports that all of her Estate Sauvignon Blanc is in. Hazy skies turned blue on Monday morning, a welcome relief from last week's poor air quality. Brian Brakesman, winemaker for Summit Lake Vineyards, is waiting for sugars and acid to balance, but plans for a big day of harvesting later this week. The overall mood from vintners is cautious optimism that Howell Mountain wines are big, structured wines that are tough enough to handle the challenges of the season."
Chiles Valley District — Alexander Eisele, Volker Eisele Family Estate — "Fires, smoke, heat waves to almost cool temperatures, it's been a roller coaster. Using the last few drops of water from reservoirs to keep the vines hydrated, canopies look quite good and fruit is ripening quickly. The first reds, Merlot, look to be about a week to 10 days away."
Spring Mountain District — Stuart Smith, Smith-Madrone Winery — "Spring Mountain District wineries often remind me of Thoreau's 'If a man does not keep pace with his companions, perhaps it is because he hears a different drummer.' Ron Rosenbrand of Spring Mountain Vineyard will finish Sauvignon Blanc this week and then wait for the reds. Nancy Walker at School House is picking Grenache, Syrah and a field blend mainly of Zinfandel. Sheldon Richards of Paloma is finishing Merlot and will be moving into Cabernet soon. Andy Schweiger just finished Chardonnay and may start Merlot later this week. Francois Bugue of Cain is finishing Merlot and Malbec and is now picking a little Cabernet. Matt Gardner of Keenan is also finishing Merlot, will be going to Cabernet next and plans to finish harvest sometime next week. 'Let him step to the music he hears, however measured or far away,' as Thoreau said."
St. Helena — Cathy Corison, Corison Winery — "Here at Corison Winery we have been harvesting Cabernet Sauvignon, getting our last grapes in on Tuesday this week. Berries and clusters were small and yields were sharply down from the bumper 2018 and 2019 vintages. Seeds lignified early this year and color is inky with complex and juicy flavors. Elsewhere in St. Helena, Spottswoode, Crocker & Starr and Titus have all finished up their Sauvignon Blanc harvest and report delicious wines in progress. Everyone I talked to was relieved to see their vines come through the extreme heat in good shape and ready to finish ripening fruit. All expect to dive into reds in earnest this week."
Rutherford — Kristin Belair, Honig Vineyard & Winery — "The first month of harvest has certainly been a roller coaster ride. As we wrap up Sauvignon Blanc here at Honig, we are seeing lovely, bright fruit flavors and aromas revealing themselves as the tanks finish fermentation. Wineries are starting to look to reds and, dare I say, making predictions for when everything might be in. Chris Phelps at Inglenook reports the following: 'As predicted, the heat last weekend kicked harvest at Inglenook into high gear. All Merlot, Cabernet Franc, Zinfandel and Syrah are in tank, as well as the first few lots of Cabernet Sauvignon. Color extraction is phenomenal, and overall quality of the tannins is exciting, with a silky texture already evident in many of the lots as they reach dryness. The harvest on the Inglenook estate will likely wrap up the first week of October."
Oakville — Jennifer Rue, Oakville Ranch Vineyards — "Winemakers and growers are by nature a thoughtful and optimistic group and 2020 was putting that optimism to the test even before the heat, fires, and smoke. Last week, while vines recovered from the intense heat, Rosé harvest came to an end, and Merlot and Cabernet Franc began. The latest round of smoke and ash has intensified concerns about the crop. We know rushing to pick is not the answer and will only result in a doubly flawed wine. The Napa Valley as a whole is a study in microclimates, that may just be the saving grace for some."
Yountville — Louis Kapcsandy, Jr., Kapcsandy Family Winery — "Now that the skies are beginning to clear and with the air quality improving, crush is in full swing. Tanks are filling up and there is optimism that a sizable portion of the overall crop will end up producing excellent wine. The whites and pinks, picked over the last three weeks, are finishing with some brilliant results. Some vintners are leaning toward filling more used barrels than new, which will retain maximum freshness and maintain as much vineyard terroir character as possible. New distancing practices in the cellars, many of which have been in place since April, are allowing for more safety and less congestion. For the Cabs, the next two weeks will be critical and the forecast looks very promising."
Stags Leap District — Elizabeth Vianna, Chimney Rock Winery — "Some winemakers in the Stags Leap District are showing activity on the crush pad this week, while others are still enjoying the quiet waiting game. Elias Fernandez, winemaker at Shafer Vineyards, has not harvested any fruit out of Stags Leap District yet. Jon Emmerich, winemaker at Silverado Vineyards, has only just started with two blocks of Cabernet Sauvignon from their Estate SLD vineyards. Celia Welch, winemaker for Lindstrom Vineyards, had not brought in any of their Estate fruit, but was 'glad to see some cooler temperatures ahead.' Marcus Notaro, winemaker at Stag's Leap Wine Cellars, had harvested some Cabernet Sauvignon from upper Fay on Saturday and reported that things were 'good so far, even with the glowing skies.' At Chimney Rock, we are still waiting for the perfect ripeness point on our hillside Merlot and our Cabernet Sauvignon blocks still have some time to go."
Mount Veeder – Lorenzo Dalla Brea, Hess Collection — "The overcast skies and cooler temperatures last week promoted sugar development in the fruit clusters and allowed the grapevines to rehydrate. Our Mount Veeder Estate Chardonnay is close to being ready to be harvested, with optimal brix and very good acidity. Sampling continues for all varieties, as we develop a possible picking scenario for the next weeks."
Oak Knoll District — Jon Ruel, Trefethen Vineyards & Winery — "We have learned to expect a heat spell (or two) around Labor Day and it was great to see how our viticultural adaptations, such as modified trellis systems and fruit zone misting, protected the crop through the recent hot weather. At Trefethen, we have now finished picking our Cabernet Franc and we are focused on the remaining reds. We are still tracking towards an early finish, perhaps around the first week of October."
Carneros — Christopher Hyde, Hyde Vineyards — "This week in the Carneros Region, after a slow week of cooler weather, harvest is expected to pick up again. At Hyde Vineyards, only 30% of our grapes remain to be picked, mostly Merlot, Cabernet and Syrah. Growers in the region remain optimistic about the potential quality and concentration of the fruit and hopeful that the air will clear up soon."
For real-time harvest photos and updates, visit the Napa Valley Vintners' Harvest 2020 website at harvestnapa.com.