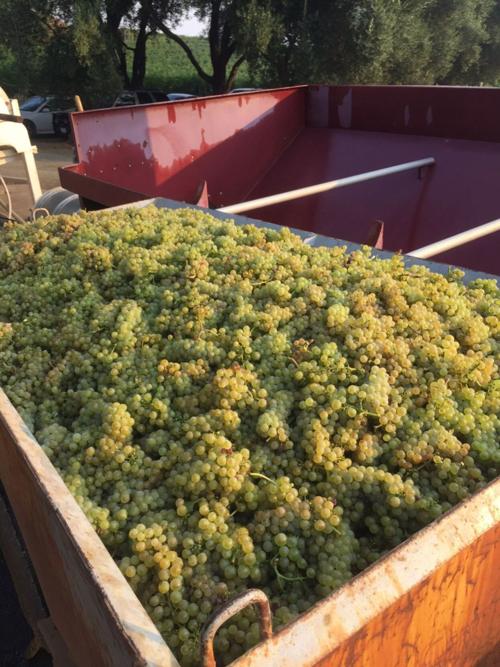 The adage that there is no typical Napa Valley harvest might be true, but a brutal heat wave combined with wildfires and smoke, the 2020 harvest is shaping up to be even more atypical than usual.
As in past weeks, growers report a light, early harvest with high quality and, although it's still early, no sign of smoke taint.
"The 2020 harvest on Howell Mountain is showing promise, despite the past few weeks of chaos," said Angelina Mondavi of Mondavi Sisters Collection of Aloft and Dark Matter Wines. "Our grapes have loved this heat wave, with seeds starting to brown and the sugar developing."
Growers in some areas are turning their attention from whites to reds.
"Catch your breath," said Jennifer Rue of Oakville Ranch Vineyards. "Once reds start, it's looking to be a fast and furious one."
Here's this week's harvest report, organized by American Viticultural Area (AVA):
Calistoga — Matt Crafton, Chateau Montelena — "Harvesting red grapes began in earnest this week both ahead of and during the latest round of heat. Time will tell whether picking ahead of the holiday weekend was a good decision, although there were undoubtedly some vineyards that were ready. The key for the remainder of the week will be whether offshore wind-flow develops and if so, how severe it is. Those gusty breezes out of desert not only increase fire risk, but can dry berries on the vine astonishingly quickly. With that said, it's been encouraging to have some sporadic patches of blue sky. And although the heat is yet another challenge, it's one we've surmounted before."
Howell Mountain — Laura Barrett, Clif Family Winery — "With the intense heat this week Howell Mountain vintners have turned their attention to red winemaking. At Clif Family Winery, we harvested our Estate Zinfandel and Mike Dunn of Retro Cellars had his first pick of Syrah from Summit Lake. With the earlier varietals ripening quickly, we still have weeks to wait for our Cabernet. Angelina Mondavi, winemaker and co-proprietor of Mondavi Sisters Collection of Aloft and Dark Matter Wines, said, 'The 2020 harvest on Howell Mountain is showing promise, despite the past few weeks of chaos. Our grapes have loved this heat wave, with seeds starting to brown and the sugar developing.' Nothing like 100-plus degrees to kick harvest into fast gear, as winemakers work long and hard through this past Labor Day weekend. I think we are all finally feeling the adrenaline and excitement of the vintage!"
Diamond Mountain District — Dawnine Dyer, Dyer Vineyards — "On Diamond Mountain the 2020 season has, in a word, been hot … smoky and hot! With the small crop, the extreme heat and lingering smoke, I think we'd all like to get the fruit off the vine and safe in the wineries as soon as possible but not before it's ready. Rudy von Strasser has the distinction of picking both the first white grapes and the first red grapes from Diamond Mountain. He brought in Sori Briquot Merlot last week and reports that the crop was small … only 25% of what they picked from the same block last year. Both Diamond Creek and Schramsberg are looking about 10 days out for Merlot and Malbec respectively and everyone is holding their breath to see how things look after the punishing heat over Labor Day weekend. No more fires, please."
Chiles Valley District — Alexander Eisele, Volker Eisele Family Estate — "One can certainly see the effects of slightly more than 13 inches of rain since last harvest. Shorter shoot growth, lower yields, and smaller berries. The potential is for a quality, earlier-than-average harvest, though there is very little water left to take on any further heat waves. So far Sauvignon Blanc as well as Chardonnay have been harvested."
Spring Mountain District — Stuart Smith, Smith-Madrone Winery — "Despite the heat and smoke there's a fair amount of activity on the Mountain. Andy Schweiger brought in some 'beautiful' Pinot Noir fruit last Friday and is waiting for a little more flavor development on their Chardonnay. Matt Gardner at Keenan finished Chardonnay with a smaller crop than last year, and picked some of their usual early blocks of Merlot, Cabernet and Zinfandel on Monday and Tuesday. Matt said the canopies and fruit are holding up 'really well.' At Smith-Madrone we finished our Chardonnay and Riesling this past week with a larger crop than last year. We also agree that the vines and fruit are handling this Labor Day heat spell very well."
St. Helena — Tom Rinaldi — "The year 2020 is my 45th Napa Valley harvest, and I like to say 'No two are the same.' This year is unique in so many ways, and in particular the raging fires and resultant smoke. There is great concern for many regions; and I am afraid the perception of a tainted harvest will be in the minds of many consumers. So far, I have tested quickly fermented buckets of samples, and the laboratory tests have been negative to any taint. I am optimistic with the fruit of the valley floor, but have concerns for the hills. I, like so many, am hopeful.
"It was a relatively early harvest, and I picked Merlot in August for the first time in recollection. All the Sauvignon Blanc I deal with was picked before the first day of September. The flavors have been delightful. Quantities have been lower than expected, and we have been blessed with great crews of workers harvesting the fruit. I expect the Cabernet Sauvignon to close the harvest by the end of September in most of the valley. I remain optimistic (and certainly hopeful) that this will be a memorable vintage in a positive way."
Rutherford — Kristin Belair, Honig Vineyard & Winery — "Regular check-ins with friends and colleagues certainly keeps harvest challenges in perspective. What a wonderful community, that we can all support one another. Chris Phelps reports on Sept. 4 that at Inglenook all the Sauvignon Blanc and Viognier are in and that 'the first lots of Syrah, Merlot and Zinfandel are in the tank and showing lots of color and fresh aromatics.' They are expecting the Labor Day heat to push the Cabernet Sauvignon and Cabernet Franc to full maturity. 'We expect to be in full Cabernet harvest mode by Sept. 15!' Here at Honig, we have about wrapped up Sauvignon Blanc and some tanks are close to completing fermentation, displaying lovey textures and aromatics. The early Cabernet Sauvignon blocks may be ready to come in as soon as the beginning of next week."
Oakville — Jennifer Rue, Oakville Ranch Vineyards — "As it does many years, Labor Day came with blazing heat and an end to Oakville's compressed and light 2020 white grape harvest. So far, no word of reds coming in, even from the hillsides. This week the focus is minimizing dehydration, preserving canopy, and avoiding sunburned fruit. For vines, this relief comes in the form of shade cloth, misters, and pre-emptive irrigation all of which have become more commonplace and help vines bounce back more easily. The wild ride that is 2020 continues. Catch your breath — once reds start, it's looking to be a fast and furious one."
Yountville — Louis Kapcsandy, Jr., Kapcsandy Family Winery — "With the majority of fruit still left to pick, everyone is anxious to see how the vines have weathered over the last two days of blistering heat. The positive effect is that pyrazines in the grapes are gone and hard tannins will not be a concern. The phenolics are shaping up nicely and the currently reported lighter crop will allow the vines a better chance to recover and rehydrate. Cooler nighttime lows predicted going forward will give us all an opportunity to craft another fine vintage."
Stags Leap District — Elizabeth Vianna, Chimney Rock Winery — "It has been a hot and busy week in Stags Leap District. Michael Beaulac, winemaker at Pine Ridge Vineyards, reports they have harvested most of the Cabernet Sauvignon in their Stags Leap District estate vineyards. He reports yields are down about 20-25% and color looks great. Jon Emmerich, winemaker at Silverado Vineyards, had also started harvesting some Cabernet Sauvignon from their AVA estate. They paused on sampling and picking until the heat subsides and will continue to harvest some of the blocks on shallower soils. Elias Fernandez, winemaker at Shafer Vineyards, reports they have not harvested any grapes off their Stags Leap District Vineyards and at Chimney Rock we are in the same boat. Waiting for the cool-down to possibly begin our Estate Merlot blocks."
Mount Veeder – Lorenzo Dalla Brea, Hess Collection — "On Mount Veeder, the vineyard team is actively sampling white varieties, but we are still a couple of weeks away from harvest. The red varieties are still testing low in brix, with the exception of some young blocks of Cabernet that were more recently planted in 2017 and 2018."
Oak Knoll District — Jon Ruel, Trefethen Vineyards & Winery — "The warm weather has kept us moving through an early and exciting harvest. Most OKD growers are now done with their early varieties. At Trefethen, we are expecting a quieter week as we catch our breath after many days of consecutive Chardonnay picking. Stan Boyd says their Merlot and Cabernet are still a few weeks out and mentioned that grape quality has been 'outstanding, with small berries and cluster weights.' Steve Matthiasson has already wrapped up everything from Chardonnay to Zinfandel and is now picking Cabernet. He was also enthusiastic about the vintage, calling it 'stunning' with 'deep color, great acidity, no greenness, and lots of flavor.'"
Coombsville — Tom Farella, Farella Vineyard — "Mercy. Like everyone these days, we are literally feeling the heat, dodging smoke, watching electricity, temperatures in the cellar – and keeping our fingers crossed. Not much harvesting is happening and it's good to see no panic-picking out there. The cooler weather in the forecast will be welcome and settling for vines, harvest crews, winemakers and growers alike. That said, most of the whites are already off and the reds are still, for the most part, a week or two away. Best of luck to everyone!"
Carneros — Christopher Hyde, Hyde Vineyards — "Harvest in Carneros has been on average three weeks earlier than the past few years. At Truchard Vineyards, harvest started on Aug. 20, with 60% of Chardonnay already harvested and Pinot Noir harvest in full swing. Just to the south at Hyde Vineyard, Chardonnay harvest wraps up this week and harvest for late-season red grapes begins with Syrah and Merlot. The grape harvest at Hudson Vineyards also transitions this week from Chardonnay to late-season reds, with Merlot, Syrah and Cabernet Sauvignon being picked this week. A second heat wave, which wraps up today, has delivered the highest temperatures on record in recent times, with the weather cooling off later in the week."
For real-time harvest photos and updates, visit the Napa Valley Vintners' Harvest 2020 website at harvestnapa.com.
Watch now: Vines on Las Amigas Road before harvest