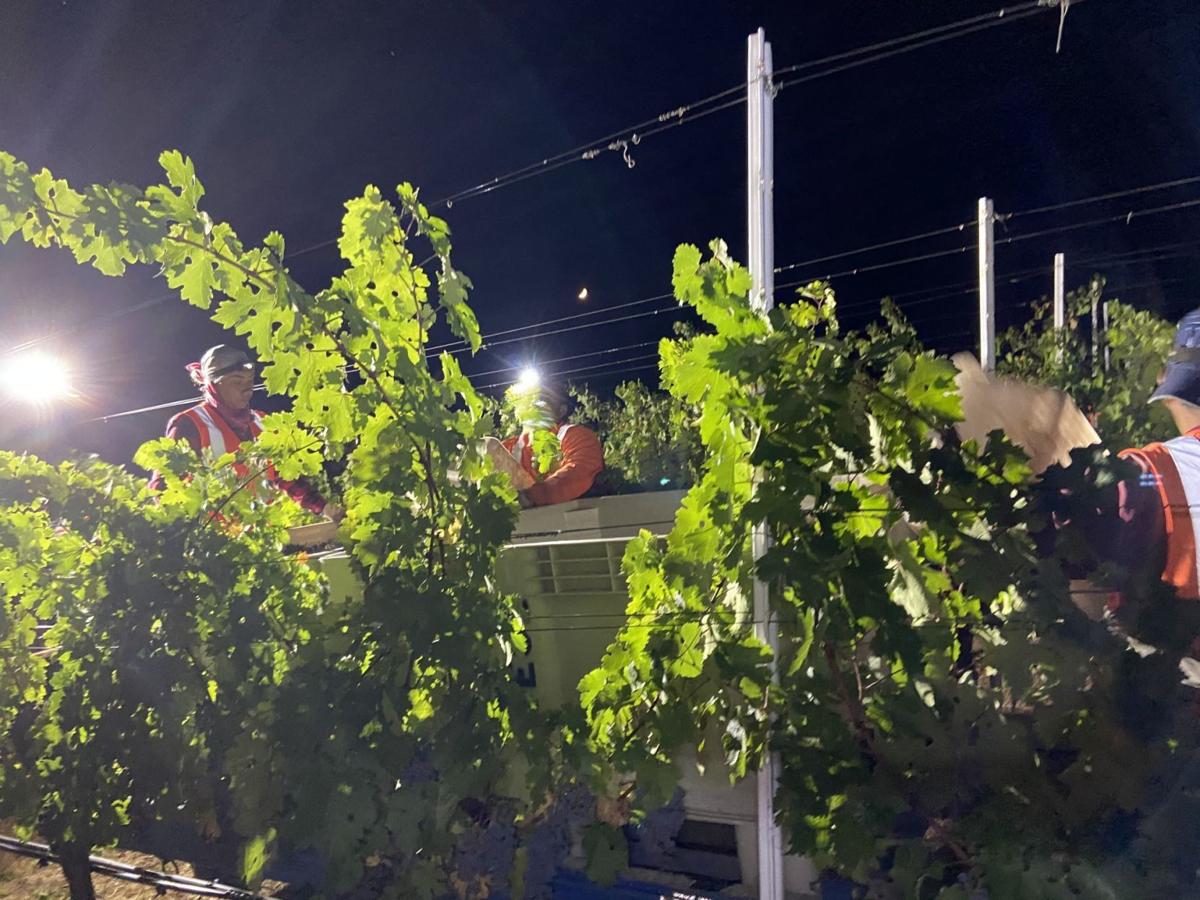 The 2021 grape harvest is in its final weeks as growers bring in Cabernet Sauvignon.
"The finish line is in sight," reports Alexander Eisele of Volker Eisele Family Estate, adding that this will be the earliest ending to harvest on record.
"From both growers and winemakers alike; wonderful quality, just not enough fruit," Eisele said.
Lindsey Wallingford of Saint Helena Winery reports "fast and furious" harvesting.
"Although there will be less wine made in the Napa Valley in 2021, the quality will be up there with some of the most memorable and age-worthy vintages," Wallingford said.
Here's this week's harvest report, organized by American Viticultural Area (AVA):
Calistoga
Matt Crafton, Chateau Montelena — "We seem to be entering the home stretch with mostly bare vines between the highways and on the east side of the AVA. A few sites are still hanging, especially in the sedimentary soils to the west and on the heavier cropped vineyards toward the center of the valley floor. I expect we'll be close to being picked out at Montelena by the time this goes to press. The weather has been picture-perfect and the return of the marine layer most welcome as flavor in the fruit has caught up with sugar levels."
Diamond Mountain District
Dawnine Dyer, Dyer Vineyard — "Last week saw a new level of activity on Diamond Mountain, with Cabernet coming in from Haas and Diamond Creek on the lower slopes to Sterling's Diamond Mountain Ranch and Constant at the upper reaches — and the shade cloth is coming off at Calistoga Hills. As we get later in the season, the crop levels are more normal. Constant expects to have some fruit out through Oct. 10 and the warmer temperatures this week should guarantee the successful conclusion of the vintage."
Howell Mountain
Laura Barrett, Clif Family Winery — "On the one-year anniversary of the Glass Fire, many vintners are feeling grateful for the success of the 2021 vintage so far. 'It's awesome to make wine again after last year,' said Mia Klein of Cimarossa. We are all soaking up the blue skies and fresh air as we ride out this week of beautiful fall weather, so perfect for hanging Cabernet. At Clif Family, I am carefully watching the progression of our Cold Springs Vineyard. It is holding at 25 Brix and the seeds continue to mature and flavors are getting better and better. Mia is about half way done up at Cimarossa. 'In the vineyard flavor progression has been excellent and canopies are holding very well. Quality and concentration of flavors in the tank are showing nicely at this early stage,' she said. And the end is in sight for many Howell Mountain producers as I hear reports of 'penciling' in their final picks for mid to late next week."
Chiles Valley District
Alexander Eisele, Volker Eisele Family Estate — "The finish line is in sight. At the point almost only Cabernet remains. This certainly will be the earliest ending to harvest on record. After this dry year the vines are more than happy to be rid of the fruit earlier than ever. From both growers and winemakers alike; wonderful quality, just not enough fruit."
Spring Mountain District
Stuart Smith, Smith-Madrone Winery — "Given Spring Mountain's varied soils, exposures and elevation differences it shouldn't be surprising that harvest dates are just as varied. Harvest is wrapping up for many, or even most wineries on Spring Mountain, but some have yet to begin. Sherwin has yet to start; Marston Vineyards will start this week and Spring Mountain Vineyard and York Creek Vineyards will continue harvesting well into October. What is similar so far throughout the Spring Mountain District harvest is the optimism for a very good vintage. The grapes with good sugars, small berries and low yields produced juice with exceptional flavors and very dark colors."
St. Helena
Lindsey Wallingford, Saint Helena Winery — "Cabernet Sauvignon harvest at Saint Helena Winery started last Thursday and we have just one more pick for our property; it has been fast and furious! Yields are slightly below average but the quality is excellent with a nice acidity and very consistently sized small berries giving us the skin-to-juice ratio that every winemaker dreams of. We are seeing incredible color extraction in the cold soak and really the only trouble we're having this year is the nation-wide shortage of dry-ice! Although there will be less wine made in the Napa Valley in 2021, the quality will be up there with some of the most memorable and age-worthy vintages."
Oakville
Jennifer Rue, Oakville Ranch Vineyards — "We're in the middle of the harvest bell curve when some vineyards are just getting started while others are nearing completion. Kicking off harvest late last week was a 'happy and excited' Linda Neal, owner at Tierra Roja, while neighbor Peter Heitz, winemaker at Turnbull, is hitting the midway point, commenting, 'quality is exceptional, quantity is about 85% of "normal." We'll wrap up our Oakville vintage picking in the next 15 days. Gorgeous fruit coming in!' Similarly, blocks continue to come off at a steady pace here at Oakville Ranch, with just under half of our 70 planted acres left to pick after this week. At Groth, Vineyard Manager Ben Forgeron anticipates their last pick this Thursday, commenting, 'a quick and compact harvest, but the quality is looking outstanding.' Excitement about the quality of the vintage is palpable and merited. 'Great color' is solidifying as a defining vintage characteristic and noteworthy as a hallmark of a wine's potential to balance the tannins common in smaller berried vintages. Looking ahead, changes in canopy continue as cooler temperatures amplify the equinox effect and our attention turns to overnight lows with October on the horizon."
Yountville
Louis Kapcsandy Jr., Kapcsandy Family Winery — "The current cooling trend could not be timed better. As phenolics in the Cabernets reach optimum levels, vineyard crews are poised to fill the final bins over the next 16-18 days. Winemaking teams are reporting outstanding results with both Merlot and old-vine Cabernet. Graeme MacDonald, winemaker at Blankiet, noted "brilliant freshness and impressive varietal hallmarks,' where the uniqueness of each terroir is on display. Whether blocks are early or late-ripening, patience is paying off and some extraordinary wine will be made. What seems to be a recurring theme, valley-wide, is that nearly all established blocks set a decent crop — this of course depends on the varietal and micro-climatic conditions during flowering. The drought has affected berry size in practically all the reds, but the resulting aromatic, anthocyanin and flavor intensity in the musts is surpassing other challenging vintages in recent memory (i.e. 2015 and 2017), so there will be exceptional wine made. Many vineyards have self-regulated to the season, retaining essential nutrients and carbohydrates for the plants themselves, yet still have the capacity to ripen the fruit. As MacDonald notes, 'I'm simply in awe of the vines' will to survive.'"
Atlas Peak
Joel Antonio, Alpha Omega — Cordes Vineyard — "Harvesting will continue in the Atlas Peak AVA for the next two weeks. About 60 to 70 percent of the fruit is already in. Our Cordes Vineyard is at the top of Atlas Peak with low yields and minimal use of water, so the fruit ripens quicker. This past week, we finished picking the vineyard and brought in our Petit Verdot. We're following with a sip of water to the whole vineyard to hydrate the plants and hold the canopy a bit longer. The plants are already in the final stage, senescence, with leaves turning red or yellow before falling. It's better if you send your vines to hibernate with good canopy because that helps to store carbohydrates and be ready for next spring with a nice budbreak and shoot growth."
Stags Leap District
Elizabeth Vianna, Chimney Rock Winery — "Harvest continues to be rolling for vintners in the Stags Leap District and the excitement about quality is palpable. Robbie Meyer, winemaker at Malk Vineyards, finished harvesting their fruit about a week ahead of average dates. He was happy with the heat of last week for that last bit of flavor development. Celia Welch, winemaker at Lindstrom Vineyard, was mostly finished except for one last block. Jon Emmerich, winemaker at Silverado Vineyards, was 'strategically picking blocks in the SLD vineyard at Silverado. The vineyard typically has a pattern of ripening, but not seeing this pattern this harvest. We have around 100 tons left to pick.' Elias Fernandez, winemaker at Shafer vineyards, was mostly done with hillside fruit, with a few lower elevation blocks to go. He reports that 'quality looks fantastic, but wish there was more!' Josh Widaman, winemaker at Pine Ridge Vineyards, finished harvesting their SLD Estate this week and was thrilled with the 'insanely intense concentration.' At Stag's Leap Wine Cellars, Marcus Notaro, was picking slow, but steady from Fay, and the old vines in SLV. He reported that 'First wines are showing dark colors and distinct flavors, and with the great weather continuing this vintage has real potential.' At Chimney Rock, we continued the slow and steady pace with a little more Cabernet coming in, but were thrilled with the added heat which seems to be rounding out the flavors. Jon hit the nail on the head with the comment on the pattern or order of ripening. We have been harvesting in a very different order than usual. As always, Mother Nature keeps us humble and on our toes!"
Oak Knoll District
Jon Ruel, Trefethen Family Vineyards — "The threat of sprinkles on Monday provided a pleasant preview of what we hope will be a very rainy winter. Harvest in our area is cruising along at a steady pace. Laura Barrett at Clif Family Winery says they are wrapping up their OKD Zinfandel and getting into the Cabernet Sauvignon. Regarding the lots already in the cellar, Laura mentioned 'a great balance of acid, alcohol and tannin, and pretty incredible concentration.' Here at Trefethen, we are done with Cabernet Franc, getting there with Merlot and Malbec and deep into Cabernet Sauvignon. We expect to finish by mid-October and we are very grateful for the quality of the fruit this year, the wonderful weather and our hardworking team."
Mount Veeder
Lorenzo Dalla Brea, Hess Collection — "Harvest is moving forward at a good clip, with grapes still lingering in the sun to reach full maturity. On this week's harvest schedule, we'll be picking Cabernet Sauvignon from our Veeder Hills ranch. Most of the ranch was planted in the last four years and while we already harvested all the young blocks, it is now time to pick older vines where we expect stronger yields. In addition to the Cabernet, we'll be bringing in the balance of our Malbec grown in that ranch. Still a good way to go for us, likely two to three weeks until the last load comes into the winery."
Coombsville
Tom Farella, Farella Vineyard — "Continued excellent harvest weather has pushed Coombsville into the main stretch with Merlot and Cabernet coming in and activity increasing all over the region. The drought effects are evident with tiny berries and a moderate crop but we couldn't be happier with the progression and early cues with fermentation — lots of color, excellent acid/sugar balance and clean fermentations. The timing of harvest, moderate crop level and fine weather have made things fairly relaxed and a great relief as the grapes make it safely to the crush pad."
Carneros
Christopher Hyde, Hyde Vineyards — "At Hyde Vineyards in Carneros, the 2021 harvest is coming to a close with last week's heat tapering into cooler weather this week ahead. Merlot and Syrah harvest continues, with Cabernet Sauvignon scheduled to be picked by end of week, on Oct. 1. The timing of this year's harvest has been similar to that of last year."
For real-time harvest photos and updates, visit the Napa Valley Vintners' Harvest 2021 website at harvestnapa.com.