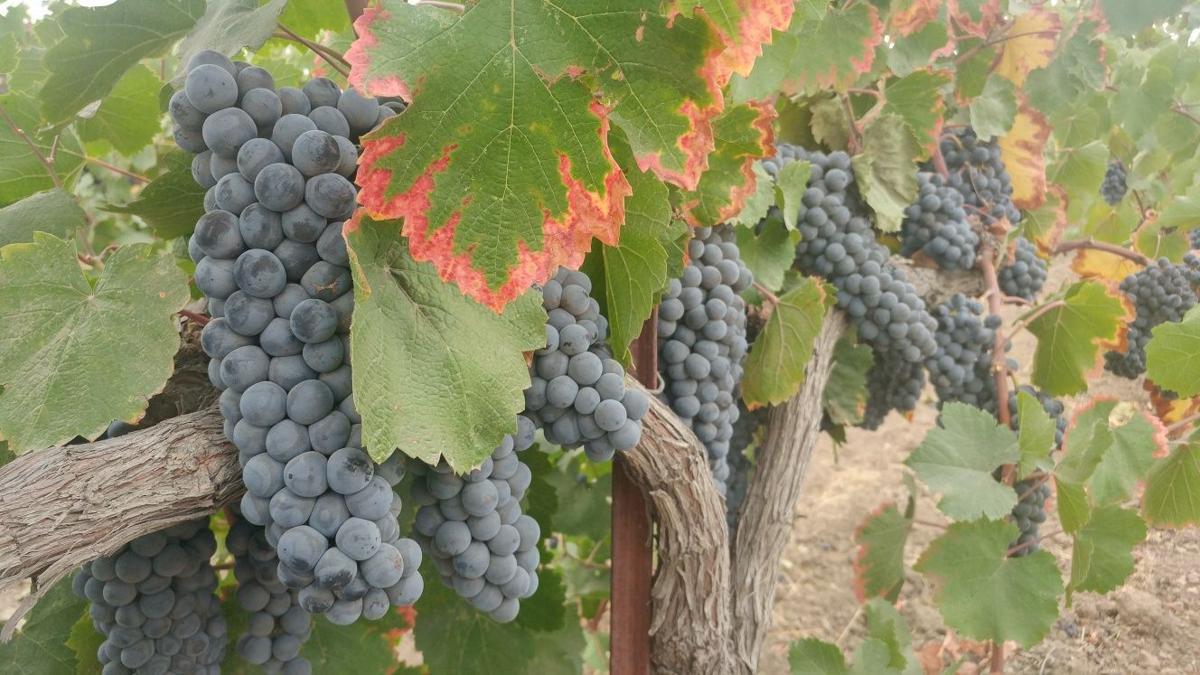 Chardonnay, Pinot Noir, Merlot and Malbec are starting to be picked as harvest progresses around the Napa Valley.
Cabernet Sauvignon is still ripening, and Dawnine Dyer of Dyer Vineyards said Diamond Mountain growers are anticipating "the big push" in early October.
Jennifer Rue of Oakville Ranch Vineyards predicted a red harvest in the first week of October.
"Optimism is turning to excitement as we remember great past vintages that included these mild 'easy does it' days," Rue wrote.
Here's this week's harvest report, organized by American Viticultural Area (AVA):
Calistoga — Matt Crafton, Chateau Montelena — "We picked our first hillside Cabernet this week, a super small selection from the top of the mountain. The cool nights have been challenging as acidities are still quite high across the rest of the AVA. Color and flavors seem to be spot on and a little warmth may be all we need to push some fields over the edge. In general, the early ripening vineyards are running behind average but the later-ripening blocks aren't as far back. In the meantime, there's a lot of hurry up and wait, as well as a lot of sampling as ripening creeps along."
Howell Mountain — Laura Barrett, Clif Family Winery — "The Howell Mountain harvest has finally begun with Sauvignon Blanc picks at CADE Winery. Winemaker Danielle Cyrot said, 'The fruit taste great' and is watching her red varieties as they progress in flavor and sugar. She expects another two weeks before anything else is ready to pick on Howell Mountain. Sugars are escalating on the north side of the AVA and but this cooler weather cycle, along with irrigation strategies, are allowing grapes to stay on the vine. I suspect I will be harvesting Clif Family Estate reds in the coming week and there is a chance that Cabernet Sauvignon and Zinfandel will pick around the same time. This will be a first!"
Diamond Mountain District — Dawnine Dyer, Dyer Vineyards — "It's looking like fall in the vineyards on Diamond Mountain with leaves beginning to yellow – a sure sign that the days are getting shorter and that ripening is slowing and harvest is on its way. Leading the reds, Merlot and Malbec at Sori Bricco Vineyard come off the vine this week. High up on the mountain at The Vineyardist (1,300 feet) and Sterling (1,700 feet) are reporting sugars around 21 Brix while the lower slopes of the mountain, Diamond Creek, Vineyard 511, and Dyer are seeing sugars approaching 23 Brix in Cabernet. Next week should see things starting in earnest with the big push anticipated in early October."
Chiles Valley District — Alexander Eisele, Volker Eisele Family Estate — "Even with the mild temperatures this past week, there is a lot of harvesting going on up and down the district. The first Chardonnay, the first Zinfandel from the hillside blocks and some Tempranillo. Qualities look outstanding with above average yields. At this point timing is anywhere from a week to 10 days later than last year. Moderate, even daytime temperatures with cool overnight lows are creating optimal hang time leading to beautifully developed flavors with great acid."
Spring Mountain District – Stuart Smith, Smith-Madrone — "More cool weather gives the grapes additional hang-time and additional time for us to recheck that all is ready to harvest and crush those red grapes. Those of us that grow white grapes are either finished or are about to finish later this week or early next week. It also gives us a nice break before starting the reds."
St. Helena – Dave Pramuk, Robert Biale Vineyards — "2018 Harvest is off to a later start for Biale. With a mild summer weather pattern, fruit has ripened slowly and longer hang time has given us lovely balance and nice quality. So far, we have brought in grapes from Monte Rosso, Russian River, and today we start with some St. Helena fruit from Varozza Vineyard. Old Kraft Vineyards in St. Helena will be coming later this week as we wait for flavors to develop a bit further. We expect to be in full swing with harvest later this week with our Oak Knoll Big Ranch Road and Aldo's vineyards. We are excited about exceptional quality in 2018 in general."
Rutherford — Kristin Belair, Honig Vineyard & Winery — "Has it already been four weeks since we received our first Sauvignon Blanc of the 2018 harvest? At Honig, we have been operating at full capacity for the last 10 days or so bringing in Sauvignon Blanc and expect to wrap up whites in another 10 days. It is about this time during harvest that things start to look a little like a Tetris game: The big puzzle of scheduling picks, what tanks to put the juice in, where things will ferment and … wait! You said the Cabernet Sauvignon was what Brix? Yes, we are seeing Cabernet in the 22-25 Brix range! With the autumnal equinox on Saturday, we'll see the days shorter than the nights, so things will slow down a bit, giving us nice hang time for fruit that is looking amazing!"
Oakville – Jennifer Rue, Oakville Ranch Vineyards — "It's what I call technicolor time, when vivid green canopies rest above deep purple fruit. This Thursday we pass a key milestone in the growing season, the summer solstice. The ensuing shortening days slowly begin the transition into dormancy. Flora Springs finished harvesting Sauvignon Blanc from Oakville Cross last Wednesday with Paul Steinauer commenting on the 'perfect balance of sugar and acidity this year.' Here at Oakville Ranch we've pushed off our Chardonnay pick for early next week to sit through the couple days of warming forecasted for this week. The mild season is encouraging lovely flavor development and full physiological maturity from seed to skin versus dehydration. Even so, we expect our red harvest to start around the first week of October. Optimism is turning to excitement as we remember great past vintages that included these mild 'easy does it' days."
Stags Leap District — Elizabeth Vianna, Chimney Rock Winery — "The waiting game on the harvest front mostly continues here in Stags Leap District. Marcus Notaro, the winemaker at Stag's Leap Wine Cellars, reports he is enjoying the weather and hang-time and estimated that some of the early blocks could come in by the end of this week. Elias Fernandez at Shafer Vineyards is still waiting, but thought that some Stags Leap District Merlot could arrive at his crush pad late this week. He is expecting that October is going to be the fun month this harvest. Remi Cohen at Cliff Lede Vineyards is the first to go this year, harvesting the first block of SLD Merlot this past week. She says, 'The yields were good, the fruit was in perfect condition, and we are excited about the flavors!' She also commented that their earliest block of Cabernet could come in this week. At Chimney Rock, we have our eyes on our hillside Merlot that could launch us into harvest at last by the beginning of next week. Our team is raring to go!"
Mount Veeder — Lorenzo Dalla Brea, Hess Collection — "The warm days experienced last week certainly did the trick of speeding up ripening. Now we are seeing all white varieties in the 22-24 Brix range. Last Friday we harvested the first Estate Chardonnay, a small lot of beautiful grapes grown on a terraced vineyard block with southern exposure. This week will be the real beginning of harvest on Mount Veeder, with picks of Pinot Gris, Gruner Veltliner and more Chardonnay. For the red varieties, we continue to sample to see how maturity baseline is moving along. Malbec is a less common variety for Napa Valley but we grow approximately 33 acres on our Mount Veeder estate. We have found the variety excels in our appellation. In the blocks planted to Malbec, we tested grapes in the 22-23 Brix range and they already taste rich and juicy."
Oak Knoll District – Jon Ruel, Trefethen Vineyards — "Over at Silenus, winemaker Brad Smith says they just brought in their first Oak Knoll District Chardonnay of the year, from the Red Hen Vineyard. He reported lower sugars than usual and great flavors. The trend of lower sugars is not, however, universal. Some growers, including Steve Moulds, are reporting rapid Brix increases in their Cabernet Sauvignon, despite the cool weather. Thankfully, flavors and phenolics also seem to be progressing. At Trefethen, we have wrapped up the harvest of our Riesling and Pinot Noir and we have actually brought in our first small lots of Cabernet Franc and Merlot. We are busy in the vineyard and the cellar and we remain excited about the quality of the vintage."
Coombsville — Tom Farella, Farella Vineyards — "Harvest has finally started in earnest in Coombsville while the days remain cool and mild. Sauvignon Blanc, Chardonnay and Pinot Noir are coming off with beautiful balance of sugar maturity with good acidity. The condition of the fruit is excellent, though the many days on the vine are starting to show as harvest gets underway. The forecast is good and we should be getting into the reds by late next week with Merlot and Cabernet progressing beautifully."
Carneros – Christopher Hyde, Hyde Vineyards — "Warmer weather is pushing ripeness forward in Carneros. Chardonnay and Pinot Noir harvest is in full swing, and their long hang time will see Syrah, Merlot and other later season varietals picked shortly thereafter. Despite the lack of heat we've become accustomed to in the past few years, phenolic maturation has been steady, aided by wind and other stress factors. The end of this week Sauvignon Musqué harvest will begin here at Hyde Vineyard."
For real-time harvest photos and updates, visit the Napa Valley Vintners' Harvest 2018 website at harvestnapa.com.