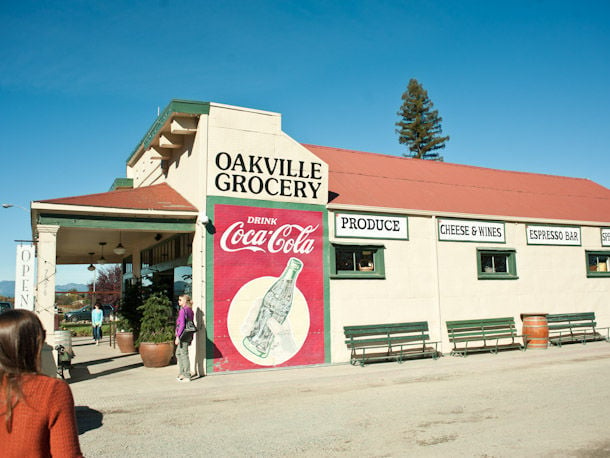 Napa Valley's historic Oakville Grocery has been sold.
Jean-Charles Boisset has added the grocery store to his Boisset Collection, purchasing it from the Rudd family, which has owned it for the past 11 years. The sale will close in early 2019. The purchase price was not disclosed.
The sale includes the Oakville store and property, the Healdsburg location and the brand from the Rudd family, who are proprietors of Rudd Estate and PRESS Restaurant. The family completed significant restoration of the Oakville property, grocery store, and adjacent Victorian house during its ownership. It joins Boisset's family-owned portfolio of historical wineries and gourmet retail destinations.
"Oakville Grocery has been a staple of Napa Valley since 1881," said Samantha Rudd. "My family purchased it in 2007 in order to revive the illustrious historical store that has meant so much to this community. My father's vision was to restore it to its rightful place in California wine country, and to ensure that its legacy remained for the local and tourist community for decades to come. Our family invested significantly in the site and the store, including a restoration to the historic Victorian house in Oakville, to achieve his vision. I am proud of my father's stewardship."
Samantha's father, Leslie Gerald Rudd, passed away on May 3, 2018 in New York City at age 76 after a battle with esophageal cancer. He was a vintner, entrepreneur, businessman and philanthropist, who founded The Rudd Group. One of his friends, venture capitalist and former tech executive, Joe Schoendorf, said Rudd rescued the Oakville Grocery from bankruptcy in 2007, not because of its investment potential, but because he saw it as "an important institution" to preserve for the Napa Valley and its visitors.
Samantha Rudd said the sale allows her to focus on Rudd Estate and PRESS Restaurant, "knowing that Oakville Grocery is in good hands."
For many years, Rudd owned the grocery chain Dean & DeLuca, which has a store in St. Helena. He sold the chain to a Thai development company in 2014.
Boisset, proprietor of Boisset Collection, said, "I have always adored the Oakville Grocery for what it represents for Napa Valley, for California and for America. I have fond memories of visiting from France with my parents and sister when I was 11 years old. It is a landmark and iconic destination at the crossroads of history in Napa that has been the community gathering place, mercantile, farm stand, and grocery for neighbors and visitors alike for well over a century. The Rudd family have been remarkable stewards, believing in its past and future, and infusing the property with the passion, care and respect it deserves. We are exceptionally honored to be entrusted to carry forward this timeless property and continue their dreams."
Boisset said he plans to offer a selection of fresh and local products from farmers, artisans and purveyors in Napa and Sonoma, anchoring Oakville Grocery with a sense of history and place in the foundation of local, sustainable, organic, and healthy food.
Oakville Grocery joins Boisset Collection's historical wineries and destinations in California and France, including Buena Vista Winery, founded in 1857 as the first premium winery in California. Boisset's portfolio is anchored in history, heritage and terroir in Napa, Sonoma, Burgundy, Jura, Beaujolais, the Rhône Valley and the South of France.
Be the first to know
Get local news delivered to your inbox!