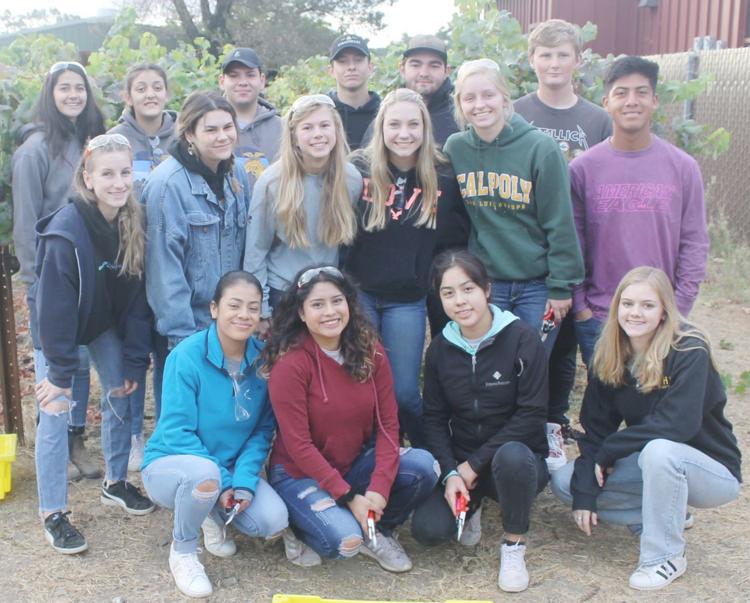 It was shortly after the crack of dawn last Friday when 16 St. Helena High School viticulture students harvested grapes from 100-year-old Zinfandel vines in the Salvestrin Vineyard.
After cutting and putting grape clusters into yellow harvest bins, filling them and taking them to a larger bin in the back of a pickup truck, over and over again, the students were done. They then walked back to their classroom, took a break and walked to the small Zinfandel vineyard at Davies Vineyards, on Grayson Avenue, across from the high school.
They harvested some 732 pounds of grapes from both vineyards.
SHHS junior Josseline Tomas clearly knows what she's doing, based on her technique and from her experience working with her father, Raziel Tomas, who works in the cellar at Blankiet Estate near Yountville. During the harvest from both small vineyards – the class will make a barrel of wine – Tomas said she wanted to get the picking over with as soon as possible, although she was clearly enjoying it. Tomas has a broad range of interests and added she wanted to make sure she didn't miss an AP Spanish class, which is currently discussing health care in Spanish-speaking countries and how to improve it.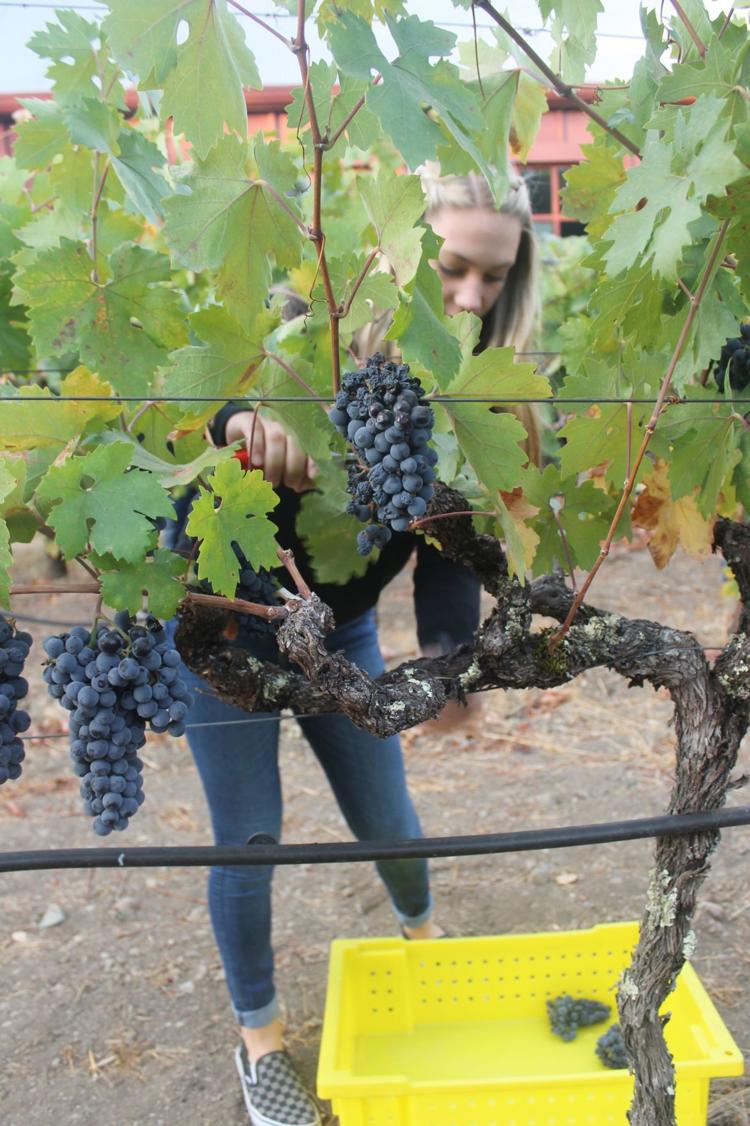 Before the picks, Sean Thompson, director of winemaking for Davies Vineyards, said he supports the program.
"It's great to share (the experience) and to get the kids excited about the wine industry," she said. "They harvest the grapes, crush them, ferment them (with help from a winemaker) and punch down their own fruit. With 600 pounds of grapes and 20 kids, the wine is well taken care of."
The students are part of Sarah Herdell's viticulture class, which started in August and ends in June. "They learn a broad spectrum of the whole wine and viticulture industry, focusing on the Napa Valley, but also statewide and worldwide," she said. The class includes study of vineyard management, enology, government regulations, pests and diseases, as well as some of the historical aspects of the wine industry.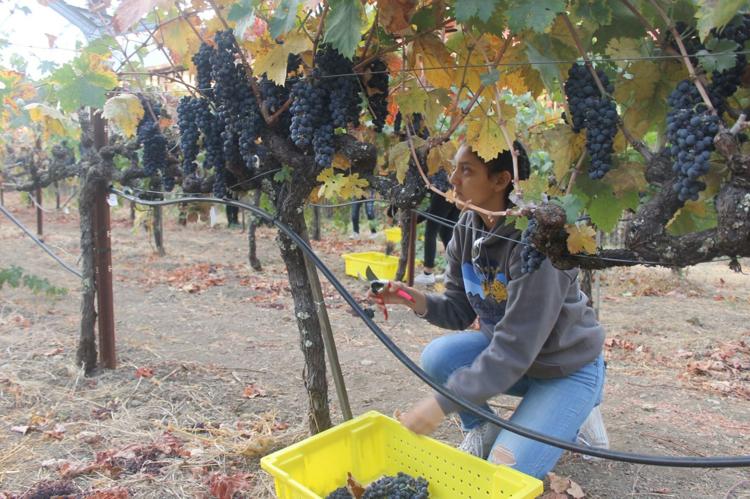 One of the more experienced students was junior Liesl Wolf-Heinemann, who grew up working with her father, Brent Randol, in their St. Helena vineyard, producing 50 cases of Cabernet Sauvignon each year. Wolf-Heinemann said she makes it her mission to make sure everyone in her class is "on the same page."
She is also part of the school's Future Farmers of America vine pruning team that won the state championship in February at Fresno State University. Joining her on the team were Alexys Bautista, Maria Ortega and Stefhany Rios. That team competed in five contests before winning the state finals.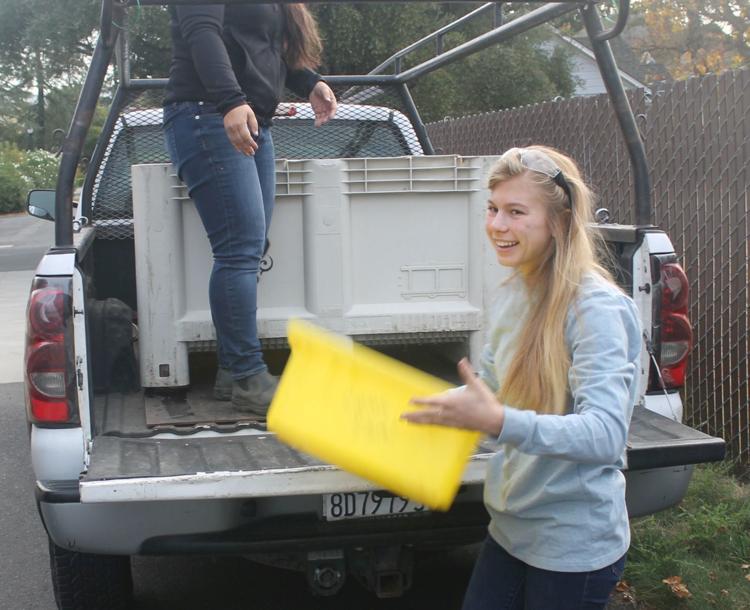 During the grape harvest, Wolf-Heinemann was nimble and agile, and had more fruit in her bin than anyone else. Herdell said Wolf-Heinemann is a star in the program. It's clear that she seems driven, extraordinarily focused and likely to go far in her chosen profession. Wolf-Heinemann said she likes viticulture and winemaking, wants to study it further, and clearly has the passion for it. Among her future goals: To be a vineyard manager and have a vineyard of her own someday.
For Dyani Lopez and Ellie Blakeley, who paired up at Davies Vineyards, harvesting on Friday was "really fun. I like learning the viticulture stuff," Lopez said. Blakeley added, "I grew up with this, there's wine everywhere, but I don't know how it is produced."
A barrel of wine
She will soon know it. Herdell said a barrel of wine is made each year and the students see the whole process through. "When school started, they learned how to test for Brix (sugar in the grapes), they've done leafing and thinning and they've been coming out and checking the fruit since August."
On Monday, the students were scheduled to inoculate the fruit, that is, to add yeast to begin the fermentation, with the help of the winemakers, who will teach them about the chemistry of the winemaking process.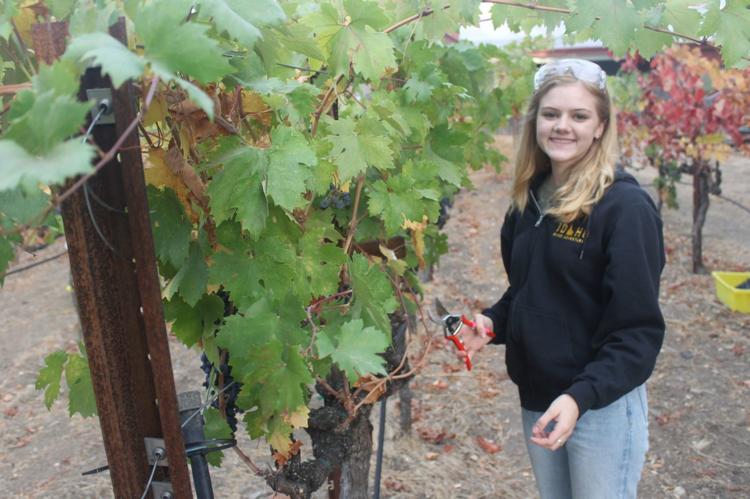 The students are allowed to taste the raw grape juice, but as soon as it begins fermentation and alcohol is created, they no longer can taste it, since none are older than 21.
"Students will be in charge of monitoring that fruit and juice through the fermentation process, which will probably take a week or so," Herdell said. They will go over twice a day, check the Brix and temperature, and do punchdowns. Once the winemakers determine the fermentation period is over, the students will press the fruit. They will put it in a barrel donated by Tonnellerie O.
The wine will be in that barrel for 18 months and then bottled. Herdell said this year's class will bottle the 2018 vintage and, in payment for their hard work, each student's family gets a magnum bottle of their vintage. "On that magnum is etched the school department's logo, a thank you to the Salvestrins and the Davies, and each of the student's names. It's a really special memento," Herdell said.
The Salvestrins dedicated this specific block of Zinfandel vines to the high school and since 2005, SHHS viticulture students have tended this block of vines, pruned and sprayed them and harvested the grapes.
On Friday, senior Lucy Carpy said the Brix on the Zinfandel grapes was 25-26, which is perfect for harvesting. She said viticulture is a possible career path, but added she plans to attend college in Southern California, possibly at the University of San Diego or Loyola Marymount University. After taking general education classes, she may "go into some sort of engineering branch," Carpy said.
What does Carpy get out of the program? "My family has been in and out of the wine industry for about four generations," she said. "And I think it is important to learn where we're coming from, especially in the Napa Valley, where wine is so prevalent."
Be the first to know
Get local news delivered to your inbox!