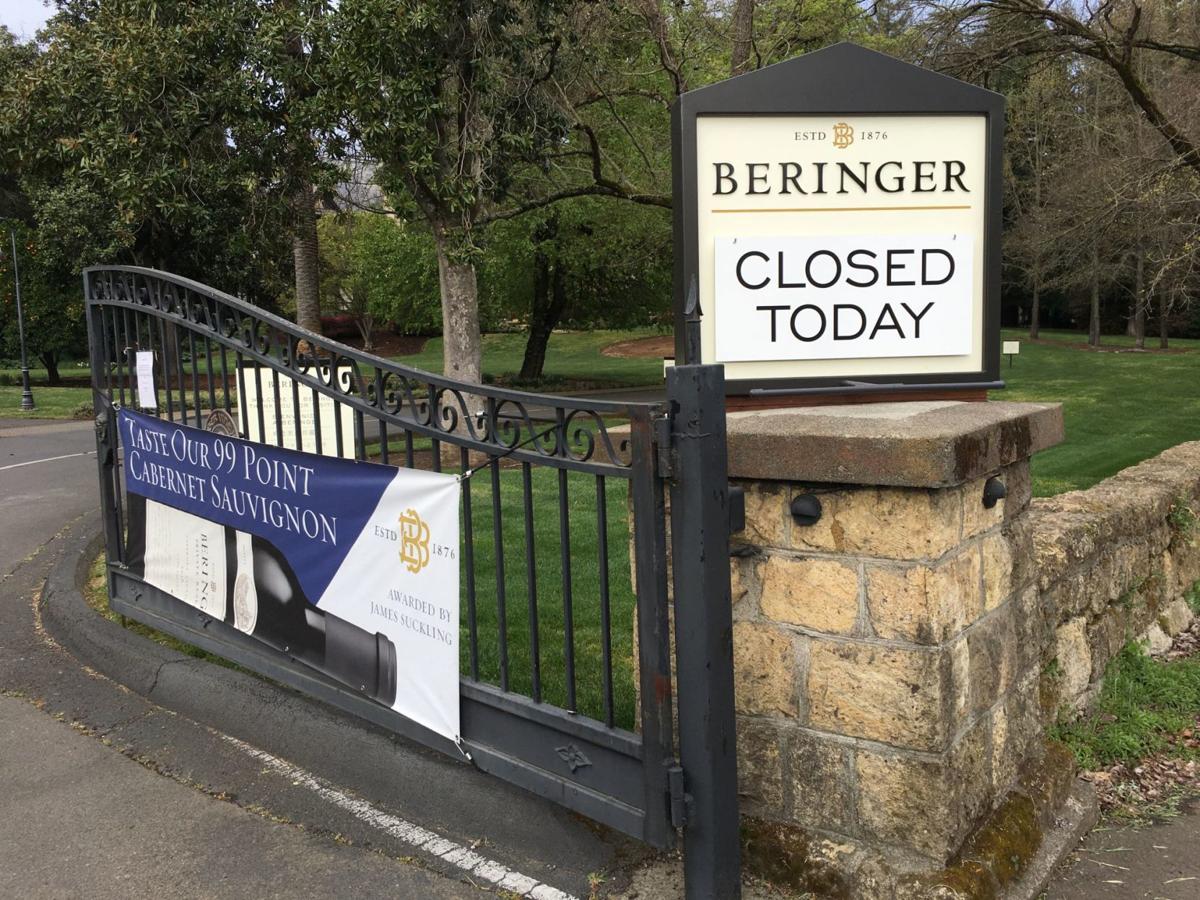 Most St. Helena businesses, except for wineries, remained open on Monday as the economic toll of the coronavirus started to become apparent downtown.
Debra Caselli, owner of Calla Lily, said she hasn't decided whether to keep her store open, especially considering the economic impact of wineries being closed at the order of Gov. Gavin Newsom.
"I'm in the age group that shouldn't be out and about," she said, but added that the "wonderful local clientele" she's developed over the last 35 years will help make up for the loss of tourism.
"The weekend was fine," said Chelsea Radcliffe at Carter & Co. "But for us, we can have one or two sales and we're OK."
As for whether to stay open, "we're taking it one day at a time," she said. "We want to do the responsible thing and keep everybody safe."
The Padis jewelry store and Main Street Bookmine are closed, with the bookstore accepting orders online or by phone. Shops like Sportago and The Bottle Shop are open and offering delivery service.
Cameo Cinema owner Cathy Buck announced Tuesday she was closing the theater for the next few weeks. She'd previously planned to keep the theater open but limit sales to 40 tickets per screening.
"As the steward of this beloved theater, I have been entrusted with the care and nurturing of our gathering place," Buck said. "I have done everything possible to safeguard the well-being of my staff, volunteers and patrons, but it is clear to us that now is the time to follow the medical evidence and guidance from all levels of government that we can slow the progress of the virus by gathering less in groups."
The St. Helena Chamber of Commerce's Welcome Center closed Tuesday, but it was still serving tourists virtually via phone, social media, and a 24/7 live chat on its website. The Chamber is also maintaining an updated list of businesses and their current status at sthelena.com.
Sunshine Foods is providing personal shopping for those who can't shop themselves or have compromised immune systems and can't be in public. The store is accepting phone orders from 9 to 11 a.m. Monday through Friday.
Steves Hardware has seen a rush for hand sanitizer, toilet paper, protective masks, gloves and cleaning supplies, said Courtney Menegon. Except for hand sanitizer, all of those items remain in stock, although the store has imposed maximum purchase limits on toilet paper, paper towels and N95 masks.
The store started to place orders for those items in January, before the coronavirus had left China.
"We got a quick jump on it," Menegon said. "It's just like with the fires. In June or July we assume we have to start stocking up for fires or PG&E outages. We want to gradually get this stuff in instead of waiting and being in a panic."
The ACE Hardware warehouse in Sacramento is helping Steves keep commonly requested items in stock. Menegon said the twice-a-week deliveries will continue throughout the crisis, as long as the virus isn't discovered in the warehouse itself, which would force it to close.
Steves is offering pickup service for customers who want to buy something over the phone and pick it up at the door without entering the building or contacting anyone.
The store is sanitizing frequently touched surfaces every two hours, giving employees the option of wearing gloves and N95 masks, and allowing workers over the age of 65 to stay home if they wish.
Restaurants and tasting rooms
The new Erosion Wine Company was closed Monday morning. A sign on the door said it would remain closed "for the time being until things in the world get a bit more boring."
Across the street, Orin Swift Cellars enacted a 10-person limit in its tasting room.
Most restaurants are offering takeout and some, like Giugni's, are only offering to-go service with no on-site seating. A few restaurants have closed entirely, including Goose & Gander, Roadhouse 29, and the Culinary Institute at Greystone's Gatehouse and Café Bakery by illy.
"We want to do our part to help 'flatten the curve' and the safety of our staff and community is paramount," Goose & Gander owners Andy and Trisha Florsheim said in a statement. "We look forward to reopening at full force once it is deemed safe and responsible to do so. Let's all continue to support each other through this difficult time."
Michael Martin, manager of Market, said the restaurant "has definitely felt the effects" of the sudden economic slowdown. A few large parties from outside the Napa Valley had already canceled their reservations.
However, the restaurant is also feeling the support of locals.
"In times like these the community comes together and says, 'How can we help each other out?'" he said.
Market planned to roll out a delivery service on Tuesday. Owner Daniel Villasenor said Villa Corona is also offering free delivery in St. Helena during the restaurant's regular hours.
Tra Vigne Pizzeria is offering curbside delivery for pick-up orders. Customers can call in their order and call the restaurant again when they arrive, and the order will be brought out to the car.
During limited time windows, Tra Vigne is also offering $5 delivery to St. Helena, Rutherford, Calistoga and limited parts of Angwin.
Tra Vigne's sister business, Tre Posti Events & Catering, is offering an Al Tuo Tavolo (At Your Table) delivery service, with no minimums and no delivery fees.
Editor's Note: Because of the health implications of the COVID-19 virus, this article is being made available free to all online readers. If you'd like to join us in supporting the mission of local journalism, please visit napavalleyregister.com/members/join/.