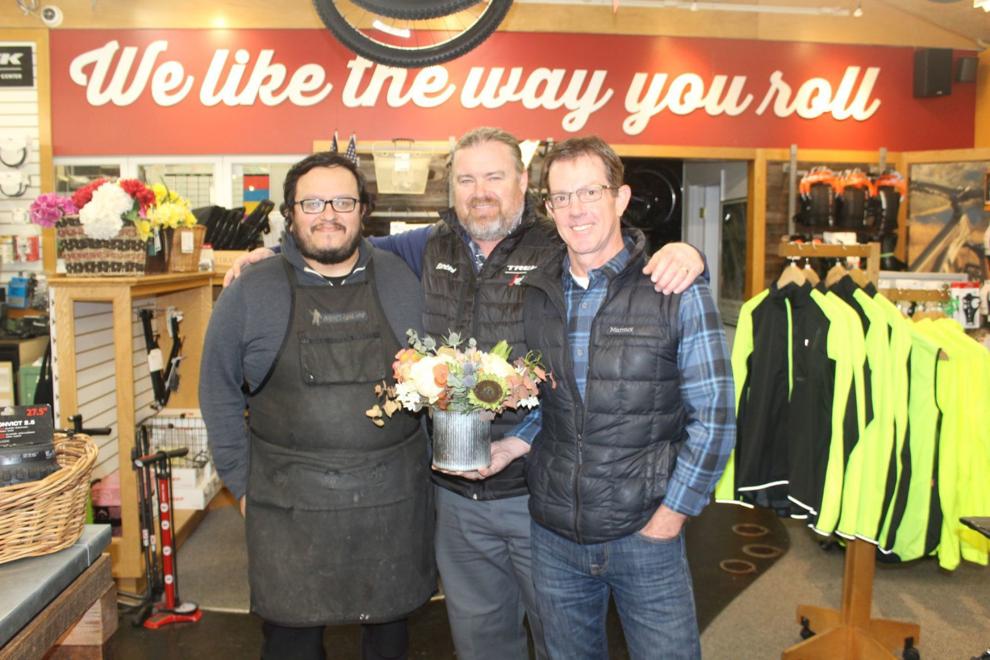 St. Helena Chamber of Commerce spent the early part of this week surprising the winners of the annual Celebrate St. Helena awards.
This year's winners are Joel Gott for Lifetime Achievement, St. Helena Cyclery for Business of the Year, Janice Humphrey for Citizen of the Year, Isook Park of Wells Fargo for Employee of the Year, and Nimbus Arts for Non-Profit of the Year.
"Each year it gets more and more difficult to choose our Celebrate winners because St. Helena has so many individuals who are making a difference in our community," said Amy Carabba-Salazar, president and CEO of the St. Helena Chamber of Commerce.
"This year we had many outstanding nominations who were all deserving. Those chosen by the Chamber's Board of Directors have demonstrated outstanding support to our business community and the local community while making quite an impact in St. Helena. Since 1971, The St. Helena Chamber of Commerce has recognized citizens and businesses for their outstanding contributions to the community with annual awards. This is our biggest awards ceremony of the year. It's truly an honor to be recognized."
The winners will be honored at the Chamber's Celebrate St. Helena awards ceremony at 6-8 p.m. March 13 at Meuse, the Simon Bull art gallery at 1331 Main St. Tickets ($45) will go on sale Thursday at sthelena.com.
Lifetime Achievement
The announcements began Monday when Chamber officials lured Joel Gott to the Chamber's Welcome Center, ostensibly to talk about Chamber business. Instead, they gave him the good news.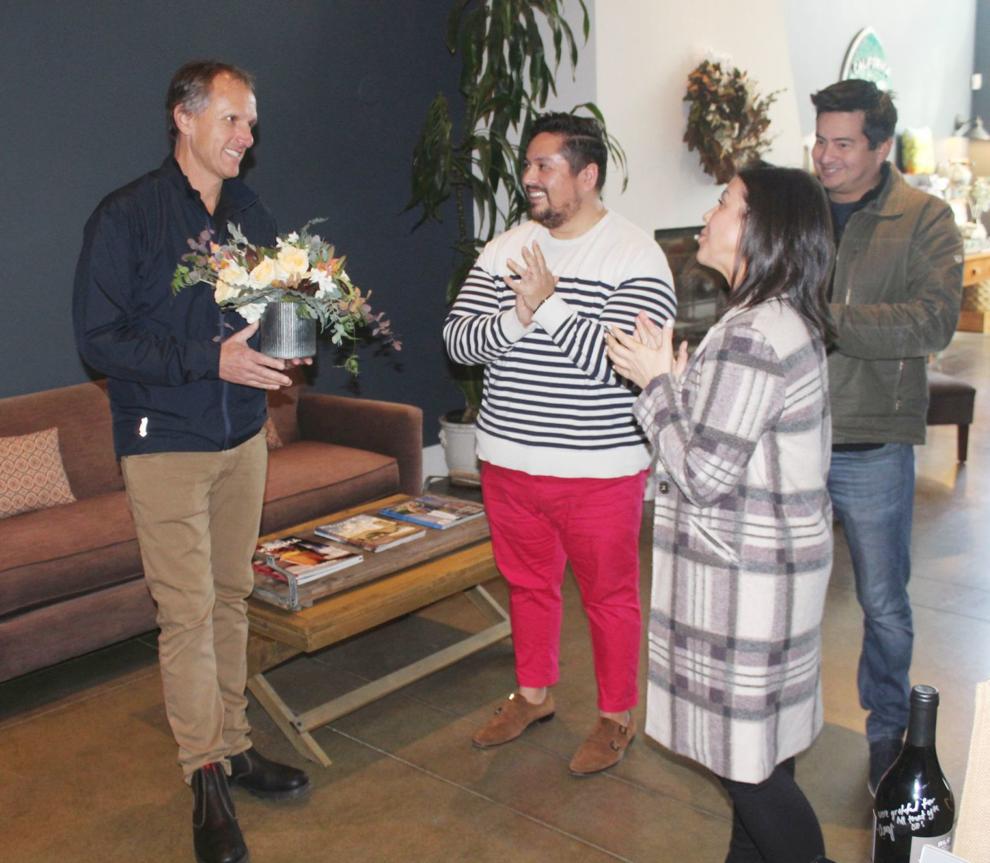 Pam Starr of Crocker & Starr was there for the announcement.
"For more than three decades the greatness of Joel can be seen through his ability to include his community in the success of his business and personal relationships," Starr said. "Sharing is a great quality and Joel finds ways to give back to his employees as well as his friends and community."
Starr said Gott also inspires those around him to "be creative, be involved, and be inclusive."
Employee of the Year
When Chamber officials arrived at Wells Fargo to talk to Isook Park, she thought she was in trouble. When they told her she'd been named Employee of the Year, she couldn't believe it. She kept asking if they were serious.
Lots of people nominated Park, said Carabba-Salazar. They said she always welcomes customers by name with a friendly smile.
Park has spent 30 years working for Wells Fargo, including 27 years at the St. Helena branch.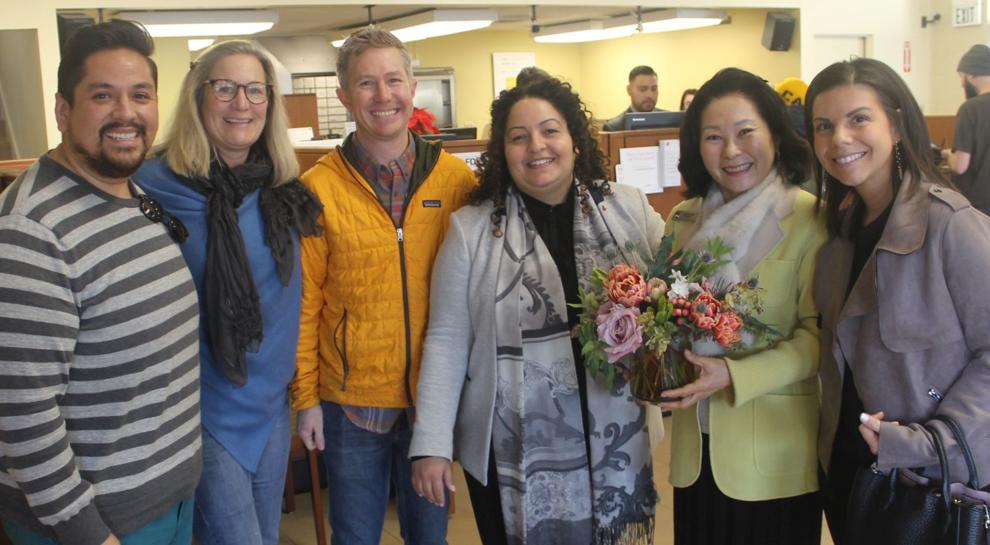 "If I'd known about this I would've worn something nicer," Park said with a laugh. "Thank you so much. This is really special."
Business of the Year
Jake Scheideman was momentarily struck speechless when he learned that his St. Helena Cyclery was Business of the Year.
He credited the two staff members behind the counter, Robert Nelson and Mariano "Buck" Alonzo.
"Kudos go to these guys," he said. "They've been holding it down."
Carabba-Salazar praised St. Helena Cyclery as an outstanding business with a long history on Main Street – it was founded in 1979 and acquired by Scheideman in 1991 – and consistent involvement in community events like the Lighted Bike Parade. Scheideman is deeply involved in the Chamber and attends a lot of meetings.
"It was a no-brainer," Carabba-Salazar said.
Citizen of the Year
Like Gott, Janice Humphrey was lured to the Welcome Center for what she thought was a meeting, which was technically true, although she didn't know it would be in her honor. Humphrey works at the Cameo Cinema and the St. Helena Public Library.
She looked puzzled when she saw her husband, Marvin, and Cameo proprietor Cathy Buck slip in the door after her, just as Carabba-Salazar told her she was Citizen of the Year.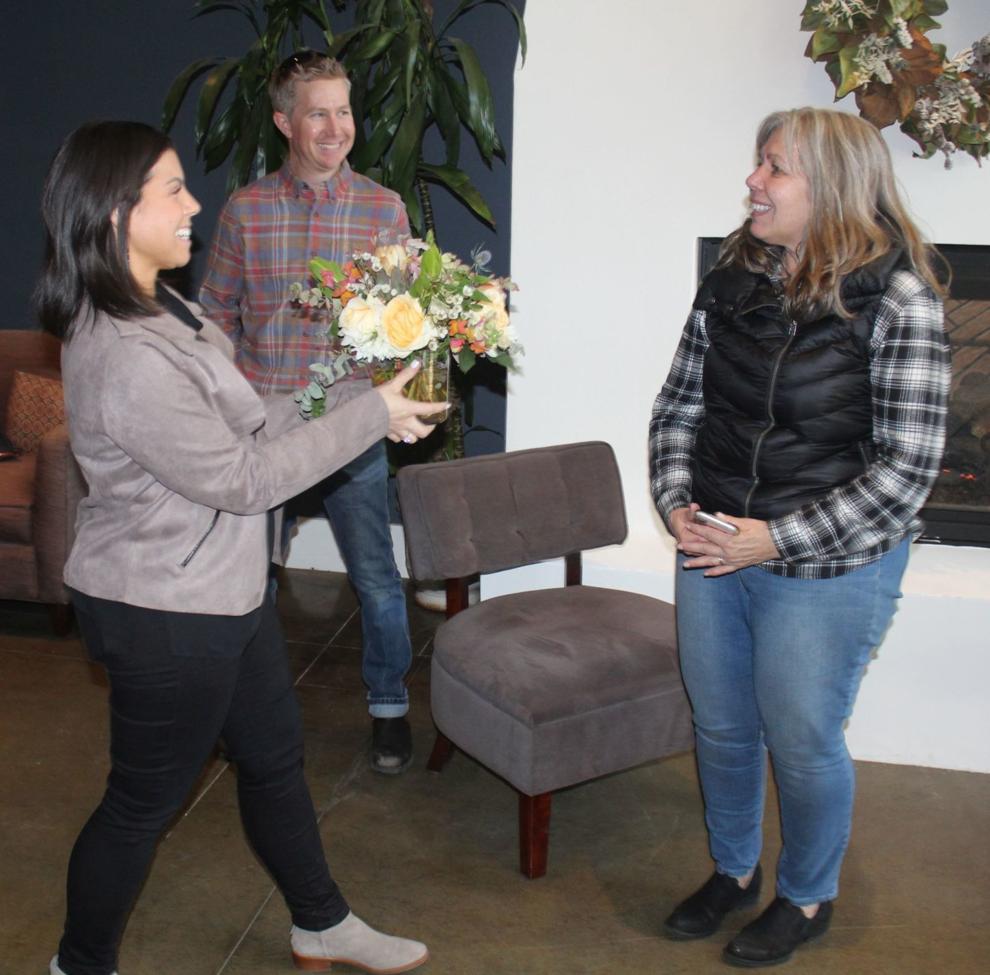 After accepting a bouquet and hugging everyone in the room, Humphrey said she feels "so lucky to work for those two jewels of our community."
"They're the foundation of what happens in St. Helena as far as entertainment and knowledge," she said.
"Janice Humphrey has always been a shining face in St. Helena," said Ahren Trumble, a member of the Chamber board. "Wherever she is, greeting you at the Cameo, the library, volunteering at the White Barn or just passing on the street, she brings her welcoming smile and love for this town with her. She embodies all that is great about St. Helena and is well deserving of Citizen of the Year."
Non-Profit of the Year
The Star was complicit in the final deception. Jamie Graff, executive director of Nimbus Arts, was spending Tuesday writing grants at home in Calistoga, and Chamber officials couldn't lure her to the Welcome Center under false pretenses. So a reporter called Graff and begged her to come to St. Helena to pose for a photo to run alongside an article about Nimbus in Thursday's paper.
That did the trick. Chamber officials greeted Graff with flowers and praise for Nimbus Arts.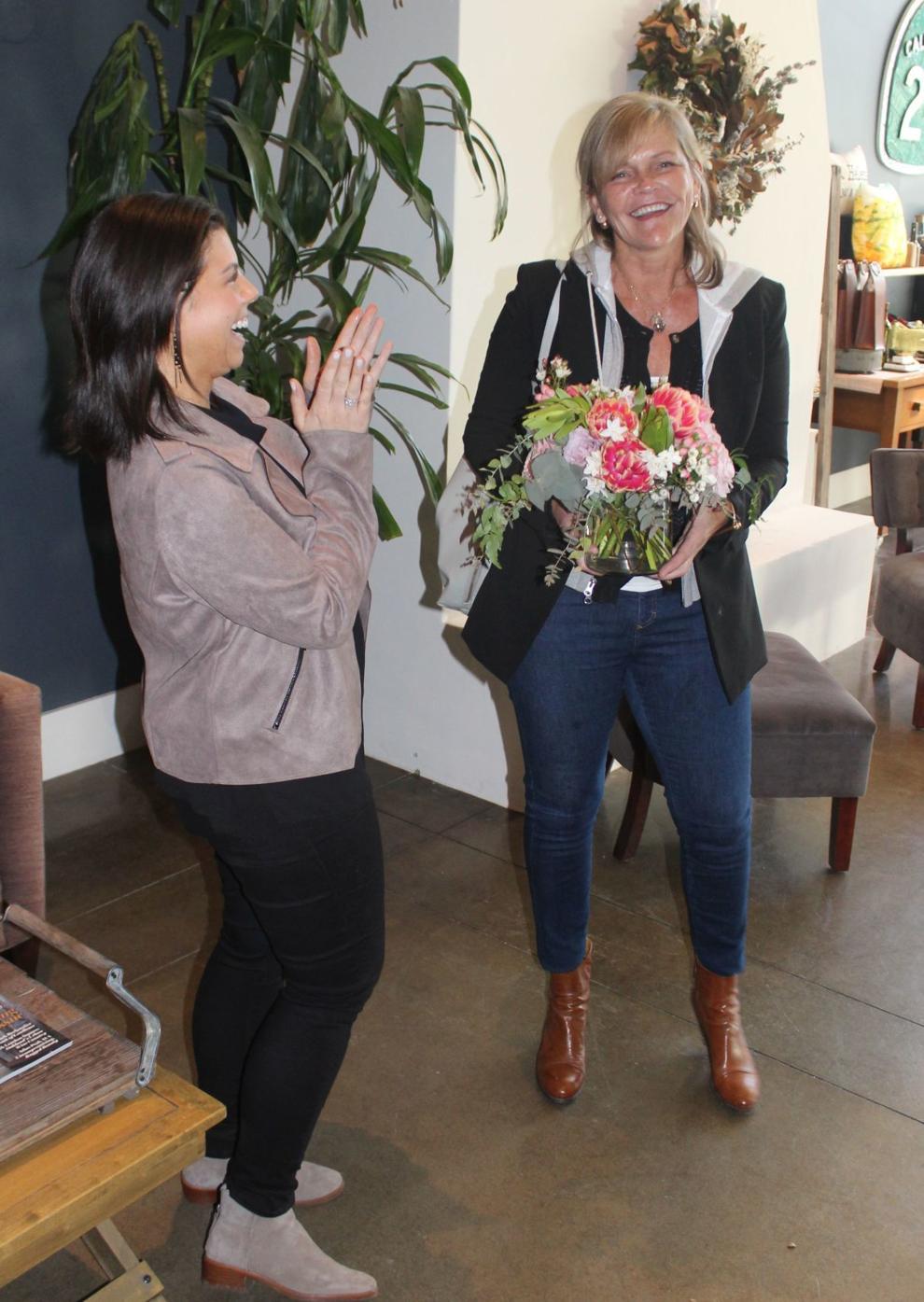 "St. Helena is extremely blessed to have an institution like Nimbus Arts in our backyard," Trumble said. "Not only does it bring the community together in a artistic and expressive way, it allows the many talented volunteers, artists and employees of Nimbus an outlet to teach others about their craft. In a world surrounded by technology, being able to pick up a paint brush or a piece of clay and discover something new about yourself is a very valuable thing."
"Nimbus is a team effort," Graff said. "It's a labor of love for everyone involved."