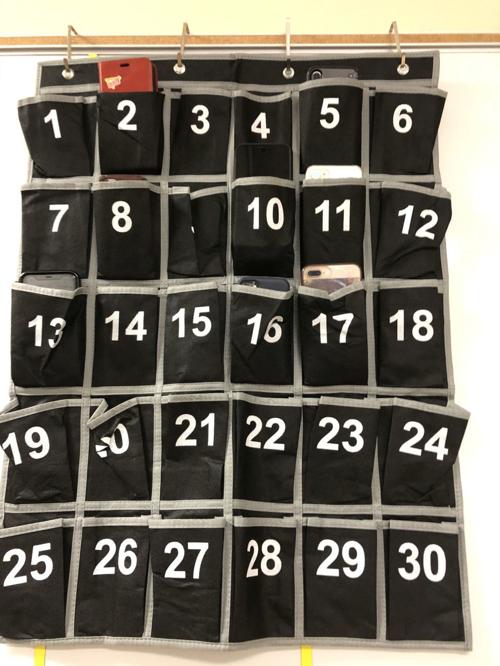 Imagine a day without texts, mobile games, push notifications, social media, and having all of the knowledge and anxiety of the wired world at your fingertips.
That's what St. Helena High School students experienced Tuesday, Jan. 21 during a device-free "Day of Detachment."
Students arrived at their first-period classes, deposited their devices in caddies, attended a series of tech-free classes, picked up their devices after school, and took a survey on how the experience affected their day.
Students say they found themselves socializing more during breaks and being more chatty in class.
"Instead of checking my phone, I would just turn and talk to somebody," said junior Carter Dahline. "We had one teacher notice that we were being louder. They said it as a negative, but I said we were being more talkative without our phones, which was a good thing."
St. Helena High School classes rely on technology to varying degrees, depending on the teacher's style. Principal Ben Scinto said faculty members frequently talk about managing students' use of technology and "trying to maintain a healthy balance."
They came up with the idea of a "soft mandatory" requirement that students go without devices for one day. Jan. 21 made sense because it was the first day of the semester, so there would be minimal disruption of ongoing projects and assignments. Teachers developed special tech-free lesson plans for the day.
"The goal is to get kids to reflect on their level of engagement with each other and at school," Scinto said. "Just pause for a moment, reflect on your own level of engagement, and be present."
The survey will provide insight into the positive and negative aspects of students' use of technology, he said.
"I probably received more positive parent feedback about this than anything in the last seven years," Scinto added.
Senior Lisa Butala enjoyed the experience. Without laptops and TV, her AP Government involved more group discussion than usual.
Technology has become such an integral part of modern education that a lot of students don't learn skills that were once taken for granted, like writing in cursive and making change without a cash register, Butala said.
"Technology has become so resourceful that it limits what people can do without it," she said. "I saw a lot of people not necessarily freaking out, but panicking a little bit because they didn't have their phone to look up something when there was a dictionary right there on the shelf."
Freshman Emrys Davies said he uses his phone to play games, instant-message other students, and stay in touch with his football coaches. Without it, he interacted with more people face to face.
"A lot of people were acting like it was the end of the world, but it really wasn't that bad," he said.
On one occasion, a teacher mentioned that grades for an assignment had been posted online, and Davies instinctively reached for his phone before remembering it wasn't there.
"You only did that once?" Dahline chimed in. "I must have done that over 10 times."
Lunch and break times felt "slower, but in a good way," said Dahline.
"It was great for a day, but I don't know how possible it would be long-term," Dahline said. She recalled the "oppressing" feeling of being without her phone at RLS Middle School, where students have to turn their phones off during the school day.
Many students who initially resisted the idea ended up enjoying the "Day of Detachment," said teacher Madeline Breazeale. She said the difference was especially evident during free periods, when students struck up conversations instead of staring into their phones.
"I think it worked very well," she said. "I hope we do it again."
Be the first to know
Get local news delivered to your inbox!