It all came down, as it so often does in St. Helena, to a bottle of wine.
Thomas Arvid's painting of the Judgment of Paris-winning 1973 Stag's Leap Wine Cellars Cabernet Sauvignon was the biggest prize in the St. Helena Historical Society's "History Becomes Art" fundraiser, which grossed more than $76,000 Saturday at Brasswood.
And until the last moments of the auction, Arvid's painting was shaping up to be its biggest financial disappointment too.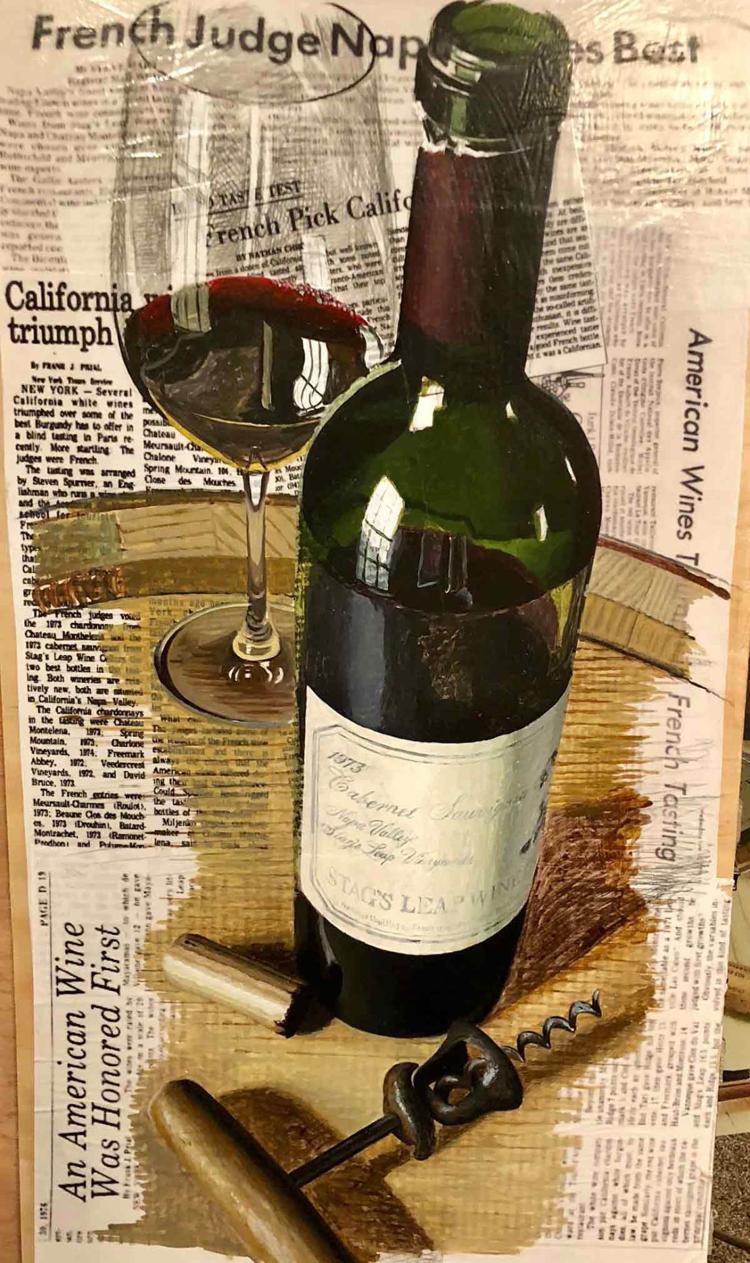 The 23-inch-by-41-inch artwork blends printed newspaper articles about the historic tasting with an oil painting of the winning bottle, a glass of wine and a corkscrew. Auctioneer Devon Bell started the bidding at $25,000 – well below the painting's gallery price of $42,000 – but there seemed to be no takers.
Bell said Arvid's painting would instead be sold on the open market, with the proceeds benefiting the historical society in its quest to establish a physical home in St. Helena. The artist's wife, Vanessa Arvid, attending the event on her husband's behalf, said he would also create limited editions of the painting, with a portion of the proceeds going to the historical society.
As one last round of applause seemed to bring the auction to an anti-climactic end, Napa Valley resident Peter Campbell raised his paddle to bid $25,000 – the highest bid of the night by far. There were some whoops of excitement, followed by a collective sigh of disappointment when auctioneer Devon Bell announced that $25,000 was below the painting's reserve price.
"Make it $30,000 and it's yours," Bell told Campbell.
That was when Vanessa Arvid played her trump card. As Campbell was considering whether to raise his own bid, Arvid rushed to Bell's side and offered to throw in a bottle of 2015 Stag's Leap SLV Cabernet Sauvignon.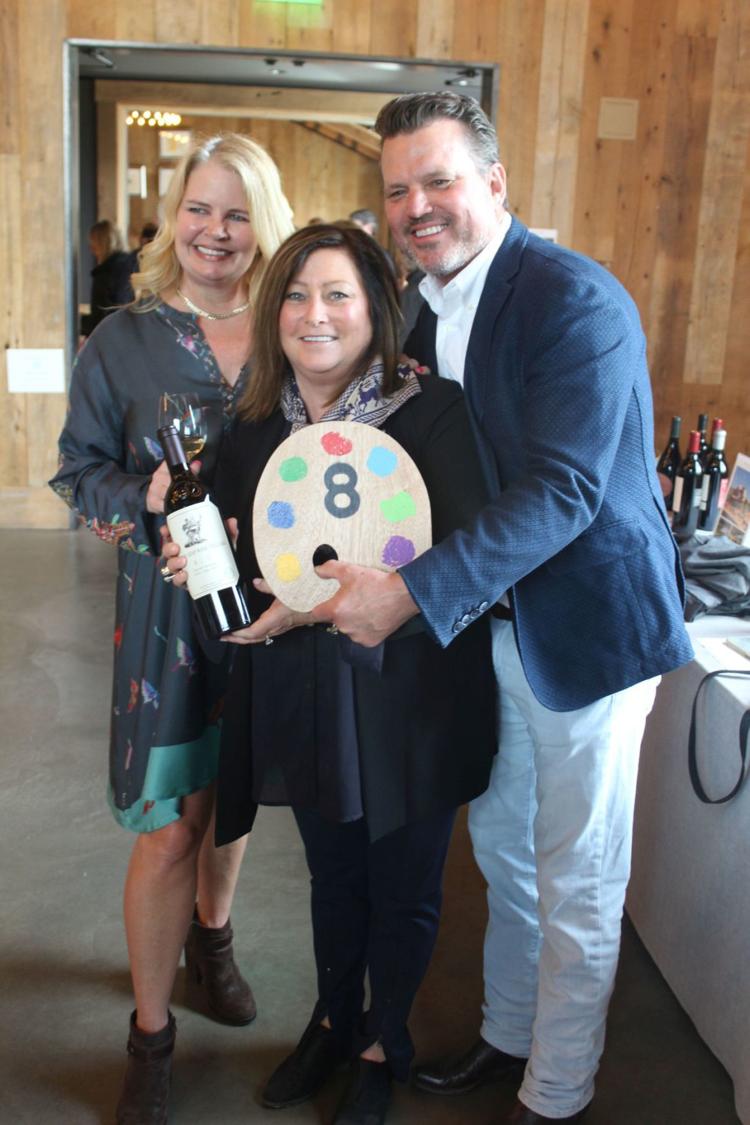 "Then done," Campbell said, bidding $30,000 and ending the auction on a happy note.
Arvid said the Stag's Leap painting presented a unique challenge for her husband because the only bottle of that vintage that could have served as a model is at the Smithsonian in Washington, D.C. The winery did provide Arvid with some labels, as well as the bottle that sealed the deal at Saturday's auction.
Arvid's Stag's Leap painting was the top-grossing among the 39 art, wine and vacation lots that were auctioned off during Saturday's live auction. Arvid also created the top-grossing lot last year, when one of his paintings sold for $8,500.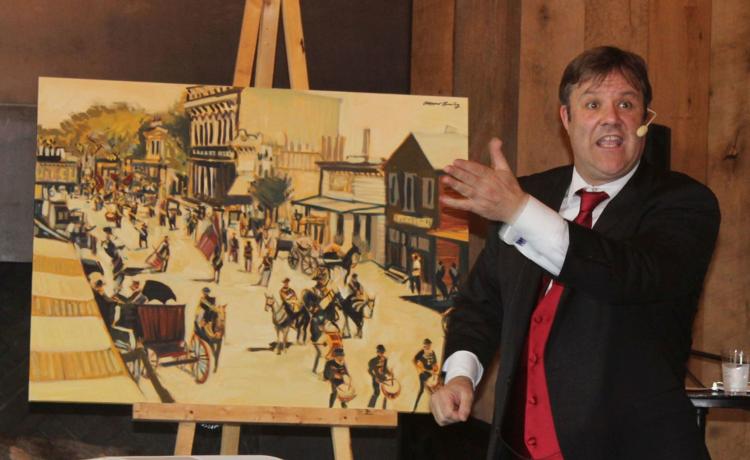 The concept of "History Becomes Art," now in its third year, was dreamed up by Arvid and Susanne Salvestrin, then-chair of the St. Helena Historical Society, during one of his stays at Salvestrin's bed-and-breakfast. Artists would choose a photo from the society's collection, use it as inspiration for a work of art, and allow the art to be auctioned off at a fundraiser.
The format is especially appealing for local artists like St. Helena's Marvin Humphrey, who submitted two paintings this year. One was based on a 1920s-era photo of the entrance to Salvestrin Winery during a rare snowstorm and the other was based on a 1921 photo of two girls standing under the square-arched entryway to Shady Brook Farm in Calistoga.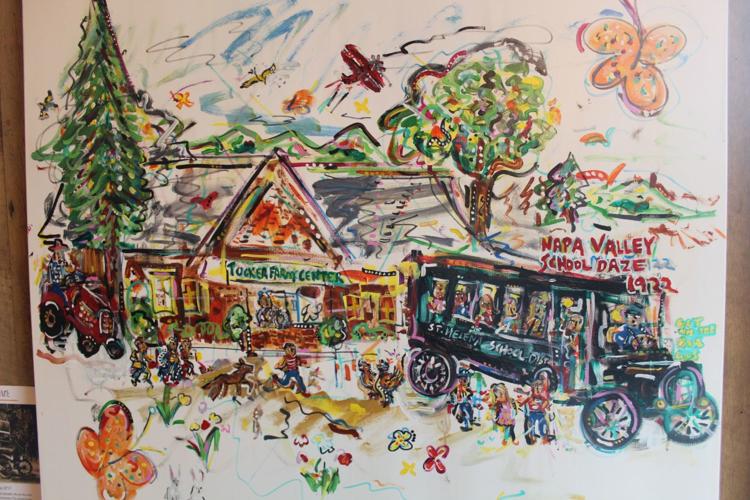 The Salvestrin painting is a fairly faithful recreation of the photo, with more visible snowflakes. But for the Shady Brook painting, Humphrey made it look like the two girls, painted in color, were standing in front of a black-and-white matte painting of the original photo, surrounded by a color landscape outside the arch.
"I thought it would be kind of novel to treat it as if it was the backdrop for an old Hollywood set back in the '20s," Humphrey said. "So I painted the black-and-white backdrop with the two girls in the foreground."
The other artists featured in the live auction were Greg De Lucca, Lin Weber, Geoff Ellsworth, Gordon Huether, Dinah Cross James, Leigh Ann Culver, Melissa Baker, Mercedes Baker, Carolynne Gamble, Christine Olivo, Wyn Ericson, Molly Corbett Kruse, Diane Pope, Layla Fanucci, Steven Quartly and Clifford Bailey.
Be the first to know
Get local news delivered to your inbox!