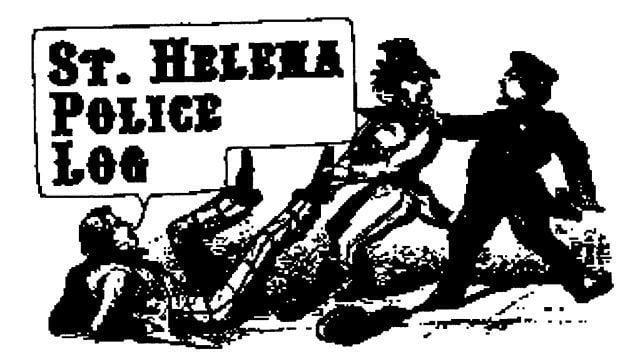 0825 — Downed power lines were arcing at Spring/Oak.
1240 — Report of a suspicious man at a Spring Street church. Police made sure he had permission to be there.
1343 — Police responded to an argument involving a parking dispute on Tripoli Court.
1646 — Report of a fire near White Sulphur Springs Road. It was a controlled agricultural burn.
2107 — Report of a suspicious man riding a bike and playing loud music on Spring Mountain Court.
0354 — Medical aid for a person with chest pains on Adams Street.
0737 — A garbage can was overflowing next the bus stop near Main/Grayson.
1155 — Report of a man recording outside an Adams Street bank. The bank was not able to help him with his account because attorneys are involved. The man came to the police department a few hours later to ask for help with an ongoing issue involving his bank account.
1211 — Someone received a worrisome message from a mother saying there were demons in her home, so she has taken the kids to a hotel, possibly in Vallejo. There had been a past issue where the landlord had told her the home was haunted.
1454 — Report of a disturbance on Britton Way. An officer responded to assist with the dispute over a minor fender-bender.
1619 — A caller saw smoke coming from a trash can near Main/Adams.
1625 — An employee at a Main Street business said four people were drinking alcohol in the parking lot. An officer contacted a group of men who had finished their drinks and were leaving the area.
0742 — Police responded to a leaf blower complaint on Madrona Avenue.
0812 — Report of a reckless driver on southbound Highway 29 near Dowdell Lane.
1452 — A caller received a fraudulent email from a scammer claiming to have the password to her bank account and requesting $2,000 in bitcoin.
1654 — An abandoned bicycle was found on College Avenue.
0700 — Medical aid for a man feeling ill on Crinella Drive.
1005 — Report of a car parked on Meadowcreek Circle for four days. It might be there because people are sheltering in place, so police did not take any action.
1008 — Report of gardeners doing "cosmetic work" (i.e. leaf blowing and lawn mowing) near Chiles/June. Police met with the landscapers and educated them about what kind of work is allowed under the shelter-in-place order.
1119 — Report of vicious dogs on the loose near Howell Mountain Road and Conn Valley Road.
1136 — A caller was concerned that employees at a Vintage Avenue business weren't using gloves and masks and practicing social distancing. An officer will follow up with the business.
1637 — A caller received a scam email from someone who had one of her old passwords and was asking to be paid in bitcoin.
1715 — Report of loud music on Sylvaner Avenue. Police said music is permitted until 10 p.m.
1916 — Police received another loud music complaint on Sylvaner Avenue. An officer contacted the listener, who agreed to turn it down.
2257 — Report of loud music on Sulphur Springs Avenue. The listener agreed to turn it down.
1921 — Report of a possible drunk driver pulling off Silverado Trail near Taplin Road.
1944 — The loose Aussie dog was seen running down the railroad tracks near Safeway.
2059 — A Valley View Street resident said a man came into her home yesterday and has been staying in one of the bedrooms. She wasn't upset, she just wanted an officer to throw him out.
1049 — A caller requested extra patrol for people who walk their dogs off leash on Madrona Avenue.
1116 — Report of a possible electrical hazard on Monte Vista.
1320 — Report of a structure fire on Diamond Mountain Road in Calistoga.
1324 — Someone entered an unlocked vehicle on Crane Avenue. Nothing was missing.
1506 — Someone's Apple Watch got wet and accidentally dialed 911.
1707 — A caller saw five kids trespassing at the lower reservoir on Spring Mountain Road. Police found seven kids there, all juveniles. Their families were asked to pick them up.
1446 — An officer gave a child an ice cream gift certificate for wearing a helmet while riding a bike on Hunt Avenue.
1550 — Report of four juveniles jumping into the lower reservoir on Spring Mountain Road.
1632 — A person reported receiving a scam email.
1749 — Report of trespassers jumping a fence to access a private pool on Vallejo Street.
1805 — A man wanted to speak to an officer about his drink being spiked on New Year's Eve.
1928 — A pickup was seen speeding and doing a donut on Sulphur Springs Avenue.
2024 — Police were notified that private security personnel would be at Bank of America around the clock to secure the premises following Saturday's fire.
Be the first to know
Get local news delivered to your inbox!