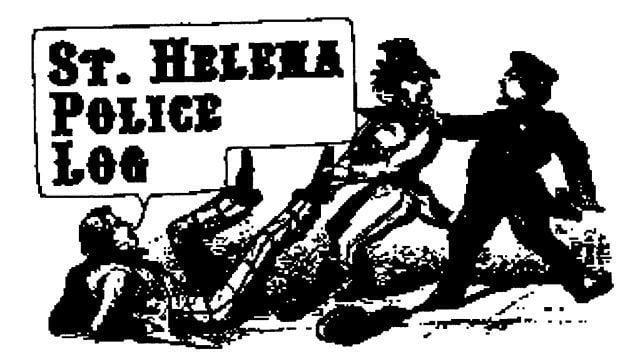 Wednesday, Feb. 10
0311 — Following a traffic stop at Main/Hunt, police arrested a 24-year-old Fairfield man for a misdemeanor warrant.
0811 — Police took a harassment report on Hunt Avenue.
1028 — A tree branch was hanging on a wire on Kearney Street.
1138 — Police responded to a family dispute on Allison Avenue.
1402 — Non-injury accident between a U-Haul and an Infiniti on Main Street.
1633 — Police delivered quilts to Charter Oak Avenue.
1812 — Report of two kids hiding behind parked cars and jumping into oncoming traffic near Oak/Spring. Police checked the area.
1820 — Report of a reckless driver in a gray Civic near Main/Adams.
2104 — Following a traffic stop at Main/Madrona, police arrested a 48-year-old Salinas man for an outstanding felony warrant.
Thursday, Feb. 110442 — Police on Pope Street found a golden lab that was later picked up by its owner.
1052 — Report of a fire in the western hills. Burns were allowed after 10 a.m.
1223 — Report of a reckless driver on northbound Silverado Trail near Oakville Cross.
1823 — Police stopped a wrong-way driver on Highway 29 near Oak Knoll Avenue.
1909 — Report of tree debris on Highway 29 near Ehlers Lane.
Friday, Feb. 121515 — Medical aid for a person having trouble breathing on Olive Avenue.
1523 — A caller said there were a lot of people at the skatepark without masks.
1855 — Report of a coyote running around Chiles Avenue earlier in the afternoon. Police told the caller to keep pets inside and advise neighbors to do the same.
Saturday, Feb. 130918 — An inspection camera was reported missing from downtown.
1618 — A citizen asked for help with ongoing harassment.
1901 — A vehicle hit a fire hydrant on Madrona Avenue, shearing off the hydrant. Nobody was hurt.
2011 — Report of possible domestic violence on Main Street.
Sunday, Feb. 140626 — Report of people yelling, throwing things and slamming doors on Main Street.
0942 — A white BMW SUV was reported stolen from Spring Street.
1157 — A suspicious man was spotted on surveillance footage walking up a driveway and looking into the windows of a house on Vineyard Avenue.
1657 — A few juveniles were doing jumps on their bikes in the cemetery. They left after being asked not to do that.
Monday, Feb. 150845 — Someone broke a window and stole items from an office on Adams Street.
1412 — Report of a possible drunk driver near Main/Charter Oak.
1837 — A man reported receiving threatening phone calls and text messages.
1908 — Medical aid for a woman with stomach pain on Pope Street.
WATCH NOW: ST. HELENA POLICE, FIREFIGHTERS WISH RAYMOND MONROY A HAPPY 108TH BIRTHDAY
Most-read police briefs on NapaValleyRegister.com
Here is a roundup of other police and fire reports in Napa County.
Editor's note: In relation to Saturday's log entry regarding a student with COVID-19, St. Helena High School Principal Ben Scinto sent the following email to parents Tuesday morning: "Good morning Saints families. We are informing you that there was a student on the high school campus from 1/6 to 1/11/21 who we later found out had COVID-like symptoms and did not notify the school. The student was later tested for COVID-19 on 1/20/21 and found to be positive. After doing contact tracing, Napa County Public Health informed us yesterday afternoon that they determined the individual was infectious from 12/30/20- 1/11/21. Had we been alerted at the time of the infectious period, we would have immediately performed site-based contact tracing and informed everyone who had close contact with this person. We would also have informed the entire high school community as is our policy. The quarantine period for any close contact is over, and so there is nothing to do at this time. We are not aware of any COVID-19 cases linked to this individual. Please ring us at 967-2740 should you have any questions. Thank you."