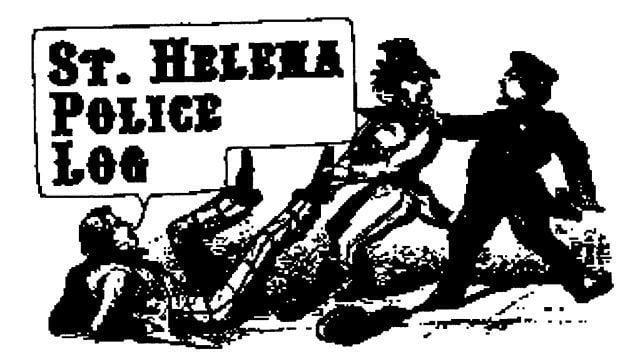 Tuesday, Feb. 25
0850 — Report of vandalism on Adams Street.
0914 — Police took a report on a fraud case.
0921 — A Charter Oak Avenue resident said a loose German shepherd keeps coming onto her property and taking things. The dog took the drip pan from her barbecue and also corners feral cats and barks at them. The caller is concerned about the safety of her young children.
1214 — Report of a man slumped over in a car on Library Lane. Police contacted the man, who'd taken a nap and overslept his alarm.
1451 — Report of a possible drunk driver on Highway 29. Police stopped the car and determined the driver was not drunk.
2003 — Report of a suspicious car on Adams Street with several women inside. Another person – possibly a man – walked up to their window for a few minutes and then walked away. The caller thought the man might have sold something to the women.
2215 — Medical aid for a man with a heart problem on Redondo Court.
Wednesday, Feb. 260725 — Police were asked to check on a man with blood on his face near Main/Charter Oak.
1226 — Report of a possible drunk driver swerving and traveling at erratic speeds from Calistoga to St. Helena.
1311 — Report of a white truck spilling water near Main/Grayson.
Thursday, Feb. 270936 — A vehicle was burglarized on Main Street.
1300 — Medical aid on Pratt Avenue.
1540 — Police were notified of an assault that occurred during an event earlier in the month. One of the guests was shoved by another man and landed on a table. The incident wasn't reported to police at the time, but now the victim fears for his life. Police took a report.
1625 — Lift assist on Crinella Drive.
1628 — A driver reported that she hit the car behind her while parking on Oak Avenue. There was no major damage, and she left a note on the other car.
2004 — A car alarm kept going off on Church Street.
2251 — Medical aid for a woman feeling light-headed on Pope Street.
Friday, Feb. 281604 — Contra Costa County police said they arrested a person for drugs and weapons violations and found checks in the name of a St. Helena resident. They asked St. Helena police to contact the resident to see if he was aware that someone else had his checks.
2241 — Report of a suspicious car idling on Crinella Drive.
Saturday, Feb. 291128 — Report of dogs barking nonstop on Spring Mountain Road.
1227 — A woman tripped and fell near Spring/Oak.
1612 — Report of a woman with a male toddler holding a "please help" sign asking for money on Main Street. Police didn't take any action because she wasn't breaking the law.
1751 — A caller asked for help retrieving car keys from her dad, who was extremely drunk and refusing to give them up. An officer gave them a ride home.
1823 — A girls locker room was vandalized on Hillview Place.
2228 — Report of a car accident north of the elm tunnel. Police made an arrest.
Sunday, March 10805 — Medical aid on San Juan Court.
1435 — A Valley View Street home was vandalized for the second weekend in a row.
2004 — A woman said she'd reported her dog missing on Saturday. Now she sees it in a car parked near Hunt Avenue. Police determined it was a civil matter.
2301 — Lift assist for a fall victim on Laguna Seca Court.
Be the first to know
Get local news delivered to your inbox!