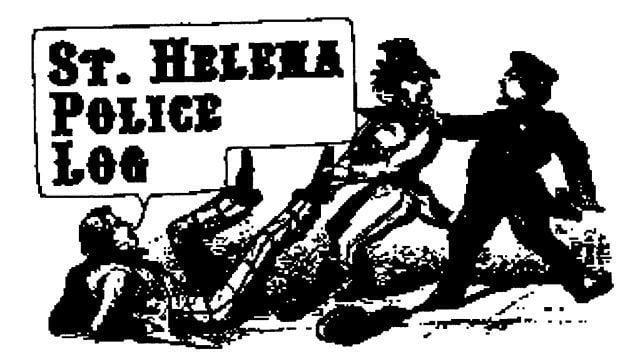 1209 — After a near-accident, a caller asked police to talk to a juvenile about reckless driving.
1523 — A student had been making threats. Police contacted the family and took a report.
1532 — Report of a possible drunk driver weaving in and out of traffic near Main/Charter Oak.
1719 — Medical aid on Main Street.
1853 — Report of a reckless driver swerving, speeding, and almost hitting another car on Spring Street. The white Mazda was last seen turning south on Main Street.
1429 — A side mirror was knocked off a parked car during a hit-and-run on Railroad Avenue.
1556 — Report of a loose Aussie dog sitting near Railroad/Adams.
1956 — Report of a car with no rear lights traveling down Highway 29 near Zinfandel Lane.
0742 — A dog was loose near Spring/Valley View. Police called its owner.
0957 — An employee who was being laid off was reportedly being very aggressive on Crane Avenue and threatening to file a lawsuit. Police determined it was a civil matter. Later, police were notified that the employee had threatened to beat someone up.
1152 — A teenage girl and boy were caught shoplifting on Main Street.
You have free articles remaining.
1355 — A caller was concerned about how many dogs are allowed to run off-leash at Meily Park.
1435 — Medical aid for a fall victim.
1441 — A pair of Tom Ford sunglasses frames worth $508 were stolen from an Adams Street business. The person who stole them was caught on surveillance footage. Someone from the business called him to give him an opportunity to return the frames, but he didn't return the call.
1817 — Two suspicious women dressed all in black came to a man's house on Sylvaner Avenue and asked him if he knew of anyone who needed "service."
1918 — Report of a dead streetlight on Rosebud Lane. Police notified Public Works.
0403 — Medical aid for a woman having difficulty breathing on McCorkle Avenue.
0804 – Road rage incident, Grayson Avenue. The reporting party was behind the vehicle, when vehicle's driver stopped, got out and punched him in the face, because the reporting party was driving too close behind him. Driver headed southbound, Highway 29. BOLO put out for responsible party.
1344—Citizen assist at police station. Citizen would like data on speed radars on Pratt Avenue.
1520 – Reckless driver. Burgundy 4-Runner swerving back and forth on SR29 at Lodi Lane, almost hitting vehicles. Transferred to CHP.
1526 – Medical aid, Sulphur Springs Avenue, 75-year-old fell, breathing, conscious but not fully alert. Emergency medical responded.
1539 – Little white poodle dog found on Allison. The reporting party will keep it if owner calls.
1812 – Poodle brought into police station, locked in kennel. Returned to owner.
1903 – Expelled student tried to sneak into sports game, Grayson Avenue.
2116 – Officer initiated traffic stop, Hunt and Railroad avenues. Cited, verbal warning given.