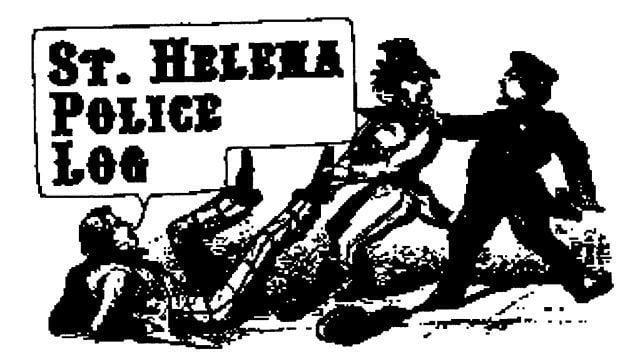 Tuesday, July 14
1405 — Report of a man on Main Street wearing no shirt and tan shorts with a hole that exposed his backside. He had a bike with a flat tire and grocery bags hanging off the side.
1718 — Police were told to be on the lookout for a car driving into oncoming traffic on northbound Highway 29 and Rutherford Road. Police pulled over the car and arrested the driver, a 37-year-old Washington, D.C. man, on suspicion of DUI.
1941 — Report of an unwelcome person at a neighbor's house on Valley View Street.
2008 — Report of approximately 15 people having a party near Main/Adams, not wearing masks nor staying 6 feet apart.
Wednesday, July 150722 — Report of a disoriented man walking down El Bonita Avenue.
0834 — Report of a car parked on Starr Avenue for over three days. Police are not enforcing the 72-hour parking ordinance during the shelter-in-place.
0933 — Report of a man refusing to leave a Main Street property.
1418 — Report of a large truck speeding across the Pope Street Bridge.
1458 — Non-injury accident at Main/Fulton.
1617 — A tow truck operator asked police to help with traffic control at Hunt/Railroad while he assisted an RV driver who was stuck under a tree.
1843 — A Pope Street resident got scammed by someone who convinced him to buy gift cards at Safeway and provide the card information. Police took a report.
Thursday, July 161159 — Report of a large RV parked on Meadowcreek Circle.
1705 — The owner of a local restaurant said an employee received several suspicious calls from a man claiming he was with the owner and wanting to know how much money was in the till because they were coming to pick it up. The owner has never made such a request, and the employee was a bit shaken by the calls.
1741 — Report of an ongoing problem with a neighbor's yard service operating a leaf blower on Dahlia Street on Thursday afternoons after the city's 4 p.m. cutoff.
1954 — Report of juveniles boxing and exercising on a field on Hillview Place without social distancing or masks.
Friday, July 170700 — Report of an old dog walking around on Crinella Drive. Police picked up the friendly elderly dog and called his owner.
0847 — A Main Street resident reported an ongoing problem with a bobcat that comes into his yard, hangs out in a tree during the day, and has killed all his chickens. Police advised him to contact a trapper through Napa County.
Saturday, July 180315 — Medical aid for someone with a severe allergic reaction on College Avenue.
0600 — A wallet was found at Spring/Oak.
1411 — Report of people trespassing on a baseball field on Grayson Avenue.
1538 — A person called 911 to ask for We Care Animal Rescue's number. 911 is for emergencies.
1912 — Two callers reported a reckless driver swerving over the double yellow line on Main Street.
Sunday, July 190800 — Medical aid for a man with chest pains on Pope Street.
1145 — Following a traffic stop on Main Street, police arrested a 24-year-old Angwin man on suspicion of driving with a suspended license and violating probation.
1359 — Report of a possible drunk driver on North Crane Avenue.
1410 — Report of a car stopped partially in the southbound lane of Main Street north of Pratt Avenue.
1928 — A caller asked whether it's legal to fly drones in city limits.
Monday, July 200859 — Someone left graffiti in the bathroom next to the Crane Park skatepark.
1015 — Someone left graffiti at the high school.
1602 — Medical aid for a woman with fever and shortness of breath on Redondo Court.
1634 — Report of a reckless driver on northbound Silverado Trail south of Rutherford.
1840 — Report of a reckless driver on southbound Silverado Trail near Oakville.
2014 — Medical aid on Del Campo Court.
2117 — A caller asked whom to contact about double-parking at an apartment complex on Monte Vista.
2211 — Allegations of child abuse.
2307 — Report of loud music on Starr Avenue.
Tuesday, July 210037 — Medical aid for a man not feeling well and having difficulty breathing on Hasty Court.