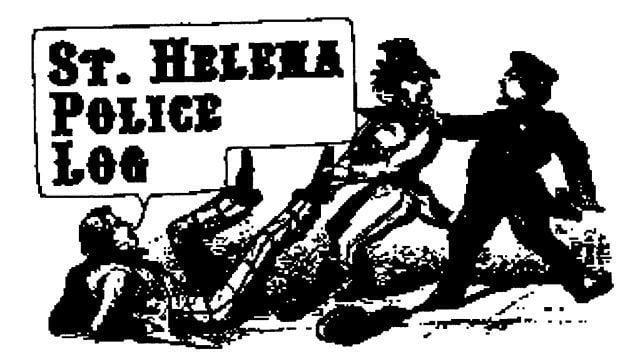 Tuesday, July 21
0723 — Someone left graffiti near Grayson Avenue.
0753 — Police found more vandalism near Hillview Place.
1043 — A woman said she was receiving annoying text messages, possibly from her husband's ex-wife. She lives in Angwin, so police referred her to the sheriff's office.
1410 — A local winery reported fraudulent online wine purchases.
1744 — Report of loud construction-type noise occurring around 2 or 3 a.m. every night. It's audible from the Oak/Mitchell area.
1819 — Report of a stalking incident.
1827 — Report of a reckless driver swerving near Yountville Cross Road.
1931 — Calistoga police said to be on the lookout for a reckless driver on southbound Silverado Trail.
2129 — Non-injury accident on Church Street involving a car and a parked trailer.
Wednesday, July 220231 — Two people were on the roof of a downtown building.
0733 — Police found some vandalism on Hillview Place.
0948 — Police picked up Buster, a well-known golden lab that was loose near the trail behind the library.
1034 — Report of a construction vehicle parked in front of a driveway and in a red zone on Pine Street.
1057 — Medical aid for a woman with extreme stomach pain on Crane Avenue.
1239 — Medical aid for a possible stroke victim on Redondo Court.
1531 — Medical aid for a woman with low oxygen levels on Redondo Court.
1635 — Medical aid for a person losing consciousness near Main Street.
1659 — Report of a stopped car blocking one lane of traffic on the Pope Street Bridge.
1719 — A shoplifter left a Main Street business about 20 minutes ago. She was described as a white woman with brown hair, wearing a pink tunic and dark pants. She stole some jewelry.
1910 — A caller said men were playing soccer and children were gathered at Meily Park. The caller asked an officer to check on whether the people are following COVID-19 protocols.
2201 — Report of a vehicle rollover at Deer Park Road and Mund Road.
Thursday, July 230735 — Police were told to be on the lookout for a big rig that hit and damaged 20 feet of guardrail on Highway 29 near Oakville Grade. An officer stopped the vehicle, waited until CHP arrived, and took a report.
1026 — A caller said they'd been threatened on Tuesday and had their vehicle tire slashed.
1138 — Report of construction vehicles causing a traffic hazard on Pine Street. The caller said they park in the wrong direction, stop in the middle of the street, and cause problems for people backing out of their driveways. The person called back and canceled the call after the vehicles moved.
1346 — A trailer was set up with its landing gear down near Adams/Library. Its owner called the police asking where a trailer could be stored. Police explained the relevant city ordinance, and she said she would move the trailer when she comes back into town.
1429 — Report of a possible drunk driver on northbound Highway 29 at Whitehall Lane.
1520 — Report of a man with his pants down low and his backside exposed near Library Lane. The caller later said she saw him wiping his backside, possibly after defecating. Police checked the area and didn't see anyone matching the description.
2123 — Report of a broken-down car on the northbound shoulder of the elm tunnel with its lights off. It was gone when police arrived.
2257 — Report of a suspicious truck on Meadowood Lane.
2310 — Someone left graffiti in the bathroom at Lewis Station Park.
Friday, July 241034 — Report of a suspicious woman taking pictures of houses near Colombard/Chardonnay.
1834 — Non-injury lift assist on Crinella Drive.
1931 — Report of vehicles speeding on Pratt Avenue during weekday commute hours, 5-7 p.m.
1938 — A bike was found in a vineyard near College/Pope.
2127 — Report of a suspicious couple on Money Way.
2138 — Report of a possible drunk driver crossing over double yellows and tailgating near Main/Deer Park.
2215 — A streetlight on Rosebud Lane had reportedly been out for two weeks. Police notified Public Works.
2324 — Report of loud music, screaming and singing on Hunt Avenue.
Saturday, July 251003 — Medical aid for a fall victim near Sylvaner/Spring.
1115 — The manager of a downtown restaurant reported receiving continued threats via social media from a former employee who'd been fired several months ago.
1334 — Report of a reckless driver running stop signs in the Valley View/Birch area.
1511 — An officer helped a motorist turn off their hazard lights.
1928 — Police were asked to check on someone on Valley View Street.
2244 — Loud shots were heard near College Avenue.
Sunday, July 260954 — Someone left graffiti in a public bathroom near Crane Avenue.
1823 — A woman asked where she could donate canned food and pasta.
1939 — Report of an airplane circling over Kidd Ranch Road. The caller said the pilot was tilting the plane's wings back and forth and cutting off its engine.
2237 — Following a traffic stop at Main/Adams, police cited and released a 50-year-old Duarte man on suspicion of violating probation.
Monday, July 270133 — Report of kids walking around playing loud music near Main/Charter Oak.
0742 — Someone left graffiti on garbage cans at Crane Park.
0818 — A yellow lab was briefly reported missing from Fulton Lane, but its owner found it momentarily.
1443 — A person reportedly assaulted his mom and siblings with a belt on College Avenue. Police took a report.
1733 — Report of a PG&E worker entering the backyard of a Hudson Avenue home to check a tower without the owner's permission.
Watch now: California's new police use-of-force law, explained
Be the first to know
Get local news delivered to your inbox!