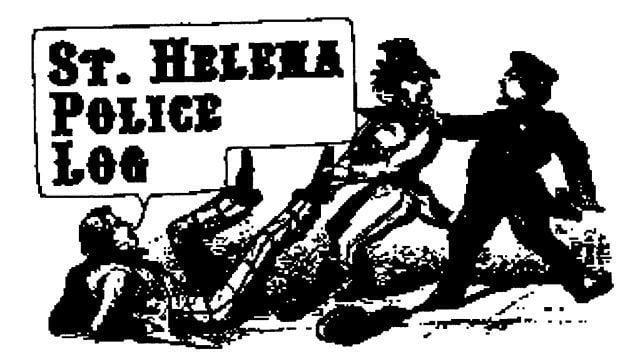 0819 — Police investigated a report of an inappropriate video circulating around a school.
0925 — A 17-year-old girl left home sometime during the night. She doesn't have a license or a car, and her close friends deny knowledge of her whereabouts.
1949 — Non-injury accident on Main Street. One of the involved parties reported having difficulty with the other party.
2217 — A Spanish-speaking citizen asked to talk to an officer.
0739 — An abandoned boat was removed from La Fata Street.
0815 — Police cited a parked car that was sticking out into traffic at Hunt/Monte Vista.
1142 — Medical aid for a man feeling sick on Redondo Court.
1916 — Medical aid for a fall victim with a head injury on Spring Mountain Road.
1128 — A caller requested extra speed limit enforcement on Spring Street.
1143 — There was some debris in the northbound lane of Highway 29 near Dowdell Lane.
1154 — A local resident received an email thinking it was from a neighbor. She responded by saying she'd be out of town. Then the sender (who was not her neighbor after all) asked her to go buy some gift cards. She didn't fall for the scam.
1235 — Medical aid for a fall victim on Chiles Avenue.
1426 — Police took a vandalism report on Library Lane.
1529 — Medical aid for a fall victim on Inglewood Avenue.
1526 — A loud bang was heard from the Madrona/Riesling area. A construction worker said it might have been gunshots outside the city limits.
1737 — Report of a reckless driver running off the road on Pope Street.
0910 — Medical aid for a fall victim on San Lucas Court.
0929 — A man said someone used his credit card to make two fraudulent purchases online. One transaction was stopped. The other was scheduled to be delivered to a local hotel this week. Police took a report.
1449 — The owner of a Charter Oak Avenue business reported that an unauthorized person might have a key to the business. Nothing was stolen.
2138 — Report of a possible drunk driver on Main Street.
2205 — Following a traffic stop on Main Street, police arrested a 33-year-old Fairfield woman on suspicion of DUI.
0833 — Medical aid for a woman with chest pains and shortness of breath on Pope Street.
1122 — A mom reported that her 15-year-old son had marijuana and was on his way to St. Helena on the city bus.
1200 — Non-injury lift assist on Del Campo Court.
1452 — A wallet containing $143 was found on Adams Street.
2327 — Medical aid on Del Campo Court.
2337 — Police responded to a loud music complaint on Community Drive.
0840 — Medical aid for a woman having trouble breathing on Del Campo Court.
1739 — Report of two suspicious women going door to door coughing and wanting to read scripture with people. Police contacted the women, who weren't selling anything and just offering prayers.
2209 — Report of a man making threats on Rosebud Lane. Police arrested the 33-year-old Napa man on suspicion of making a criminal threat.
0145 — License plates were found at a gas station.
1441 — Someone found a dog near Highway 29/Lodi Lane.
1710 — A window was broken at the Head Start building at Crane Park. Police took a vandalism report.
1719 — Report of a reckless driver passing in the center divide and in the opposite lane of Main Street. It was last seen pulling into a business at Main/Grayson. An officer found the car in the drive-through and cited the driver.
2055 — Report of several teenagers screaming and creating a disturbance at Carpy Field.
Be the first to know
Get local news delivered to your inbox!