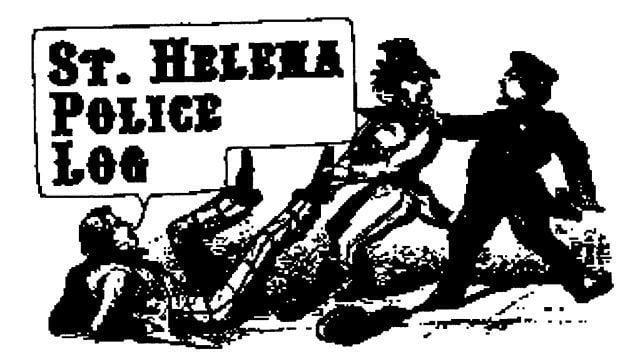 Tuesday, March 16
0629 — Report of a low-hanging utility line on Church Street.
0928 — Someone smelled smoke on Hunt Avenue. Cal Fire was notified.
1112 — Report of possible tax return fraud.
1333 — Police took a report on possible child molestation.
1627 — Report of an SUV parked in a red zone on Main Street.
Wednesday, March 171139 — Report of a construction vehicle blocking traffic at Vineyard/Hillview. Police determined that all vehicles were parked legally.
1338 — Report of a possible drunk driver talking on a cell phone on northbound Highway 29 at Bale Lane. Calistoga police were notified.
2033 — Report of a possible vegetation fire on Spring Mountain Road, maybe involving an unattended burn pile.
Thursday, March 180142 — Police patrolled the area where school buses are left overnight. It appeared that someone had tried to open a door of one of the buses.
1030 — Medical aid for a person feeling ill inside a Hunt Avenue store.
1116 — Medical aid for a man with heart pain on Del Campo Court.
1932 — Police were told to be on the lookout for someone who'd walked away from a mental health facility in Deer Park.
Friday, March 190152 — Medical aid for a fall victim on Hunt Avenue.
1207 — Report of two drivers revving their engines as they sped past a school on Oak Avenue.
1251 — A man reported being cursed at and told to leave a restaurant after confronting an employee about his dissatisfaction with his lunch order. Police did not take a report because no crime had occurred.
1607 — Police were asked to assist with a child custody matter.
1724 — Police were asked to assist with another child custody matter.
Saturday, March 200029 — Report of someone smashing vehicle mirrors on Church Street. The suspect, who was wearing a black sweatshirt, left in a Honda Civic. Police took a report and notified surrounding agencies.
0355 — Police contacted the owner of a dog found on Pratt Avenue.
0852 — Planter pots were vandalized outside a Hunt Avenue business.
1022 — A fence had fallen down near a city playground on Crane Avenue.
1402 — A lost wallet was returned to its owner.
1421 — Report of a dog barking in a van on Allison Avenue. Police determined the dog was not in distress.
1431 — A bike was stolen from Brown Street.
1650 — Medical aid on Crinella Drive.
1836 — Report of a white Lexus traveling very slowly on Silverado Trail near Tubbs Lane. The call was transferred to the CHP.
1942 — Report of a gray Honda traveling at 20 mph under the speed limit on Silverado Trail near Pope Street. Police checked the area.
Sunday, March 211339 — Loud music complaint on Crinella Drive.
Monday, March 220359 — Report of a dog barking for hours on Stockton Street. Police contacted its owner by phone.
0654 — Report of a car accident on Silverado Trail south of Pope Street.
1024 — A woman received a fraudulent call from a man accusing her of fraud and threatening arrest.
1106 — A woman asked for help with her teenage son.
1443 — Report of loud bass music on Crinella Drive.
1500 — A local business reported that its phone number was being used to place fraudulent calls. Several people had called the business and tried to give their Social Security numbers to the staff.
WATCH NOW: ST. HELENA POLICE, FIREFIGHTERS WISH RAYMOND MONROY A HAPPY 108TH BIRTHDAY
Editor's note: In relation to Saturday's log entry regarding a student with COVID-19, St. Helena High School Principal Ben Scinto sent the following email to parents Tuesday morning: "Good morning Saints families. We are informing you that there was a student on the high school campus from 1/6 to 1/11/21 who we later found out had COVID-like symptoms and did not notify the school. The student was later tested for COVID-19 on 1/20/21 and found to be positive. After doing contact tracing, Napa County Public Health informed us yesterday afternoon that they determined the individual was infectious from 12/30/20- 1/11/21. Had we been alerted at the time of the infectious period, we would have immediately performed site-based contact tracing and informed everyone who had close contact with this person. We would also have informed the entire high school community as is our policy. The quarantine period for any close contact is over, and so there is nothing to do at this time. We are not aware of any COVID-19 cases linked to this individual. Please ring us at 967-2740 should you have any questions. Thank you."