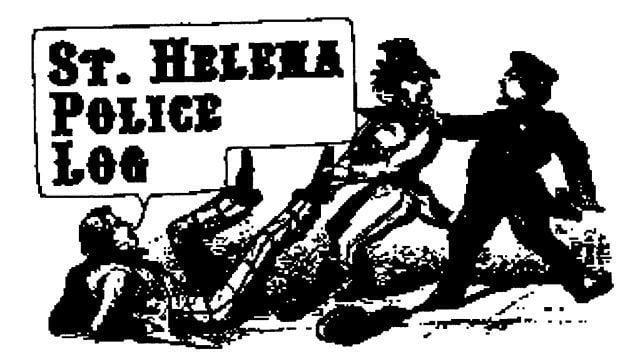 Tuesday, March 23
0738 — Report of a woman with a shotgun at the Veterans Home in Yountville. St. Helena police and other neighboring agencies responded to the incident. After an extensive search, the call was determined to be unfounded.
0927 — Police assisted with the COVID-19 vaccination clinic on College Avenue.
1439 — A bank said a customer had been the victim of identity theft and needed to file a police report.
1538 — Report of smoke in the hills west of White Sulphur Springs Road. Cal Fire was notified.
1622 — Report of a reckless driver seen yelling at a boy on Stockton Street.
Wednesday, March 240749 — Report of a reckless driver passing illegally and blowing through the stop sign at Deer Park/Silverado.
0851 — Medical aid for a fall victim on Meadowcreek Circle.
1146 — Report of a moving truck hitting trees and threatening power lines on Hunt Avenue. Police determined that no utilities were damaged, and the damaged tree belonged to the property associated with the truck.
1245 — Report of an unoccupied truck blocking a turn lane with its hazard lights on near Church/Pope.
1555 — A guest reportedly attacked another guest at a Main Street property. Police took a report.
1748 — High-capacity magazine gunshots were heard on private property near Madrona Avenue.
1851 — Report of a suspicious man asking for directions on White Sulphur Springs Road. The caller thought he might be on drugs.
2216 — Medical aid for a person with chest pain on Dean York Lane.
Thursday, March 250056 — During a traffic stop at Oak/Adams, police found an assault weapon and drugs. A 26-year-old Oakland man and a 29-year-old Modesto man were arrested for multiple weapon and drug charges.
0858 — A fence was damaged at Crane Park.
0924 — A man was found dead on a bench at Meily Park. No foul play is suspected.
1119 — Report of a customer refusing to pay for $2,500 worth of materials delivered to a job site in Napa. Police determined it was a civil problem.
1539 — Report of a dog in a hot car on Main Street. The windows were cracked, the dog had water, and it was 66 degrees outside.
Friday, March 260824 — Report of a man yelling at kids outside the firehouse. Meanwhile, another caller reported having some cigarettes stolen by a man who matched the same description. Police arrested the 32-year-old Napa man on suspicion of petty theft, tampering with a vehicle, and vandalism.
1343 — Vehicle vs. motorcycle accident at Madrona/Main. Nobody was hurt.
1506 — Report of a possible drunk driver on Zinfandel Lane. The CHP was notified.
1635 — Report of a possible drunk driver on northbound Silverado Trail near Meadowood Lane. The CHP was notified.
1646 — A person came to the lobby with a Bible, stating that someone with a crystal ball was changing the pages in the Bible. The page numbers were out of order and the images had been changed. The person denied being under the influence. Police advised the person to return the book to the store.
2145 — Police were notified of a domestic dispute on Monte Vista.
Saturday, March 270652 — Report of an intoxicated man banging on someone's front door on Pratt Avenue.
1100 — Report of a swarm of bees in Lyman Park. Public Works had put caution tape around it.
1317 — Report of a water link on Chablis Circle.
2143 — Report of a man being violent and making threats in a house on Pratt Avenue. Police arrested the 39-year-old Sherman Oaks man on suspicion of public intoxication and making criminal threats.
2241 — A transformer blew out on Spring Street, knocking out power to some customers. PG&E said power would be restored in a few hours.
Sunday, March 280058 — Medical aid on Main Street.
1008 — Report of a man who rides a motorized bike and scooter on Chiles Avenue and at Meily Park during the nighttime hours.
1129 — Report of construction noise on McCorkle Avenue.
1216 — A woman received threatening calls and texts.
1932 — Following a traffic stop at Main/Crinella, police arrested a 67-year-old St. Helena/Napa resident for an outstanding warrant.
2231 — Report of people trespassing on Pratt Avenue.
Monday, March 290902 — Medical aid on Pope Street.
1335 — A van hit a parked BMW at Fulton/Main, causing major damage to the BMW. The van driver stopped and police took a report.
1359 — Report of a suspicious car parked in someone's driveway on Adams Street.
1602 — Report of two men drinking beer and blasting explicit music at the skatepark, while Little Leaguers were practicing nearby.
1819 — Report of an intoxicated woman having a verbal altercation with guests and employees on a Main Street property, then driving away in a silver SUV. As she left, she almost ran over an employee who'd been trying to calm her down. Police arrested the 39-year-old Fresno woman on suspicion of DUI and assault with a deadly weapon.
WATCH NOW: ST. HELENA POLICE, FIREFIGHTERS WISH RAYMOND MONROY A HAPPY 108TH BIRTHDAY
Editor's note: In relation to Saturday's log entry regarding a student with COVID-19, St. Helena High School Principal Ben Scinto sent the following email to parents Tuesday morning: "Good morning Saints families. We are informing you that there was a student on the high school campus from 1/6 to 1/11/21 who we later found out had COVID-like symptoms and did not notify the school. The student was later tested for COVID-19 on 1/20/21 and found to be positive. After doing contact tracing, Napa County Public Health informed us yesterday afternoon that they determined the individual was infectious from 12/30/20- 1/11/21. Had we been alerted at the time of the infectious period, we would have immediately performed site-based contact tracing and informed everyone who had close contact with this person. We would also have informed the entire high school community as is our policy. The quarantine period for any close contact is over, and so there is nothing to do at this time. We are not aware of any COVID-19 cases linked to this individual. Please ring us at 967-2740 should you have any questions. Thank you."